UPDATE 6.20 pm, Friday, 3 December: The following is an urgent message from the Bega Valley Emergency Operations Centre for people still in Bermagui and north of Mogareeka to Bemboka.
We have grave concerns for the lives of people still in Bermagui and north of Mogareeka. Your life is at risk. You need to leave now. If you have friends and family in this area and can make contact with them – please implore them to leave now.
Bush fire conditions will start to deteriorate from mid-morning Saturday, push into Saturday night and into Sunday and be felt at different times across the Bega Valley. Temperatures on Saturday are forecast to be in the low 40s, winds will strengthen and come in from different directions during the day.
The worsening conditions will first start to be felt in northern parts of the Bega Valley, and in southern parts late Saturday and into Sunday. Local fire officials have some very clear and stark advice. They will not be engaging in active firefighting, their focus will be on saving lives, including their own.
For that reason people in the following locations are being asked to leave now – people still at Bermagui and north of Mogareeka, communities north-west of Bega – places like Bemboka, Brogo, Coopers Gully, Angledale. There is a significant risk to people still in these areas.
Weekly Newsletter
We package up the most-read About Regional stories of the past week and send direct to your inbox every Tuesday afternoon. Subscribing is the easiest way to keep up, in one hit.
It is also strongly recommended that the following communities consider leaving now: Tathra, Kalaru, and communities to the south and west of Eden – places like Wonboyn, Kiah, and Towamba. Please don't put our emergency services and your loved ones at risk. Leave now, make yourself and your community safe while roads are open and conditions allow you to travel.
It is a very real possibility that communications and power will be lost, roads will be closed, and emergency services pulled from the field for their own safety. You could be very isolated and on your own – for an extended period of time. Now is the time to leave.
People should head towards Bega Showground and Club Sapphire in Merimbula. An evacuation centre is also being established at the Eden Fishermen's Club. Contingencies are in place as these places fill and reach capacity. If your intention was to move to a Neighbourhood Safer Place – given the forecast conditions these places are no longer considered safer.
Come together as a community, please don't stretch our resources, come together at Bega and Merimbula and we will face this together, with the wagons circled around us.
The fire threat mushrooming across the South East is now around 100kms from the ACT's borders, while the South Coast, Snowy Valleys and Monaro are at direct risk. As the region braces for another extremely dangerous day tomorrow, here is the latest advice and warnings, and ways that you can help if you are not directly threatened.

Posted by The RiotACT on Thursday, 2 January 2020
As the predicted heatwave conditions begin to arrive ahead of tomorrow's extreme risk day, South Coast residents have been told that they should be in safe accommodation by 6:00 pm, ahead of likely power failures and road closures tomorrow.
Eurobodalla residents living outside the main town centres of Narooma, Moruya, Tuross Head and Batemans Bay should move towards their closest evacuation centre now. This includes residents living near bush on the outer fringes of main towns.
Residents living in the main towns can stay in place and prepared to enact their bushfire survival plans.
Across our region, the areas under threat are:
The Shoalhaven Region – from Burrill Lake, north to Nowra
The South Coast – from Batemans Bay to the Victorian Border
The Snowy Valley area – from Tarcutta to Tumut in the north, south through Batlow and Tumbarumba to Khancoban and Jingellic
Snowy Monaro region – from Adaminaby to Cooma, then south-west to Jindabyne, Perisher Valley and Thredbo. This includes all of the Kosciuszko National Park.
Police and emergency services are continuing to urge tourists on the South Coast to leave as firefighters and residents who have decided to stay brace for Saturday's predicted horror fire conditions.
Thousands have made the slow and dangerous exodus away from the devastated coastal strip north to Sydney and west to Canberra via the Snowy Mountains Highway, often through areas thick with smoke and fire licking the road.
With fires still burning to the north of Batemans Bay, south of Moruya, and west of Bermagui and Bega, authorities fear a repeat of the New Year's Eve outbreaks that destroyed 449 homes at the latest count and killed eight people.
Fire conditions have eased with milder temperatures and light winds but the forecast for Saturday is for north-westerly winds to pick up and temperatures to be as high as 44 degrees, followed by a strong southerly change late in the day.
A State of Emergency has been declared for the next seven days and a "tourist leave zone"  declared in Nowra and the edge of Victoria's northern border.
Residents in Moruya are preparing the best they can for a resurgence of the fires, and those who have boats of any kind are stocking them with supplies so they can find safety on the water.
Some are even placing flotation devices at the breakwater as a last resort.
The fear is that Moruya could be caught between the out of control Badja Forest Road fire and smaller Coondella fires in the south and the massive Charley's Forest/Clyde Mountain/Currawong blaze to the north.
Eurobodalla Shire Council has set up evacuation centres in the main town areas of Batemans Bay, Moruya and Narooma, and is urging people to leave remote areas and go to the centres. They are at Hanging Rock Function Centre, Hanging Rock Place, Batemans Bay; Moruya Basketball Stadium on Albert Street, Moruya, inside the Moruya Showground; and the Narooma Leisure Centre on Bluewater Drive, Narooma.
Acting Shire Council general manager Warren Sharp said the centres were triaging people and arranging accommodation in properties left vacant by visitors, as well as at the centres.
"Tomorrow we're asking people to not be in remote areas, only stay if they have a fire plan they're prepared to enact. As we've seen, a lot of people thought they could do that and then had to pull out and pull back to safer areas," he said.
"We need people to make an early decision."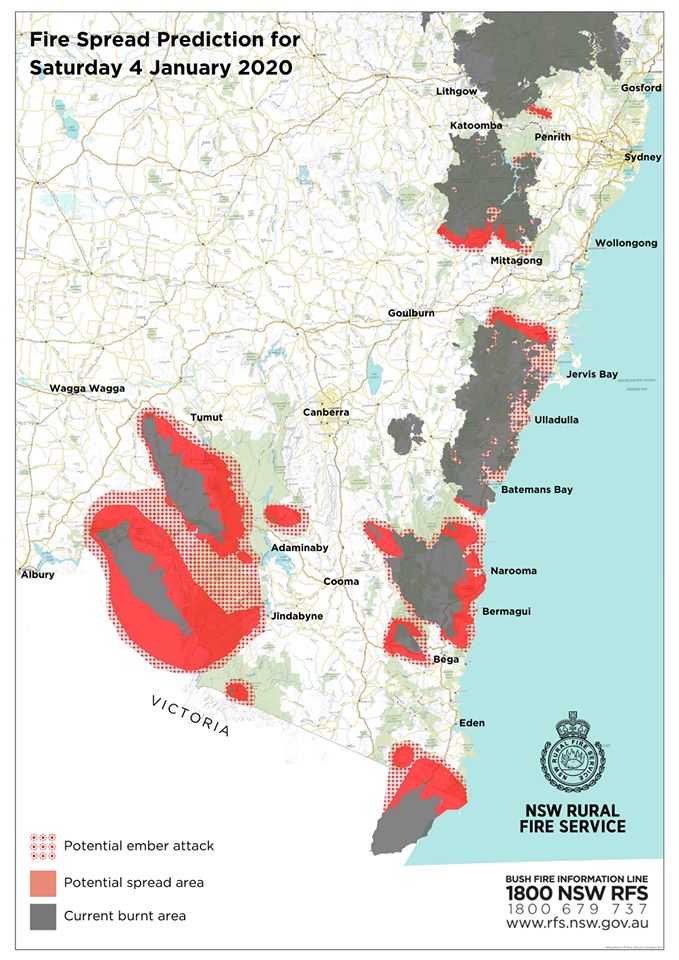 Tuross Heads residents can stay where they are but anybody with a medical condition is being urged to go to an evacuation centre.
More fuel came down the coast from the north overnight and petrol stations opened at 5:00 am so people could fill tanks and leave. But it seems most visitors have already heeded the warnings and left.
There were reports of flare-ups overnight at Malua Bay, and this morning water bombers were in the air to attack the Clyde Mountain fire.
NSW RFS crews on the ground are racing to strengthen containment lines and prepare for the deteriorating weather conditions.
The RFS says Building Impact Assessment teams are working through fire-affected areas, assessing the damage to properties, confirming the number lost but saying 1000 properties have been saved.
The RFS has issued a total fire ban for NSW today (Friday, 3 January) and tomorrow (Saturday, 4 January), and warned that conditions in southern NSW could be as bad as or worse than New Year's Eve.
Holidaymakers have also been told to leave the Batlow area, as well as Kosciuszko National Park, which has been closed by NSW National Parks and Wildlife Service.
State Emergency Operations Controller Deputy Commissioner Gary Worboys said it is not too late to leave, so if you don't need to be in the area, now's the time to make a plan to get out.
"I cannot stress enough how important it is for anyone who doesn't need to be in these areas to get out as soon as possible," Deputy Commissioner Gary Worboys said.
"Given the large number of people making their way out, significant delays are expected, meaning it will take a lot longer to get home than usual, which means you need to make sure you have plenty of fuel, a fully charged mobile phone, snacks and water.
"I'll also reiterate that your usual travel route may not be safe or accessible – or roads could close at short notice – so, check road closure information and keep checking them along the way."
Up to the minute information about road closures is available at livetraffic.com.
The community is also reminded that the Public Information and Inquiry Centre is open to assist members of the public in relation to bush fire information for these areas. Call 1800 227 228.
Information specifically relating to the bushfires can be obtained by contacting the Bush Fire Information Line on 1800 679 737 or online via the Rural Fire Service website.