South on Albany is an award-winning restaurant in the picturesque town of Berry. Owners Sonia Greig and John Evans have run the restaurant for almost 10 years, and they've created a much-loved institution.
Stepping into South on Albany, I'm struck by the simple elegance of the place. It's an understated and warm kind of style, and I am immediately put at ease by friendly waiter Kin, who shows me to my table: one of just a handful in the intimate space.
There's a central long table with an impressive bunch of flowers and bottles of wine and glasses, where Sonia selects and pours wines from the carefully selected drinks list.
The three-course set menu is produce driven and changes regularly – about once every two weeks – depending on what's in season. Chef John Evans explained that over their history as a restaurant, they've developed many relationships with local growers around the region.
"When we have pork on the menu, we like to source from Martin's Ridge Farm, and we're getting a lot of veg at the moment from the Patchy Growers in Kangaroo Valley," he told Region Media.
"But we'll even get stuff from people's backyards. Sometimes we come in and there'll be a bag of finger limes hanging off the door! So you think, 'OK, let's do something with that'."
When I visit in mid-November, the menu features decidedly spring-y ingredients. The entree is pea soup with shaved fennel, grilled scallops and fennel oil. Instead of having a full drinks pairing, I choose just one glass of the 2018 Semillon from nearby Coolangatta Estate. Sonia explains that they are well known for their aged semillon and I can see why: it's refreshingly crisp but has a lovely depth that accompanies the entree perfectly.
The soup is creamy but light and the bright-green fennel oil boosts the flavour. Sweet, caramelised scallops add a touch of decadence to what is already a delicious soup. John later tells me that the fennel arrived with huge fronds, so they made the oil to capture that flavour and make full use of the vegetable.
The main course is pink roasted sirloin with potato and onion puree, green beans, baby carrots and salsa verde. In the hands of a lesser chef, this could have been an ordinary dish of meat and three veg, but great care has been taken here. The meat is flavourful and tender, and each vegetable is cooked perfectly. The onion puree makes every mouthful creamy, while the salsa verde freshens up the plate with herby goodness. The generous portion is a pleasure to devour.
Having finished my wine, I try a homemade rhubarb soda, which is absolutely delicious. It's one of many grown-up non-alcoholic options on the drinks list.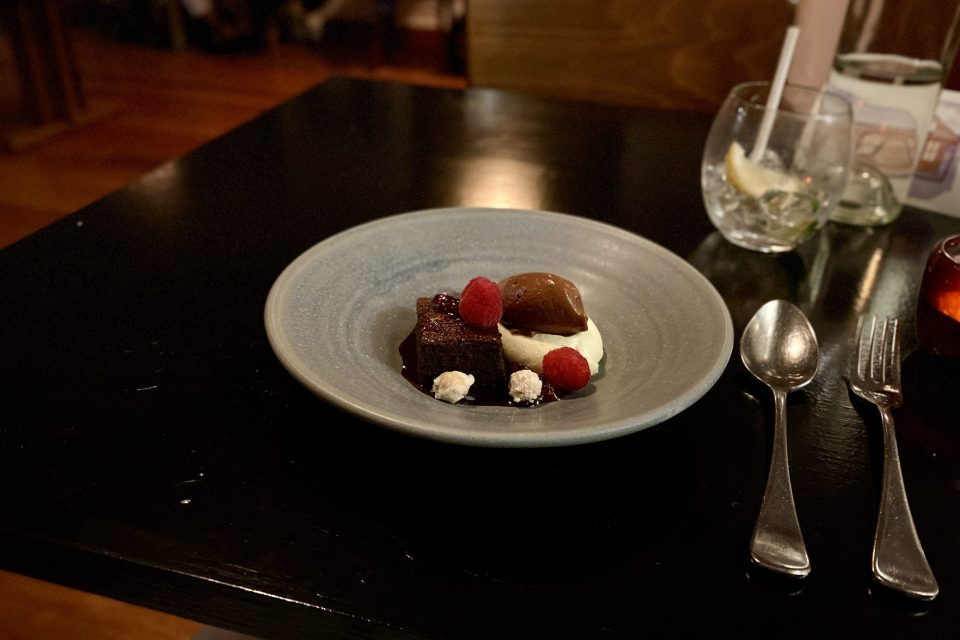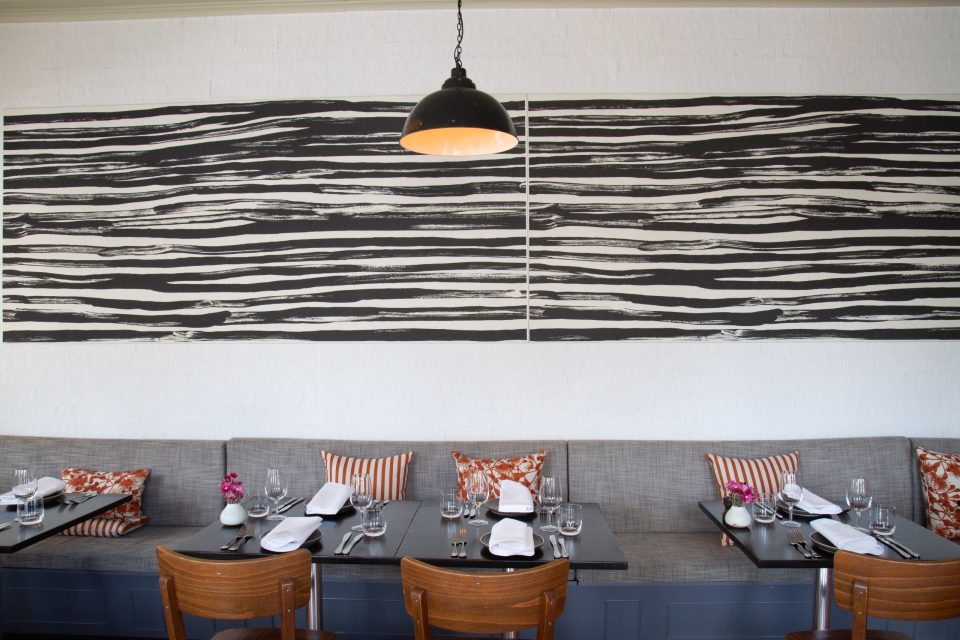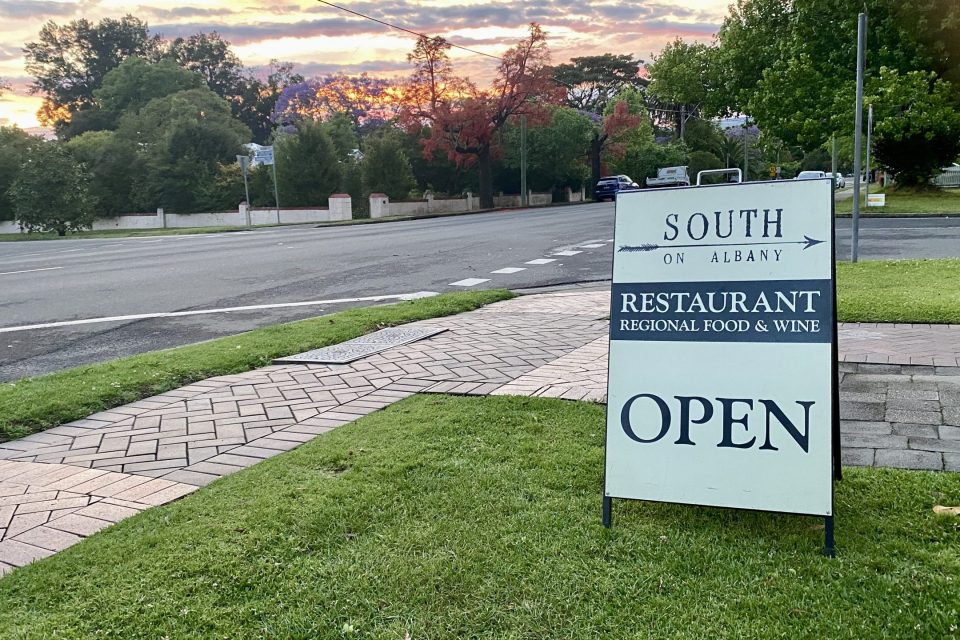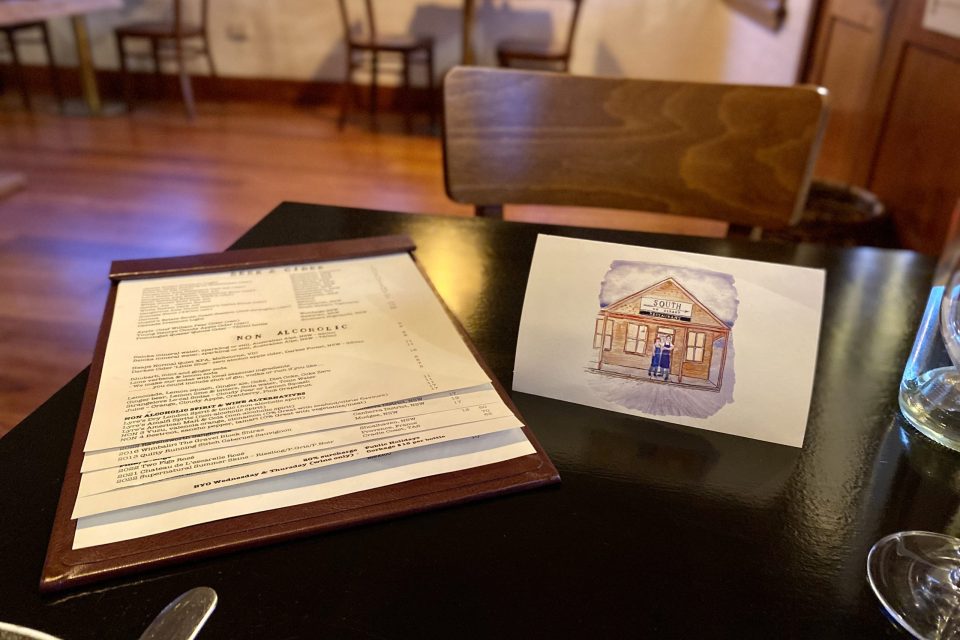 Dessert is a chocolate brownie with caramelised raspberry coulis, fresh raspberries, cream, chocolate mousse and candied macadamias. Like the main course, it's a dish that could have felt a bit old hat.
Brownies with raspberries was my go-to birthday cake choice as a kid, and these days I prefer something more complex. But this version is elegant and holds a touch of bitterness (much appreciated for my grown-up palate) and the flavours make me remember why I loved it so much as a kid.
An impressive selection of dessert wines is on offer – I regret not bringing a designated driver – as well as tea and coffee to finish.
Within a couple of weeks, the menu will have changed with the seasons, so there's another reason for a return visit.
South of Albany is at 3/65 Queen Street (cnr Albany Street), Berry, NSW.
It is open for dinner from Wednesday to Sunday, and does two Sunday lunches a month. Visit its website to make a booking and follow the venue on Facebook.