Gundaroo restaurant Grazing is celebrating its 20th anniversary with a nostalgic menu highlighting iconic dishes from the last two decades.
Just a 25-minute drive from Canberra, award-winning Grazing has become a favourite destination for special occasions, day-trippers, and those out for a country drive.
Owners Kurt and Tanya Neumann have been at the helm of this much-loved establishment since 2011 and then, in 2021, went all in and purchased the historic building.
"Picking the menu was hard. I wanted to curate a menu that reflects a modern Grazing. While some of the dishes go back six or seven years, I still wanted to appeal to the contemporary experience our customers have come to enjoy at Grazing," said Kurt.
"Some of our longest-standing customers are going to have their memories roused by their tastebuds when they revisit these dishes."
I have enjoyed a few memorable meals at Grazing over the years, so I was excited to see what the birthday menu would offer.
The wisteria was in full bloom as we arrived at the front door and the blustery weather outside was quickly forgotten in the cosy atmosphere.
The first course of the birthday menu is ocean trout rillettes, cured and served with dill crème, avocado and ingenious paper-thin sourdough wafers. With a glass of Collector Wines Sangiovese Rosé, it was a lovely dish to start the meal: salty, creamy and fresh.
Next, we enjoyed a large butterflied King Prawn with pipi butter emulsion and crunchy almond picada. The grilled prawn was perfectly moist and flavourful and the emulsion was incredibly moreish. Fortunately, we each had a hefty slice of warm house sourdough to mop it up with.
This course was matched with a new season Clonakilla Viognier Nouveau that cut through the rich butter and freshened everything up. My dining companion (and designated driver) enjoyed a zingy house mocktail of apple juice, ginger ale, lemon and mint.
Our favourite dish of the day was the ash-baked kangaroo loin served with beetroot, fetta, walnut and wattle seed. Our extremely capable server explained that the kangaroo is grilled quickly over very high heat before resting to room temperature, making it perfectly tender. The loin was then rolled in a house-made beetroot ash and sliced.
The gamey meat paired perfectly with the creamy fetta and caramelised walnuts. The beetroot also added sweetness to the dish, but the gentle red fruit tannins of the Lark Hill Pinot Noir tipped the scales perfectly back to savoury. A triumph of balance.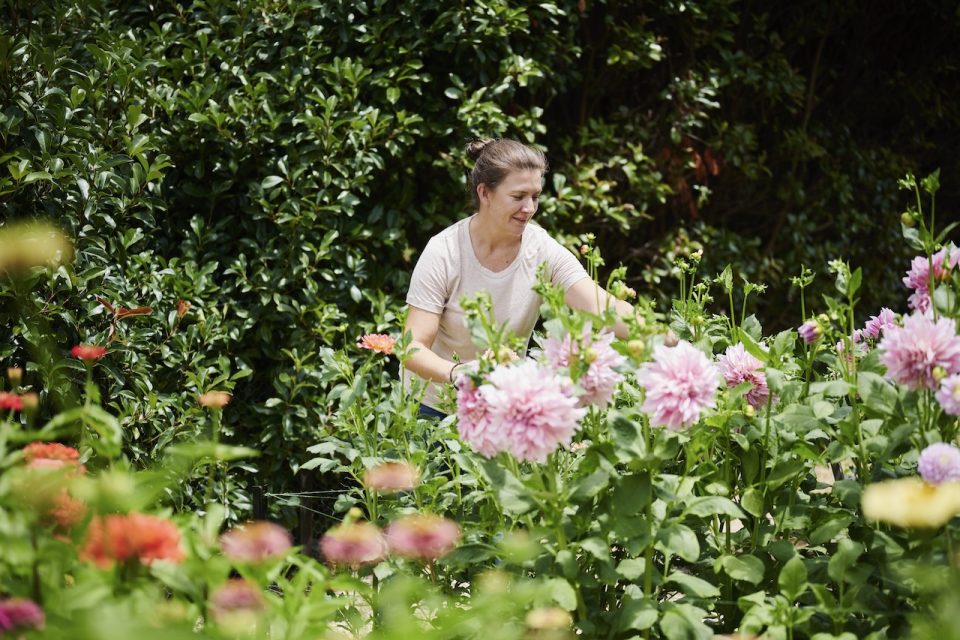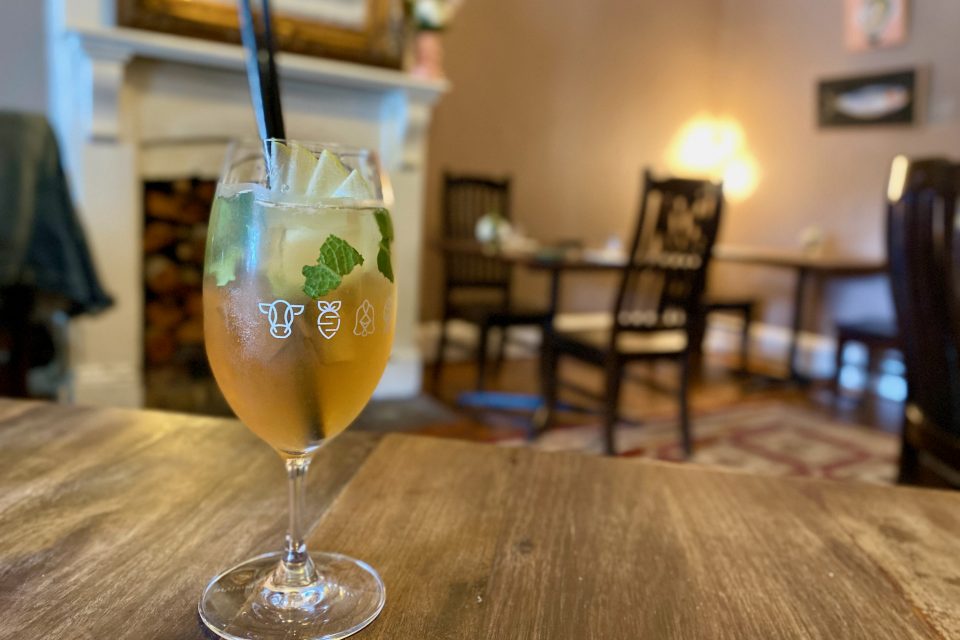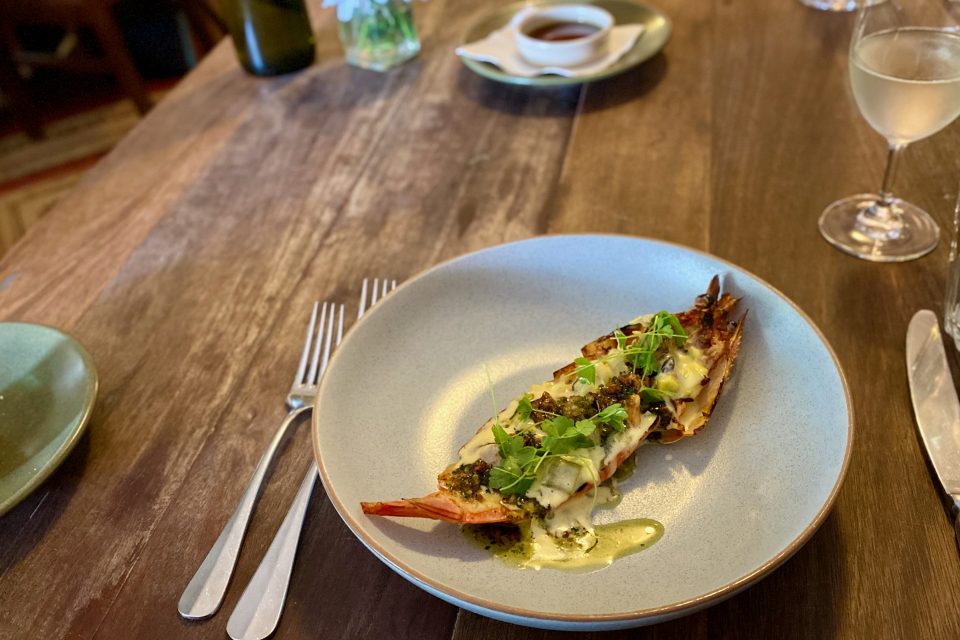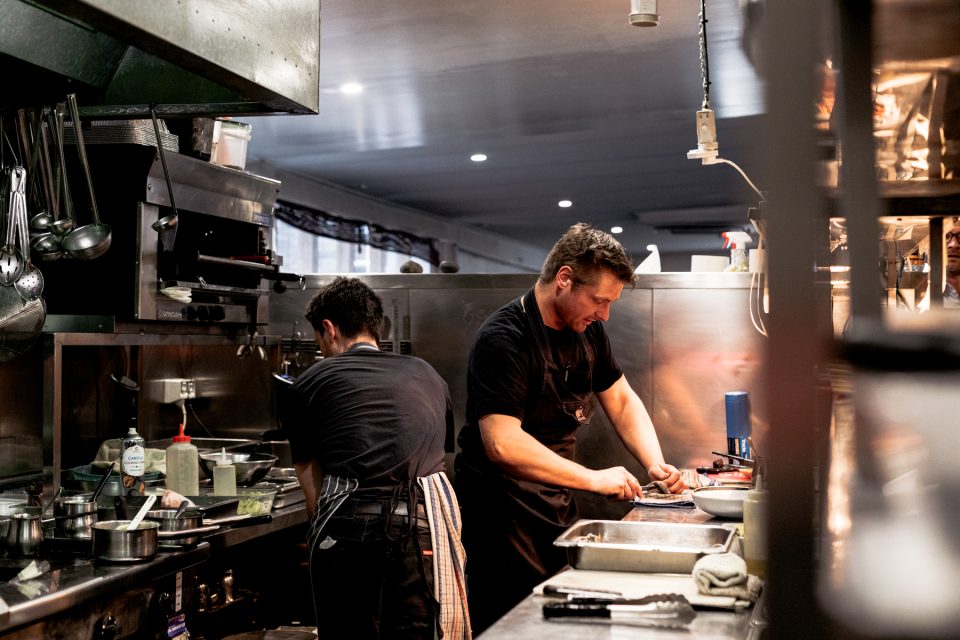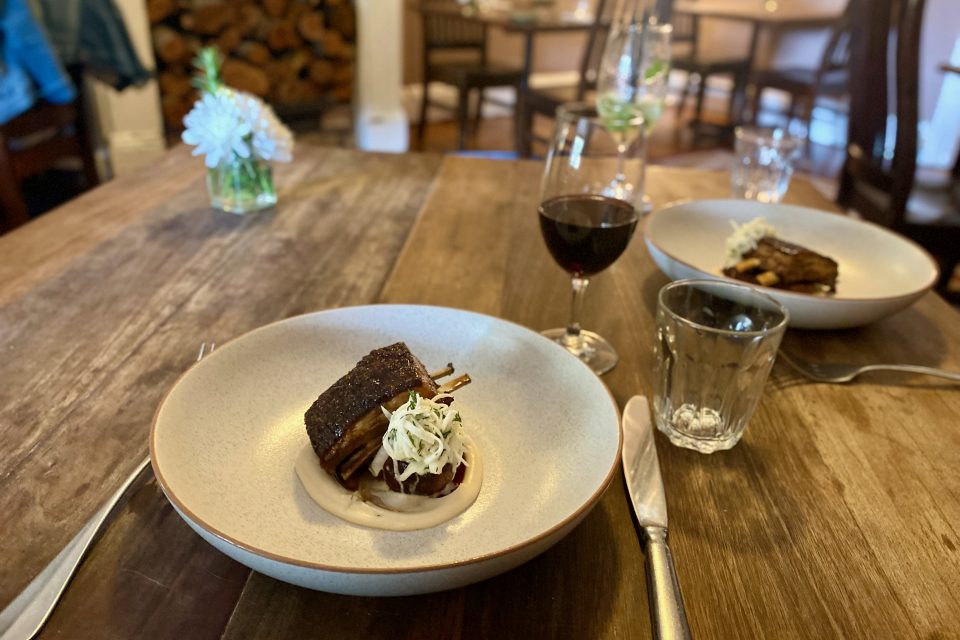 The final savoury dish celebrated the lamb-producing country that surrounds Gundaroo. Grazing is located in the historic Royal Hotel building, which was established in 1865, and I imagine many guests must have enjoyed a lunch of roast lamb over the years. This dish included lamb rump and sticky glazed lamb ribs – both wonderfully tender and flavourful. Accompanied by cauliflower puree and a glass of a big Cab Sav from Long Rail Gully, I found myself wanting to linger over the flavours.
Considering the weather, we chose not to wander through the gardens on this occasion, but it's a delightful way to bookend your meal on a sunny day. A feature of the gardens is Kurt's beehives, which have provided honey for our dessert: burnt honey crème with ginger and orange blossom, pear, honey jelly and candied pastry.
You might expect a dessert themed around honey to be overly sweet, but the well-crafted dish is more floral than sweet. The clever use of textures sustains novelty in each mouthful and apricot notes shine through the Lerida Estate Botrytis wine.
Tanya and Kurt should be very proud of all they've achieved at Grazing. They're regularly recognised with awards and have become a staple 'destination' restaurant in the region.
"Celebrating 20 years of Grazing is quite surreal, to be honest. We've seen some major changes to not just the property but to the dining scene in the region generally," said Kurt.
"It's an evolution, and what really excites us is we feel we are always learning or discovering new ways to keep our valued clientele interested."
Grazing is located on the corner of Cork and Harp Street, Gundaroo. They are open for lunch from Thursday to Sunday and dinner from Thursday to Saturday. The 20th birthday menu will be available until 29 October. Follow them on Facebook and Instagram and make a booking via their website.
Original Article published by Lucy Ridge on Riotact.