When the Tallong Apple Day festival started about 15 years ago it was all about family, community and, of course, apples.
Long-time resident Kerry Lawrence remembers the first one clearly.
"It was just a few families in the park having a barbecue," she said. "But it's changed a bit since then."
A 90-minute drive from Canberra, Tallong boasts a population of about 600 – and more than 9000 people descended on the village for the last festival in 2019.
"These days we've had lots of new families move in so we'd love to see as many people as possible here," Kerry said.
Weekly Newsletter
We package up the most-read About Regional stories of the past week and send direct to your inbox every Thursday afternoon. Subscribing is the easiest way to keep up, in one hit.
"With this event, we just make sure it stays as a community event; that's always been the most important thing."
---
READ ALSO: Cider the apple of Batlow's eye as industry interest ripens
---
But as in most small villages, a little friendly rivalry is guaranteed – particularly at the festival's popular Maggie T's Bake-Off. No, not that Maggie T, but much-loved local Mrs Thatcher. The bake-off continued after she passed away, with competitors invited to enter anything containing apples.
"We've had some interesting ones over the years," Kerry said. "Some were really gross I have to say, like apple with chili, but then there have been some entries which would have been good enough for the top agricultural shows. We've had full-blown cakes, tarts, jams and sauces.
"I've been trying to win it for a few years and last year I thought I'd come close with my apple jam. But my Dad beat me with his apple profiteroles. And then I had to deliver his prize to him.
"He was a bit cheeky about his win, telling me he wouldn't enter the following year – but that's when we had COVID so there was no festival."
The Tallong event reminds locals and visitors of its delicious history as a hive of apple growing until 1965 when a bushfire wiped out all the orchards except one – Watlings. Today, that memory lives on in the park with the Big Apple, which used to hang at Watling's farm but was later donated to the village by the family.
Events organised for this year's festival include an apple pie-eating competition, woodchop, bush dancing, animal nursery, puppet shows, live music and lots of local produce for sale.
"We are super excited to have Tallong Apple Day go ahead this year; we have been amazed and so thankful for the support from Goulburn-Mulwaree Council, local businesses and sponsors, especially after the extremely challenging past few years," Kerry said.
The festival was cancelled in 2020 and 2021 because of bushfires and the COVID-19 pandemic.
---
READ ALSO: How to grow up and be productive: an idiot's guide
---
All money raised from the event goes straight back to the community.
Kerry said the village had had 600 mm of rain since the start of the year and so for the safety of visitors and residents, no cars would be allowed into the village on the day. The shuttle buses will run from 8:30 am throughout the day at 15-minute intervals.
Those planning to attend the Apple Day Festival on Sunday (May 1) should drive to the Marulan Truck Stop 31, where shuttle buses will take visitors to Tallong.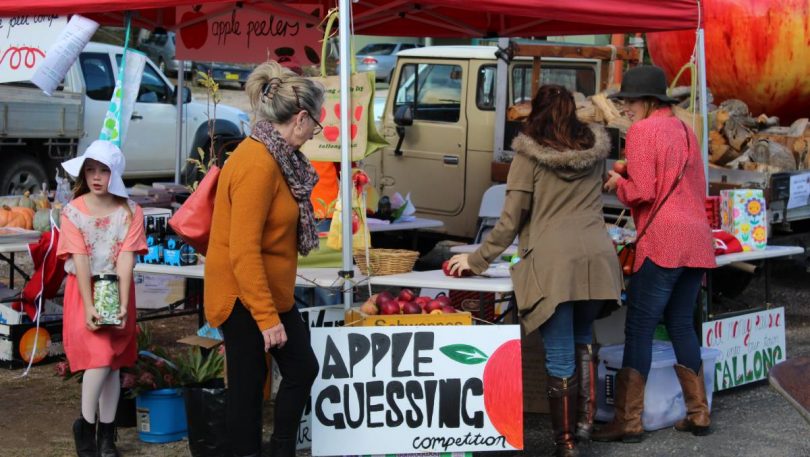 The event runs from 9 am to 4 pm at the Tallong Memorial Hall and grounds.
More information is available on the website