Anyone who visits Canberra businessman Terry Snow's 2000-acre equestrian park at Bawley Point on the NSW South Coast is, quite simply, blown away.
It's the equivalent to a Disneyland for horse owners with five arenas, six round yards, 32 luxury stables, 200 event stables, plus a vet room, walker and heated training pool.
Then there are the five-hectare gardens with more than 11,000 trees, shrubs and plants – mostly natives – and 35 sculptures to explore.
Add in a conference centre, 18 luxury pavilions, and a 25km mountain bike trail that's in the works, Willinga Park doubles as the perfect rider camp and corporate retreat.
From the outset, Terry's vision has been to build the best equine facility in the world, and he is on track to achieve that.
"We've had judges who have judged in America and at the Olympics come here and say there's nothing like this," says Willinga Park general manager Chadd Percival.
Terry says there's no limit to the park's growth.
"Anything that's a good idea, we'll do it," he says. "It will only make us more competitive."
Terry initially trained as an accountant but worked as a property developer in the 1980s with his father, Bob, and brother, George. Then when the family business sold, he used a share of the proceeds to buy the 99-year lease on Canberra Airport, paying just $40 million in 1998.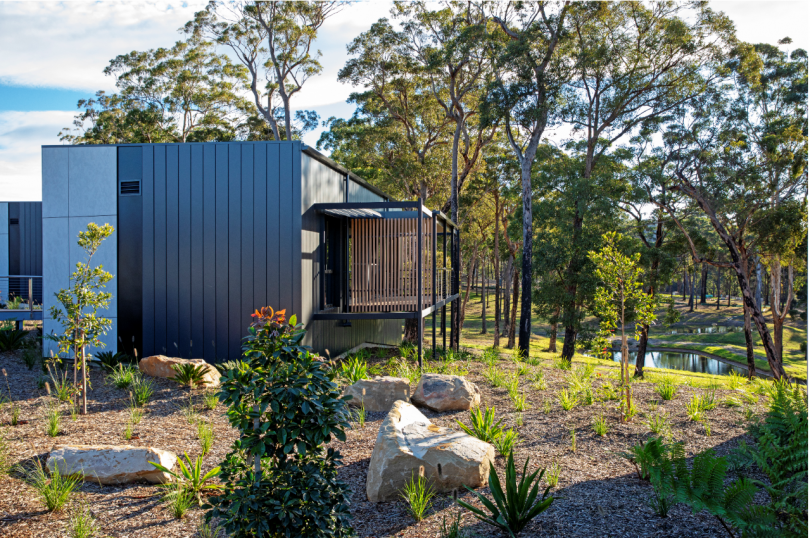 Willinga Park doubles as a wellness and conference centre, with 18 self-contained cabins. Photo: Supplied, Melissa Evans.
Now he also owns the surrounding business parks at Canberra Airport, Majura Park shopping precinct, the new commercial development Constitution Place and Molonglo Valley suburb, Denman Prospect. He gives back to the Canberra community through his philanthropic organisations The Snow Foundation and The Snow Medical Research Foundation, but the equestrian park is a step in an entirely different direction.
Terry says he rode horses as a young man, but his main interest is breeding.
That's why his latest goal of sending top cross-country rider Hazel Shannon and dressage rider Jayden Brown to the Olympic Games in Paris in 2024 is so important – to prove Willinga Park's horses are competitive.
To support the riders, Terry and Chadd are building a gym and $1 million cross-country course comprising 150 jumps.
"The competitors don't want to leave when they're here," says Chadd.
It's no wonder, with Willinga Park also encompassing a fully licensed restaurant, open during events and created in collaboration with renowned chef Matt Upson of Mollymook's Tallwood Eatery fame.
Willinga Park has about 140 horses – mostly stock horses, with some warmbloods and thoroughbreds – and breeds about 80 per year, which are sold at auction.
That number is set to rise with Terry also investing $5 million in a veterinary hospital with MRI machines and technology to carry out embryo transplants by the end of 2021.
It's not often members of the public are invited to explore the park, but there are a handful of opportunities throughout the year. One of them is the weekend of 13-15 May.
The Volkswagen World Championship Gold Buckle Campdraft attracts Australian competitors from as far as the Northern Territory, with a staggering prize pool of $300,000, and a top prize of $100,000.
There are 440 entries this year – the biggest in the event's history – and spectators will be able to catch all the action, including the campdraft, female trick riders and a working dog challenge, from the new 330-seat grandstand overlooking the camp.
Willinga Park constructs temporary yards for the horses – with some competitors bringing up to 10 horses – and erects 50 portaloos, a bar, jumping castle, trade village, food stalls and a stage that will be graced by Australian country music duo Adam Eckersley and Brooke McClymont.
"It's definitely a great day out for the family and we have a ball," says Chadd.
Tickets to the Volkswagen World Championship Gold Buckle Campdraft are available online.