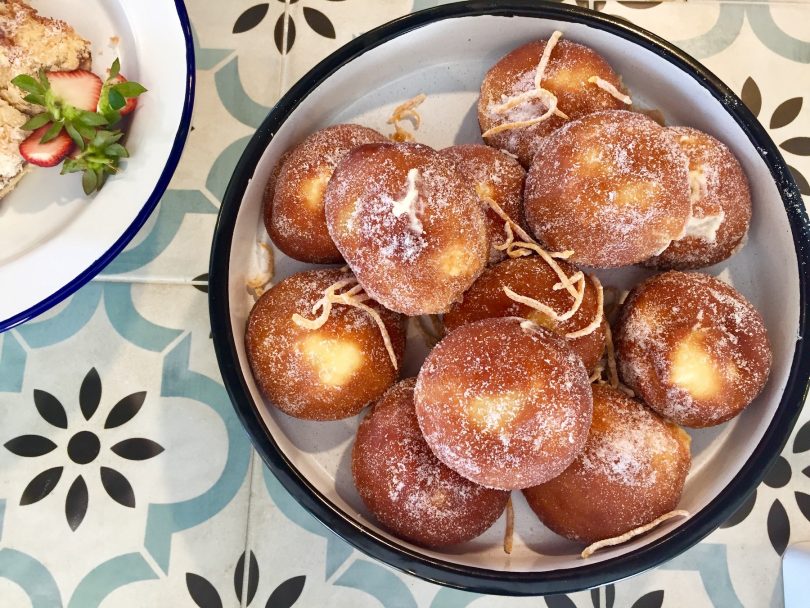 The smoke has cleared, the beaches are waiting and there are no queues for gelato. The beautiful tourist drive from Tathra to Bermagui to Cobargo, winding through the Mimosa Rocks National Park, is worth it for the scenery and secret swimming spots alone, but you can also please your palate with a stop at one of the outstanding cafés along the way. Gather and catch up with your friends, and inject a little happiness and economic health into these wonderful communities.
The Wharf Local, Tathra
Address: Wharf Road, Tathra
Hours: Wednesday – Sunday 8 am to 4 pm
@thewharflocal
Coffee: ONA Coffee, Black Betty
If your idea of a morning coffee is quiet contemplation staring over the sea and listening to water moving under the boards beneath your feet, then you must visit the Wharf at Tathra. The coffee here is excellent – strong and full-flavoured, loads of caramel and chocolate. A long cabinet is laden with the most beautiful cakes, tarts, pastries, sandwiches, and salads like sweet sesame broccoli and edamame salad with quinoa, or roast eggplant with sofrito, chickpeas, almonds and rocket. The cafe is also a stockist for the amazing Honorbread Sourdough from Bermagui. Magazines, flowers, local crafts and art, ancient doors, piles of croissants – every corner of The Wharf looks inviting. Here you can linger while watching the fishermen and the seabirds, mingle with the locals and wander the paths of the new Tathra headland walk.
Weekly Newsletter
We package up the most-read About Regional stories of the past week and send direct to your inbox every Thursday afternoon. Subscribing is the easiest way to keep up, in one hit.
Blend Providore, Tathra
Address: 37 Andy Poole Drive, Tathra
Hours: From 7:30 am every day
@blendtathra
Coffee: Alfresco Coffee Roasters
Blend is set back off the road opposite the beach at Tathra, and they've recently taken over the space next door. Blend's coffee is great and there is a choice of blend so spend some time discussing this with the helpful staff. Of course you then have to choose between house-made pastries, still warm sourdough, tarts, a sensational croque monsieur filled with double smoked ham and bechamel, seasonal salads, or some take home decadence from the cheese cabinet. You may be served in French if you're cheeky. Owner Bronnie knows her cheese so get her to show you around Blend's well-stocked cabinet and all kinds of kitchen and coffee making paraphernalia. Blend is baking sourdough every day except Thursdays. Recommended: the Almond Croissant.
Wild Orchid Café, Tathra
Address: 1/29 Andy Poole Drive, Tathra
Hours: Tuesday to Sunday 7:30 am to 3 pm
@wildorchidcafe
Coffee: Wild Rye's Coffee Co., Pambula
Wild Orchid has been going from strength to strength. The cafe is all sunlight and air and Rowena's breakfasts are completely scrumptious. The space has huge windows, polished concrete and sand coloured fittings, brown paper and healthy, rustic food. Staff are friendly and the place bustles with happy locals. I order a stronger coffee here as we've learned to do with the Wild Rye's Seasonal Blend, and it's well made and delivered promptly. We sit looking out over the front lawn area, scattered with bean bags and many happy locals and dogs. Enjoy Wheatley Lane organic sourdough, dukkah crusted free range eggs, bright and fruity granola, lamb kofta with quinoa tabouli, house-made goat cheese tarts – yes, that kind of simply good.
The Gap Espresso, Tathra
Address: 59 Andy Poole Drive, Tathra
Hours: Every day from 6.30am
@thegapespresso
Coffee: Vittoria
Open and serving from the convenient time of 6:30 am, The Gap Espresso is a lofty, light and gorgeous space for an early morning coffee. Sit surrounded by surfboards and gear to get you all ready for a session in the surf just over the road. Wild Rye's crunchy croissants filled with ham and cheese, muffins, raw goodies, vegan and vegetarian bowls and salads grace the very small menu. Coffee is always well made and sitting in the sun streaming in through the huge front windows watching swimmers and surfers back from the beach is the essence of Tathra. There is great swimwear and surf/skate stock for you to peruse also.
Gulaga Organics, Bermagui
Address: Shop 2/2 Lamont Street, Bermagui
Hours: Weekdays 9 am – 4 pm, Saturday & Sunday 9 am – 3 pm. Closed Tuesdays
@gulagaorganics
Coffee: Organic Delano Specialty Coffee, Wollongong
If you like your coffee to be ethical and sustainably grown, this is the cup for you. Our single shot lattes were full of flavour and a decent colour and strength. Delicious. You can poke around in the organic produce while you're here, maybe pick up a bag of the sensational raspberry liquorice (you're welcome), some raw chocolate or house-made treats. Or if you've done your dash with the 'espresso bar' for your day, dive into a plant-based cacao, berry or green smoothie or a cold pressed juice from the 'goodness bar'. The verandah is wide and beautiful, wrapped around this lovely old corner building, and the view is over the bay to Our Lady Gulaga, so sit and spend some time soaking up the breeze.
The Cream Pattiserie
6/28 Wallaga Street, Bermagui
Hours: 7am to 3pm Mon to Friday, 7am to 2pm Saturday
@TheCreamPatisserie
Coffee: The Tattooed Sailor Coffee Roasters (White Label)
Maddy Berry and her family recently took over this 'high street' patisserie, so there is an extra focus on the coffee here. Attention to extraction along with good crema means a perfect cup to go with your Maltese doughnut (pictured), or any of the wares from the laden cabinet. Have breakfast or lunch, choose from pannacotta, quesadillas, cheesy loaves, croissants and more, including classic tarts, bread and pastry baked fresh every day and available for catering. The pastries are light and crispy and deserve a stay for a lingering second cup. The Green Caffeen enterprise is in place here if you should choose to participate, a great incentive for reducing waste.
Eastwood's Café and Cooking School, Bermagui
Address: 1/26 Bunga St, Bermagui
Hours: From 8.30am to 2.30pm most days. Pop up dinner Tuesday from 6pm.
@eastwoodsbermagui
Coffee: ONA Coffee
A combined café and cooking school in beautiful Bermagui? That's right. Saturdays devoted to the worship of brioche doughnuts? Yes indeed. Emergency kitchen for disaster relief? Yes again. Eastwood's is owned and run by Kelly Eastwood, who appeared on 'River Cottage Australia' and here she replicates the TV cooking classes she ran in Tilba during her time with that show. Menu includes sandwiches from the deli, loads of fresh, crunchy salads, and you can even find a Vietnamese Banh Mi, or Korean-style schnitzel. ONA coffee is served in the café, and coffee is quite delicious. Pop up dinners on most Tuesday evenings. Take home meals are also available. Note: Eastwood's has been operating as a disaster relief kitchen so check on opening hours before visiting.
Mr Hope, Bermagui
Address: 4 Bunga Street, Bermagui
Hours: 7 am to 12 noon, 7 days
Coffee: Witham's Coffee, Hornsby
Mr Hope reminds us of cafés frequented in the back streets of St Kilda during the 80s. A bit retro but classy, eclectic and serving quality product from a small selection. We loved the 70s-coloured latte glass, and the coffee is good. There is an element of trust required and expected here – you sort your own change and patiently wait. Our coffee came quickly and was delicious. Many locals stopped to say hello, and to hug the barista who told us about their special offerings like Café Bonbon – which is coffee over condensed milk – their cold-brew, and Affogato. Having recently changed hands, plans are afoot for a couple of food offerings over summer, longer trading hours and a future gin bar. Now, do we have your attention? That's right, a gin bar. For now, you can munch on a couple of the more famous offerings from Mr Hope's neighbours – award-winning Honorbread, like the Salted Rye Biscuits and the sensational Kardamumbulla with your excellent coffee. Basically, if you want to feel like a cool person – go here. Note: cash only.
Beardhawk Coffee Caboose, Bermagui
Address: 2/3 Wallaga Lake Rd, Bermagui
Hours: Monday – Friday 7 am to 12 noon
@beardhawkcoffee
Coffee: The Coffee Company, The Godfather Blend, Mornington
Another great coffee joint in Bermagui. This striking caboose is parked in the courtyard of the Frame & Brush art shop and stopping for coffee at Beardhawk is a quirky experience. But if your attitude is more "quality coffee over designer furniture" then you'll be OK here as the coffee is delicious. A single shot of medium to dark goodness tipped us into the buzz realm. Served in a 1970s whisky glass with no annoying accoutrements like saucers or spoons, we sat under the sky, listening to the local cognoscenti and learning a few things. There are a few raw, healthy, snacky things we didn't take much notice of because, again, the thing here is the coffee (and maybe the talk). Only open in the mornings but if you can handle coffee like this after midday then you're of stronger stuff than us! Note: cash only.
Valiant Coffee and the Via Luna Tiny Cookery of Cobargo
Address: 55 Princes Highway, Cobargo
Hours: Weds to Friday 10am to 5.30pm, Saturday & Sunday 8.30am to 2.30pm
@vialunatinycookery
Valiant Coffee open from 8am Monday to Saturday
Coffee: Guerilla Roasters and Mystery Bay 1080 Grind
James Bristow makes a fine cup of coffee from his retro caravan. Everybody knows it. Just at the rear of the new Via Luna Tiny Cookery, he is dishing up excellent espresso and conversation. Thankfully both of these businesses survived the recent fires. Via Luna's Lena Kuppens and Harry Binnendijk create stunning, wholesome wholefood in their custom made 'tiny house', using produce from their market garden. Lena is a 'no waste' cook and there is a very healthy bent to her cooking but no limits on flavour. Much to find that's vegetarian, such as stunning tagines, also muffins, pastries, salads, very simple hearty fare, including highlights like her homemade ricotta and preserved fruit. On the main street of Cobargo next to Little Birdie Vintage is this cute little cookery, which buzzes with locals and healthy flavour.
---
Do you have any Café suggestions between Tathra to Bermagui and Cobargo?
Original Article published by Lisa Herbert on the RiotACT.