Located in a quiet street in Tomakin, this incredible property showcases the best of coastal design, where wood finishings and high ceilings frame seaside views and your nest in nature.
Blackshaw Real Estate Coastal Licensee Pat Jameson says 79 Forest Parade in Tomakin is "the ultimate beach house".
"This is one where if you want a home by the beach with all the comforts of modern conveniences, you can't do better," she explains.
The house contains three bedrooms and two bathrooms across an open–plan design from South Coast builder Rob Routledge.
"The master bedroom is at the back of the house, with a sliding door onto the deck and a large round porthole window looking out to the tree canopy.
"The other two bedrooms are at the front of the house, but with one at each end."
The home is located at the end of a cul-de-sac and features timber-clad cathedral ceilings, custom-built windows, marble bench tops in the kitchen, a spa bath, Sydney bluegum timber floors and a (heated) outdoor shower.
"It's got a nice feeling of space because of the high ceilings and attention to detail," Pat says.
Storage space in the house's roof, a separate laundry and a double lock-up garage mean the next owner will never run out of space.
"A lot of the other properties in Tomakin are on the flat [land], so they don't have a view and have a more standard residential layout," she says.
"This one's got a bit more character than most with its unique forest position overlooking the breaking waves of Barlings Beach and pink rocks off the tip of Broulee Island."
The home has recently come onto the market after being in the same owner's care for 20 years, Pat says.
"It's had one owner – it's been their personal holiday home – and in that time, it's been very lightly used and very well-cared for so it presents as a much newer house," she says.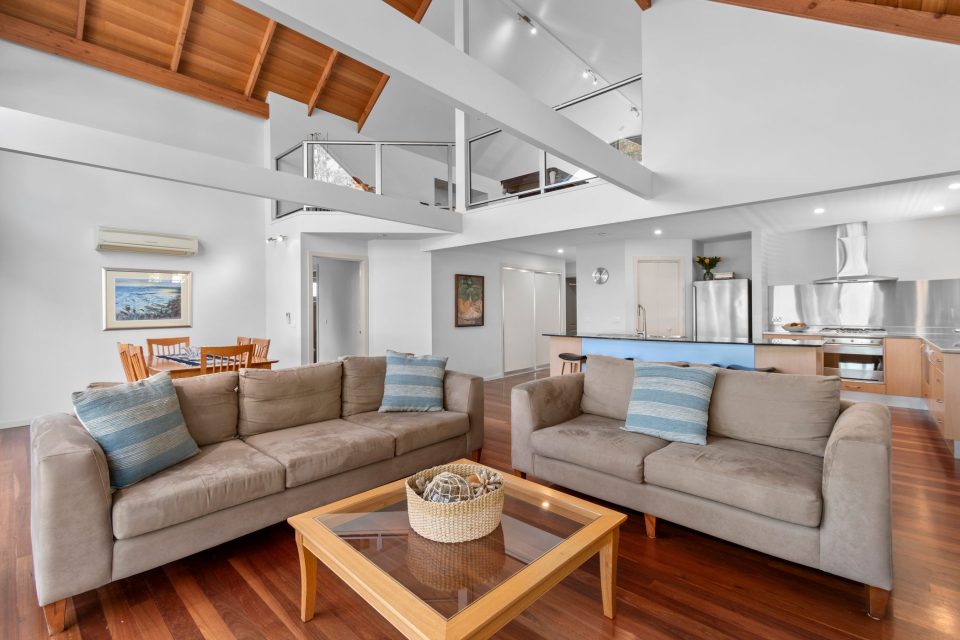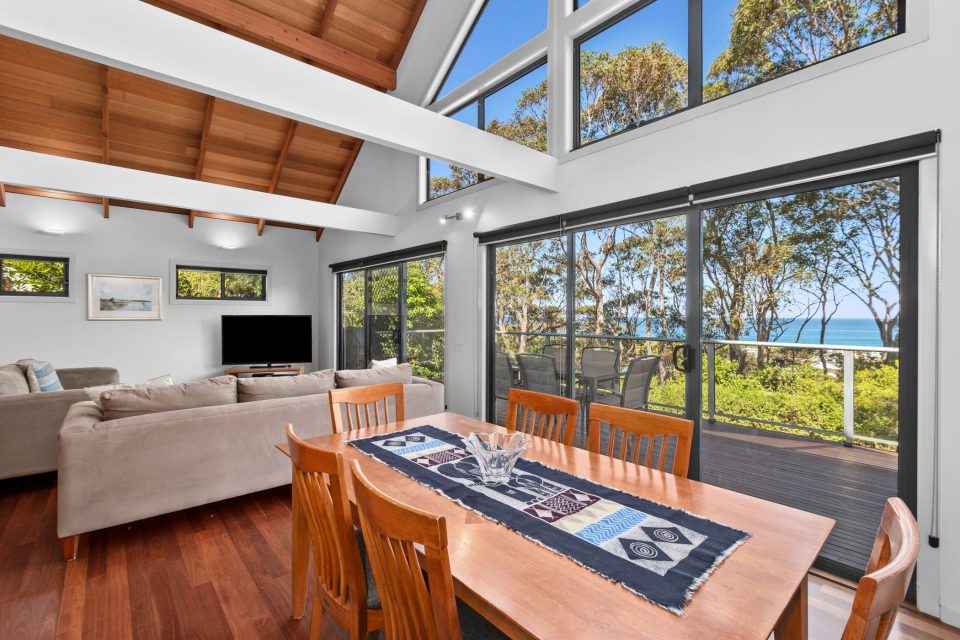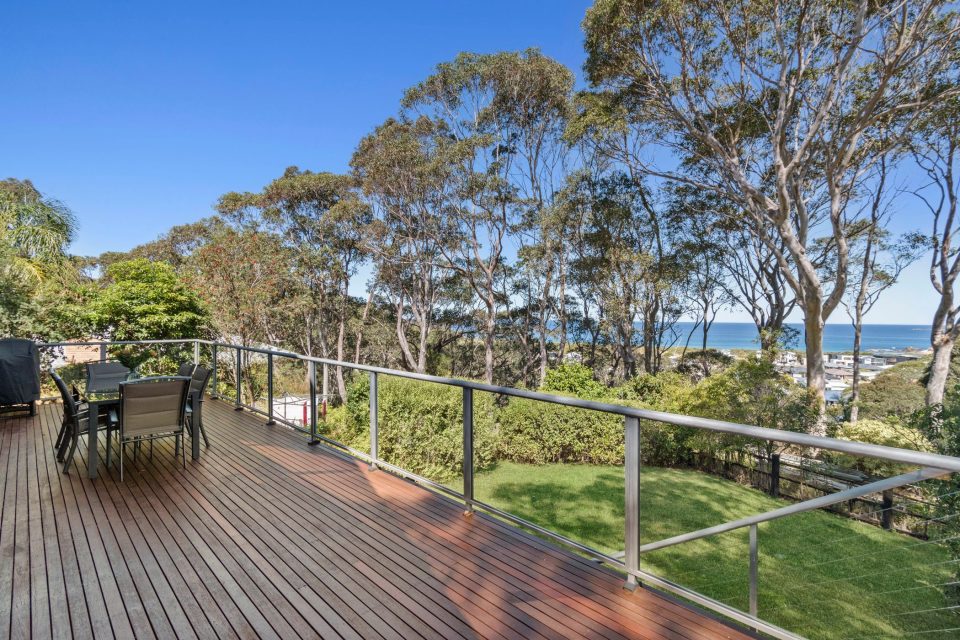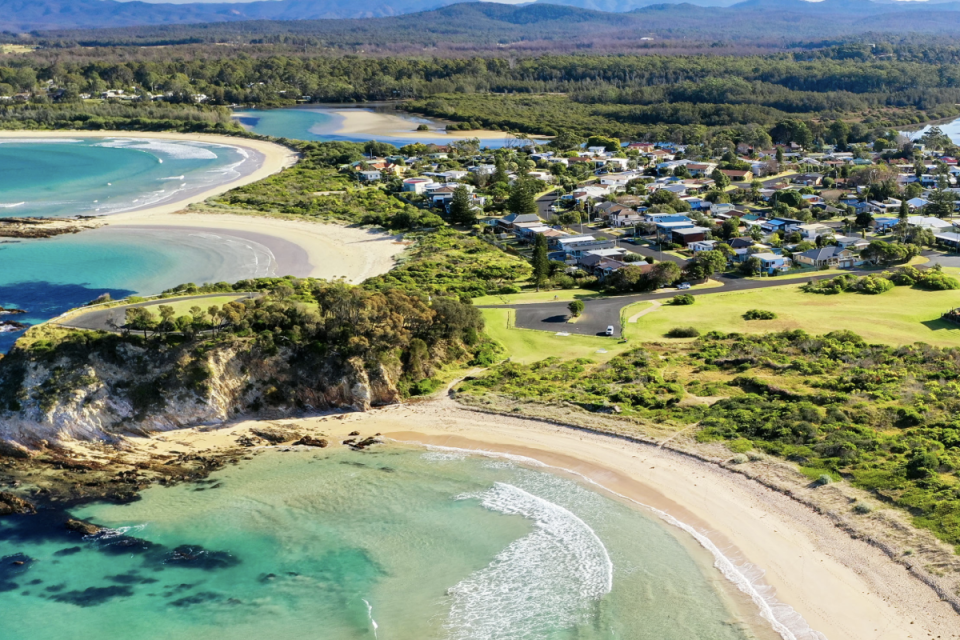 Despite the name of the street – Forest Parade – it is the stunning and panoramic views to the ocean that set this home apart from others by the seaside.
Pat has two words to describe the view from the windows: "glorious views".
"It's one of the best views I've seen in that particular street and one of the better views in Tomakin," she says.
"I've been in very few properties that have views to Broulee Island as it is pretty rare."
The next owner can take in the views from their timber deck alongside friends and family or relax with a glass of something nice.
"For many houses with views, the best views are from the second storey – this isn't true here," she says.
"In this one, the views are good from both storeys."
The home is split with the main living areas and garage on a single level.
A mezzanine on the second floor with a studio and rumpus room provides more relaxation spaces, a space to work from home or easy accessibility for older individuals.
Pat says that while the Tomakin area is the ideal location for anyone looking to spend time in the water, it is a hidden gem on the coast that has grown in popularity in recent years due to its natural beauty, community facilities and ease of accessibility to Canberra.
"It's got beautiful beaches, including a beautiful cove, a surfing beach and a pet-friendly beach. But it also has very nice cafes, Tomakin Social Club and an IGA nearby."
Pat says the slower pace of life and closeness to nature means the property can serve families and individuals in different stages of life.
"While it's the perfect holiday home, it's also ideal for people looking to transition to retirement, with garage and main floor plan located on ground level," she says.
"It's got broad appeal."
To find out more about 79 Forest Parade in Tomakin, call Blackshaw Real Estate Coastal Licensee Pat Jameson on 0405 442 905, and be sure to check out all the latest listings on Zango.
Original Article published by Claire Sams on Riotact.