In the picturesque Kiama countryside, holidaymakers lie in hammocks around the campfire outside a safari-style tent as pelicans fly overhead and the odd cicada chirps off in the distant bushland.
It's an eco glamping accommodation experience husband and wife Nick and Jen Currie have been able to make a reality through Cicada Luxury Camping at Jerrara.
However, seeing it come to fruition a year ago was also bittersweet for Nick.
His parents retired on the property about 30 years ago, building their dream house on the site.
"My sisters and I have been coming down a lot since then – kind of a home away from home," he said.
"I had my 21st birthday party in dad's old shed, my sisters both got married down here and my wife and I got married down here. So it's been a big part of our lives, this property."
While living in Marrickville in Sydney and working in the world of corporate IT, the idea for the eco-friendly and low carbon footprint getaway was planted in his mind after a holiday in Mollymook about six years ago.
"I did the usual thing after a regional holiday and did a bit of property porn searching, looking up how much land was in the area," he said.
"I came across this incredible eight-acre block just north of Mollymook that backed onto the mouth of the river.
"I thought 'what could you do with that? Oh maybe camping, that would be a nice lifestyle'. So that was the seed."
It was his mum who said: "Why don't you do it here on our property?".
"There was obviously a big pros and cons list with that one," he said.
"Not buying land is appealing but then also not owning the whole thing was a big consideration and being all tied up with the family.
"Mum was really keen and dad sort of grumbled and went along with it."
They made the decision and began the task of gaining approval from Kiama Council.
"I often joke about who was harder to convince – my wife or council," he said, laughing.
"We proceeded and then, just as we got started, my mum who I was super close with, went and had a catastrophic stroke and died four months later, two years ago.
"So she missed out on seeing it.
"We've got two young boys and so I had all these visions of being able to spend more time with mum in particular and the boys getting to know her.
"That was all pretty heartbreaking."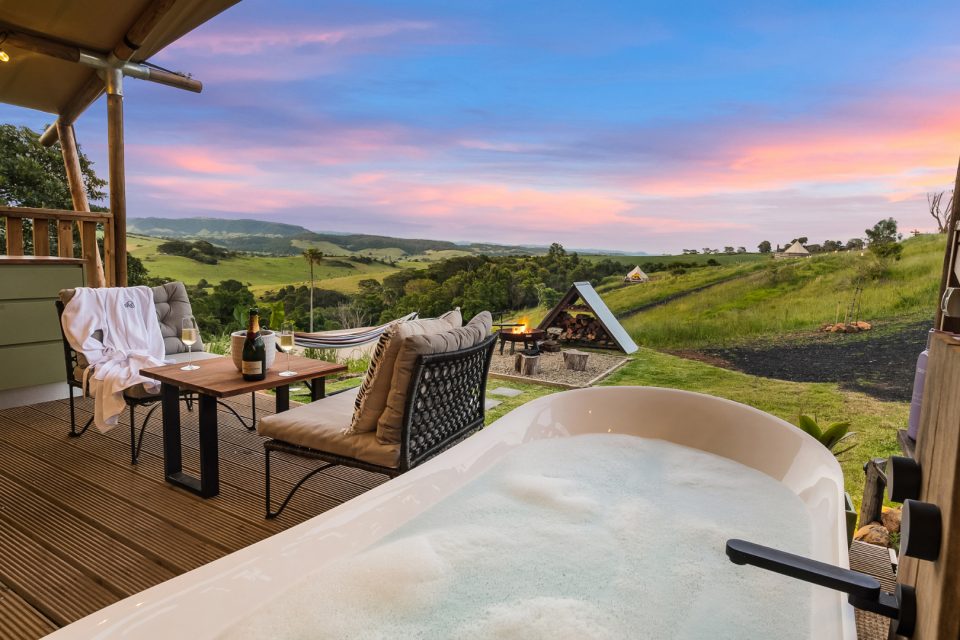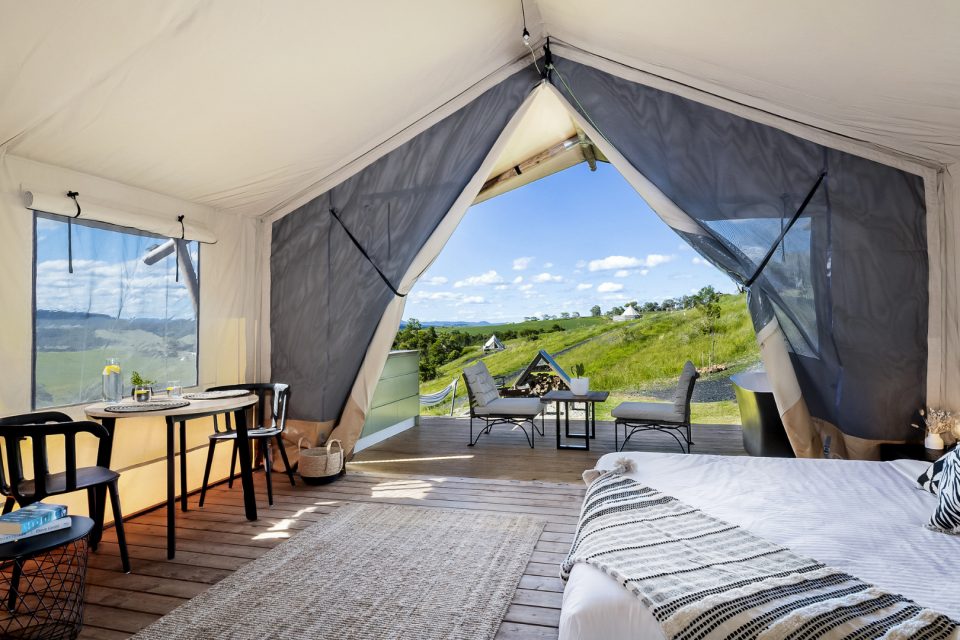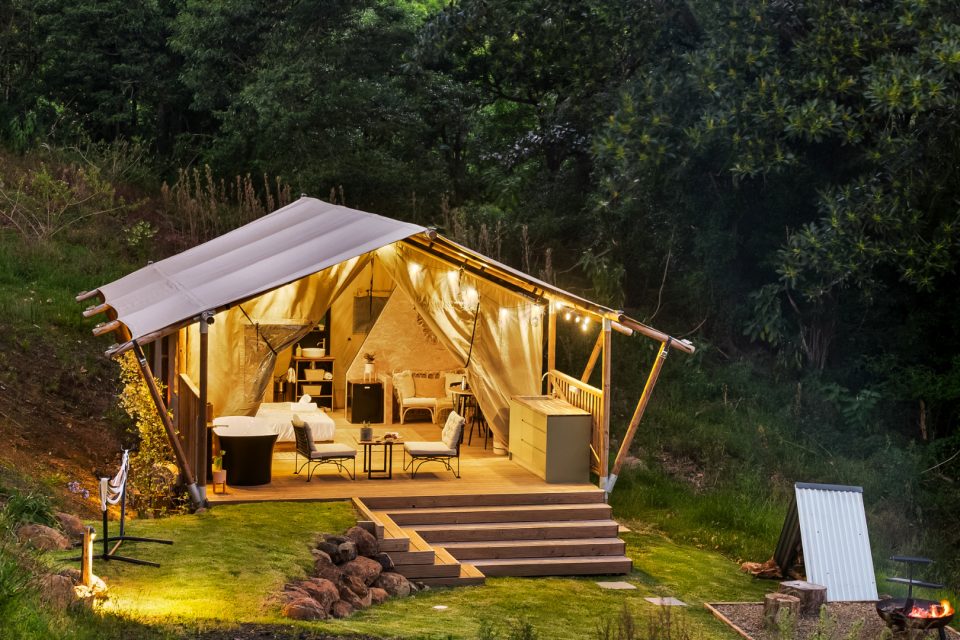 He said the task to create Cicada Luxury Camping was much bigger than he ever anticipated.
"Part of my argument with my wife was 'come on darl', it's just four tents and a house'," he said.
"During that whole crazy wet season and COVID built into that, it was just brutal, but we're getting through the other side.
"January was pretty much solidly booked and then we haven't had an empty weekend since."
Nick said its popularity was due to no other unique eco-friendly accommodation available for about 60 kilometres.
He said the other factor was Kiama becoming more popular, especially since being named the "most liveable town" earlier this year.
"The demand for glamping and basic eco experiences have been on the rise globally for 15 years," he said.
While Australia was a bit behind the trend, he said the popularity was now far reaching with some guests having never experienced camping before.
"It's facilitating people to have that camping experience that they would never do because it's all just too overwhelming with buying equipment," he said.
Each of the luxurious, fully equipped safari and bell tents have stunning views and a good degree of privacy, with a deck, firepit, hammock, king or queen bed with hotel linen, and tasteful furnishings.
"Some guys arrive and they're just frothing to get the fire started and kick back and crack a beer and lie in the hammock," he said.
"To be in the middle of the country and see pelicans flying over, it just reminds you how close you are to the sea."
While they researched similar businesses worldwide, much of the inspiration came from their own experiences camping over the years.
"We have 140,000 litres of rainwater storage, a large solar (power) system so it is very low impact and a low carbon footprint offering for guests," he said.
Plans to incorporate further sustainability include a chicken coop where guests could feed scraps to the chickens and collect eggs.
On a larger scale, their goal is for two new dome tents, with demand there as Christmas and January dates get close to filling up.
And the name, Cicada Luxury Camping?
"We certainly get them (cicadas), but not that much," he said.
"Cicada is just a nostalgic name and creature from my childhood.
"I associate them with going on holidays up north when I was young, finding the Black Princes, the Greengrocers and Golden Emperors."
Original Article published by Kellie O'Brien on Region Illawarra.