It may not be a formal record (if there even is such a thing), but it will probably go close: the Eastlakes Club group in Canberra are holding what may well be the world's biggest chook raffle this weekend.
The main aim is not to attract the attention of the Guinness Book of Records, but instead to help the many firefighters on the frontline and all those affected by the South Coast fire disaster.
The raffle is taking place with Youngs Meat Poultry Smallgoods and the Eastlake Group partnering together to host the "Worlds Biggest Chook Raffle" to raise funds for those impacted by the Fires currently belting the South Coast of NSW.
Youngs is a Queanbeyan based supplier and has been serving the Canberra and Queanbeyan food industry for more than 20 years.
Over 120 chooks will be raffled at both Eastlake Gungahlin and Eastlake Calwell this Saturday night (December 28) and organisers say that 100 per cent of the revenue raised will go to those affected by fires between Canberra and the South Coast.
Weekly Newsletter
We package up the most-read About Regional stories of the past week and send direct to your inbox every Tuesday afternoon. Subscribing is the easiest way to keep up, in one hit.
"We all travel to the Coast, it's our second home and whilst we can't go down there, we need to let the business and people of the Coast know we are here to support them", said Kylie Qiu, who is the company's managing director.
"We wanted to work with Eastlake to see what we could do – this will be both great fun, and a great chance for Canberrans to help out."
Youngs Chicken have donated the raffle prizes and Eastlake will be selling tickets on Saturday for the draw commencing at 7 pm.
The Eastlakes Group say that this is the largest event of its kind they have ever been involved with. They've had fundraising tins on the bar at their clubs in Calwell and Gungahlin since the crisis began almost two months ago.
That's already raised several thousand dollars for the firefighting effort, but they hope the massive chook raffle will raise some serious money.
"We've never done a raffle with this many prizes – we can't wait, it will be such a fun night" said Louize Glenn, Corporate Affairs Manager of the Eastlake Group. "Hopefully this will be a great kick to helping out our families on the South Coast".
There are 120 prizes, so there is an excellent chance that plenty of people will go home a winner, but both the clubs and Youngs say they hope the real prize will be the funds raised for the people affected by the fires.
Eastlake Gungahlin is at 51 Hinder Street in Gungahlin, while Eastlake Calwell is in 1 Were Street in Calwell.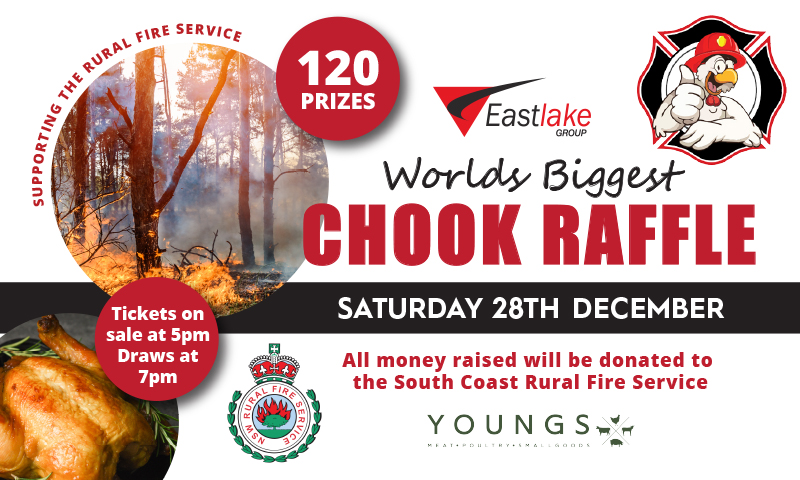 Original Article published by Genevieve Jacobs on The RiotACT.