Some of their bikes had no brakes. But the Indian, Harley-Davidson, Norton and AJS machines and their riders had plenty of go in them to contest Australia's first motorcycle grand prix, in Goulburn in 1924.
Ninety-nine years later, Goulburn is planning to stage the 100th anniversary of that event on the same course next year.
Over three days from 23 June 2024, the 100-year Grand Prix celebration will feature a re-enactment ride where up to 1000 motorcycles are expected to cover the original course. Goulburn Mulwaree Council, Goulburn Chamber of Commerce and the Indian and Harley-Davidson motorbike manufacturers want to help re-create the historic event.
Starting on the city's outskirts, the 80-kilometre route goes to Windellama, Bungonia, then back to Goulburn along Mountain Ash Road. The Classic Riders Club of Goulburn and Goulburn Motorcycle Club plan to assemble bikes from 1924 or earlier to kick off next year's re-enactment on the course.
"Then we will work our way through the decades, grouping them in numbers safe and manageable," Classic Riders secretary Dale Towell said. "As the day progresses, each group will be sent off.
"Residents living along Windellama Road are talking about getting their deck chairs and a picnic and taking it down to the road and watching everything go by and that's what we want people to do."
Classic motorcycles will parade through the main street of Goulburn, classic bikes will race around Wakefield Park Raceway and Pheasant Wood Circuit tracks, and the Goulburn Motorcycle Club track will stage motocross events. Organisers are planning a major music concert and dinners to host international motorcycling identities.
Goulburn Chamber of Commerce president Darrell Weekes said creating a narrative around the first grand prix in the Southern Hemisphere would spark international interest and make Goulburn synonymous with motorcycle racing.
"I have just been speaking to the CEO of Indian Motorcycles (Australia), Chis Walton, who is very keen to be involved, given an Indian won the first grand prix," he said.
Mr Weekes said just as the Isle of Man had leveraged off having its original motorcycle racing circuit from the early 1900s, so too could Goulburn because its 1924 track still existed and was on public roads.
Goulburn Motorcycle Club president Richard Toparis said the club was formed in 1911 and was the oldest continuously running club in Australia. It now has a "home" with the opening of its own track and club facilities.
Having Indian Motorcycles in America and Harley-Davidson interested in the re-enactment would be a major plus, he said.
"There are not many circuits around NSW, so Goulburn is well positioned to be an important racing centre," he said.
"You can read anywhere people are missing racing circuits. Sydney's Eastern Creek is bursting at the seams because it's taking all the traffic."
The Classic Riders Club of Goulburn will launch preparations for the centenary celebrations in July or early August at Pheasant Wood Circuit, Marulan, where many more bikes are likely to attend.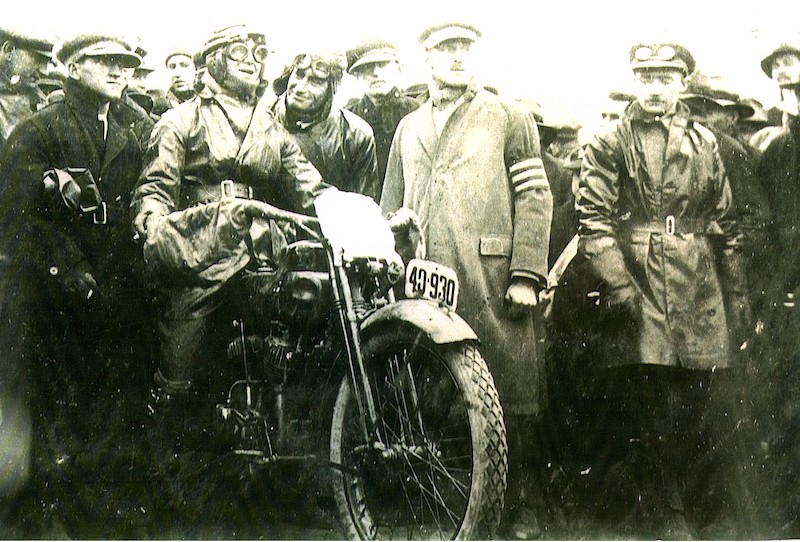 Dale and husband John Towell held a bike-on-trailer day at their home in Goulburn earlier this year and assembled them at a monument established by the local motorcycle clubs to recognise the first grand prix.
"The earliest bike that showed up was a 1903 model, one of four bikes on a trailer, all original," Dale said.
"I ended up with seven bikes ranging from 1920 to 1926. One of them was an Indian, exactly the same model that won the grand prix in 1924."