How books make a house a home is the focus of a new film about recovering from the trauma of the Reedy Swamp, Vimy Ridge and Tathra Bushfire.
The Book Love for Tathra film, partly funded by a Bega Valley Fire and Resilience Grant, tells the story of how more than 3000 new book donations have created positive and long-lasting impacts in the fire-affected community.
Authors, publishers and individuals from across Australia donated more than $100,000 of new books to Book Love for Tathra after fire destroyed 65 homes and damaged many more on March 18, 2018.
The Creary family, who were among the first Tathra residents to move into their new home just before the one-year anniversary, are among those who feature in the film.
"To be able to move into the house and straight away have new books to put on the shelf makes the house feel like a home," Alexis Creary says.
Weekly Newsletter
We package up the most-read About Regional stories of the past week and send direct to your inbox every Thursday afternoon. Subscribing is the easiest way to keep up, in one hit.
Esteemed Australian author Jackie French, AM, who donated over 200 books to the collection and instigated significant donations from Australian Women's Weekly and several major Australian publishers, also features.
"Every single book in this room has been given with the most enormous love and joy and incredible admiration for the community of Tathra, who is determined to survive," Jackie says.
"You actually need joy as much as recovery…and this is joy! And this is more important because hopefully in a year, five years or 10 years, something like this is going to be the much more powerful memory than the hard things.
"You will look back and you will smile because you will remember the things done with friendship, love and community."
Click play to take in Book Love for Tathra the film…
Bega Valley Mayor Cr Kristy McBain says Book Love is a wonderful example of the humanity and generosity Australians have for each other.
"Seeing these books and seeing people excited to restock a library, no matter how small or large it may have been, is really heartwarming," she says.
"From my point of view it's one of the great reasons we live in the Bega Valley Shire is because of these amazing people that come together to help out their friends, their families, their neighbours."
Sapphire Coast-based film maker Brent Occleshaw produced the film. Brent, who is also a volunteer firefighter and was part of the fire-fighting effort at Tathra, says it was a privilege to bring the Book Love story to life on film.
"As firefighters, we defend life, defend property, and importantly, restore normality."
"Restore normality involves helping this community become strong again and replacing books, the heart of people's homes, plays a central role in doing that," Brent says.
The generosity from the Book Love donations continues, with leftover books still circulating in the community.
Books have gone to the Tathra Public School library, Tathra P&C Association for fundraising events and Bega Rotary Club.
Proceeds from books sold at Rotary's Winter Book Fair have purchased garden vouchers for the Garden Recovery and Open Gardens weekend in Tathra on August 24 and 25. Book Love books will also be available on the Saturday at Tathra Surf Club.
Any funds donated for books at the garden event will go back to the community for garden projects, truly making 'Book Love for Tathra' a gift that keeps on giving.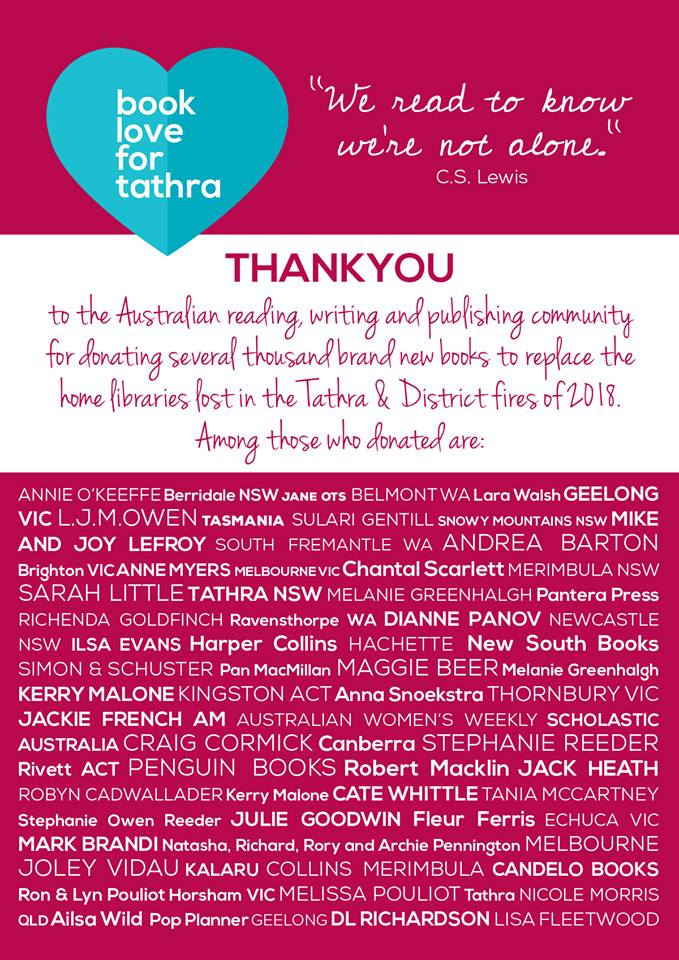 Words by Melissa Pouliot, a Tathra based author and the heart and drive behind Book Love for Tathra.