With delicate spring blossoms responding to the warmth of September, comes something harder, faster, dirtier, but still with warmth – the ninth Bega Valley Motorcycle Expo takes over Bega Showground this Saturday – September 7.
"From humble beginnings at the Bottom Pub in Pambula in 2010, its come along way, sometimes we sit and wonder about the monster we have created," organiser Glenn Cotter laughs.
Now in its third yeat at the Bega Showground, the event goes from strength to strength.
"People want to see things happening here, they want to see something different, it [the expo] is different to the normal coast style tourist events," Glenn says.
There is a different crowd that comes to and contributes to the event – people who perhaps don't normally get a place to shine and show off their skills and passions with the broader community.
Weekly Newsletter
We package up the most-read About Regional stories of the past week and send direct to your inbox every Tuesday afternoon. Subscribing is the easiest way to keep up, in one hit.
"This is a family event, there is something for everyone," Glenn says.
Gates open at 10 am with a packed program that goes through until 6 pm.
"This year we will be running a full day of arena entertainment similar to Bega Show, but this is horsepower of a different kind," Glenn smiles.
"We have a great line up throughout the day, with displays from Jason Whitby and The Mongrel Racing V8 Sand Drag Team, the Quik Chix Race Team from Queensland, Far South Coast Motorcycle Club including Matt Lavis and the dirt bike challenge, Jake Schneiders with his speedway slider, Far South Coast Extreme Buggies, and Max Bevan's Junior Formula 500 Sprintcar from Goulburn.
"Through to the Shannons Custom Show 'n' Shine, trade stands, community groups, food and bar – it will be outta control, a lot of fun, the crowd in the stands can expect to be dodging dirt."
Any profits from the day go towards improvements to the children's ward at South East Regional Hospital, across the paddock from the showground in Bega.
"We've put a lot of funding towards the kid's ward over the last couple of years,"Glenn says.
"We've painted the ward, handed over a trailer load of toys, and added to the outdoor play area. Staff tell us they struggle now to get the kids back inside.
"This year we'll pump money in – they already have some ideas they want to spend it on."
New in 2019 is Miss Viva La Valley'. This pageant of vintage fashions connects with the Tathra Beachside Rockabilly Festival.
"It ties in nicely with the look and feel of many of our motorbikes, the clothes are beautiful and very classy,"Glenn says.
"The fashion parade features 10 contestants, including four local Bega ladies, the others are travelling from all over New South Wales and Victoria.
"Bringing out your inner bombshell is the theme."
When the day is done, patrons are invited to the Commercial Hotel for dinner and music with one of the region's favourite acts – Thundergoose, from 8:30 pm.
The Bega Valley Motorcycle Expo, 10 am to 6 pm, Saturday, September 7 at Bega Showground. Entry – $10 for adults, kids under 16 are FREE.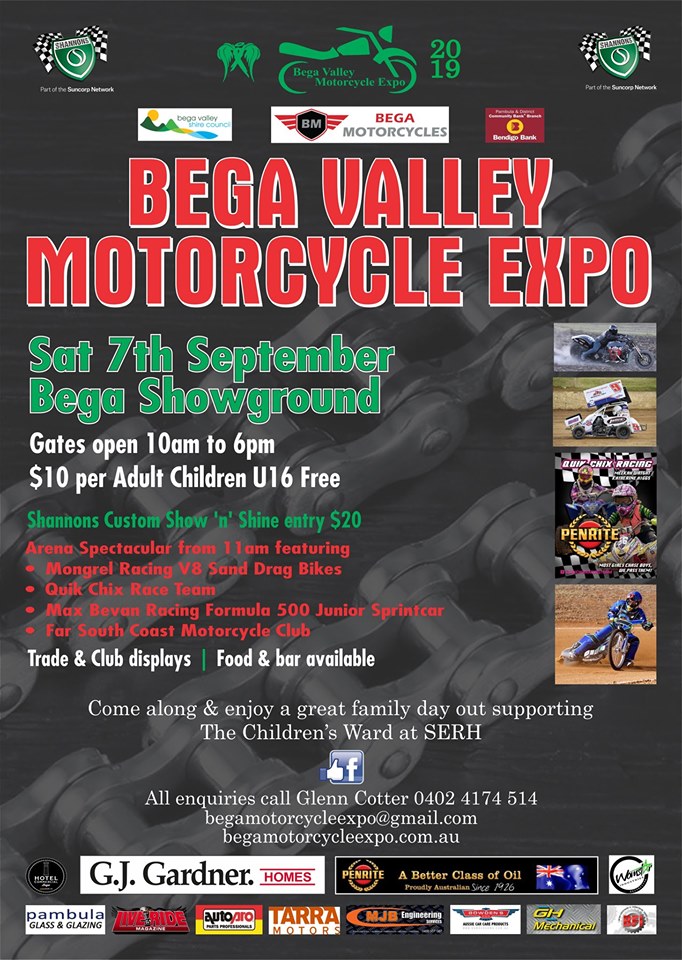 #Region Media's Ian Campbell will act as MC on the day.