A large carnivorous plant is growing at Monaro High School – all under the careful love and attention of the 'Little Shop of Horrors' musical team.
The plant, named Audrey II, or Twoey, originates from outer space and requires human blood to survive, and is the main character in the school's upcoming musical, which opens Thursday night (June 27).
Monaro High School's 'Little Shop of Horrors' musical is based on the 1960's film directed by Roger Corman, which was remade in 1986 and directed by Frank Oz. For the past few months students from Years 7 to 12 and teachers from all learning areas have worked tirelessly to bring the production together in time for the opening night.
"It's been a challenging and fulfilling experience," says Year 12 student Zara Farrell, who plays Audrey alongside co-star Marcus Hildyard playing Seymour.
"Many different groups have worked together to make this happen and we are really excited to share it with the community.
Weekly Newsletter
We package up the most-read About Regional stories of the past week and send direct to your inbox every Thursday afternoon. Subscribing is the easiest way to keep up, in one hit.
"One of the biggest challenges for the show was the making of 'Audrey II', the bloodthirsty plant," Zara explains.
The plant has been made with the assistance of the school's Visual Arts and Industrial Technology teachers. Given that Audrey starts life as a small pot plant, three different versions have had to be designed and constructed. The largest of which will 'swallow' some of the cast.
Meet Audrey II and Seymour from Little Shop of Horrors. It is less than two weeks until our school musical hits the Cooma Little Theatre. Students and teachers are working hard at rehearsals and making sets and props. Tickets are still available at www.trybooking.com/BCSVN

Posted by Monaro High School (official ) on Monday, 17 June 2019
Auditions for the show began in March and since then more than 30 students have been spending hours rehearsing, practising their lines and learning new songs and lyrics as well as working on set design, lighting and the plant puppets.
Little Shop of Horrors follows other successful musicals produced by Monaro High including 'Calamity Jane' in 2016 and 'Singing in the Rain' in 2012.
While a man-eating plant may seem a little scary, the show is great fun for school aged children and adults alike, making for a nice family night out.
The Little Shop of Horrors takes to Cooma Little Theatre on June 27, 28 and 29 at 7 pm. Tickets are $20 per adult and $15 per school student and can be bought online via Trybooking, check the Monaro High School Facebook page for more details.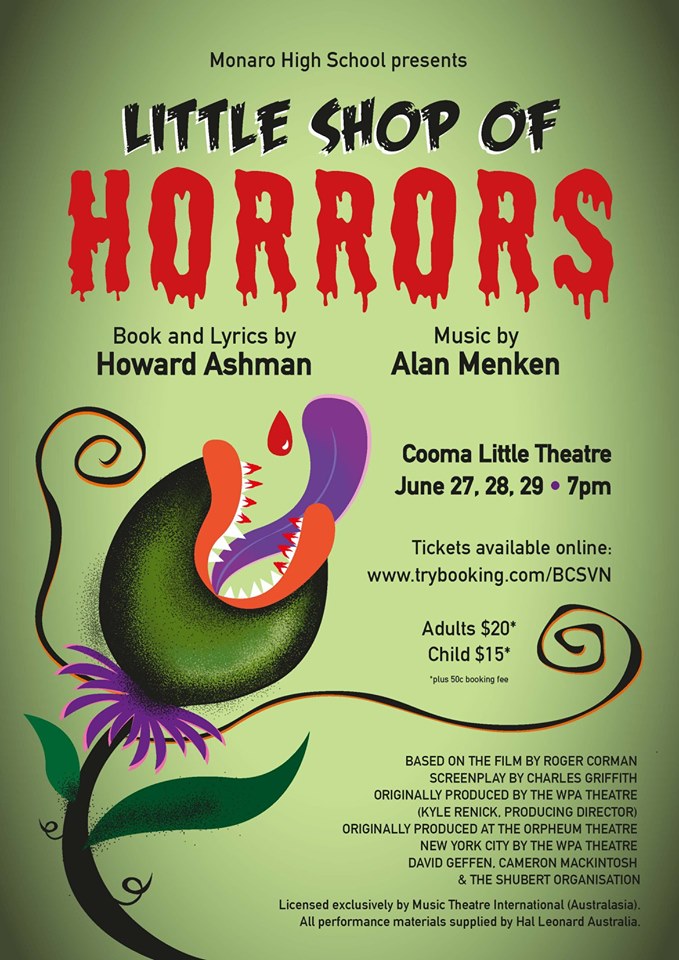 Words by Monaro High School