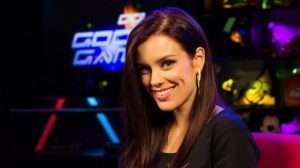 A star gamer has been added to the line up for the upcoming Gamer Dev (development) Jam in Merimbula this September.
Stephanie Bendixsen, the host of ABC TV's Good Game is coming to add her weight to a budding industry in the Bega Valley.
Also known by her gamer tag 'Hex', Bendixsen has been host of the popular TV program since 2009, championing the positive representation of women in video games as well as women's place within the industry itself.
The Jam over September 10 and 11, builds on the the success of regular coding nights run by InTo IT Sapphire Coast through the CoWS (Co-working Space) Near the Coast centre in Bega.
Held on the first Thursday of every month at CoWS and on the third Thursday at Bermagui Library, the nights consistently attract 10 to 20 people.
The skills being developed are the bedrock of computer software, apps and websites.
What you access daily through your phone or PC, all happens because of code.
The Gamer Dev Jam Stephanie Bendixsen is coming to be apart of, puts coders in the room with story-writers, musicians, graphic artists, gamers/testers and entrepreneurs.
All the ingredients needed for a new game to be born, in deed that's one of the aims of the weekend – the foundations of a game that has it's origin in the Bega Valley.
Other pro's joining Bendixen for the Jam include the team from The Loaded Gamer online magazine, indie development houses Buzzy TV and Siege Sloth, as well as a number of talented game developers led by Brennan Hatton who spent a several years developing for Meta in San Francisco.
There are those within the Bega Valley, that see a community of people with these skills as adding a new dimension to the local economy, pushing it beyond it's traditional agriculture and tourism base.
Liam O'Duibhir is the Co-founder of 2pi Software and Into Sapphire Coast, he says there are a handful of Bega Valley based people working in the gaming industry already, and the point of September's Jam is to build on that.
He estimates there are as many as 20 Bega Valley residents making a living out of coding and a similar number in web design.
"I have had many people involved in the games industry tell me first hand that if a gamer dev community can form, then they would give genuine consideration to relocating their office and people to the Bega Valley," Mr O'Duibhir says.
"If we can start a trickle, and sustain the effort, then we can build things up."
The natural environment of the region is part of the pull, but Mr O'Duibhir also points to a general improvement in the region's overall technology outlook and regular tech based events like hackathons and startup camps and a spirit of entrepreneurship and innovation.
"The conditions will soon be right for an increasing number of job opportunities in gaming, and other technology-based sectors," he says.
The size of the gaming industry in Australia generally continues to grow.
The Interactive Games and Entertainment Association says sales of interaction entertainment reached $2.83 billion in 2015, up 15% on the previous year.
Digital industry analyst, Foad Fadaghi, Managing Director of Telsyte, suggests the games industry is the new Hollywood.
"Interactive games remain the standout performer in the entertainment industry, and in 2015 continued to lead the way in innovation and popular culture," he says.
South East Arts boss Andrew Gray, also sees potential for the community he is charged with serving, adding financial support from his organisation to the up coming Gamer Dev Jam.
"Many musicians, writers and visual artists/designers in regional areas might not be aware of the opportunities to work in gaming development," Mr Gray says.
"But as any keen gamer will tell you, catchy theme music, engaging stories or interesting visuals can make all the difference.
"Bringing arts and IT people together creates ideas and networks," he says.
Liam O'Duibhir is expecting to have 50 or more people attending the Jam, including good representation from the gaming community in Canberra and Wollongong.
He sees those big city links to a country setting like the Bega Valley as key in building a regionally based gaming industry.
"If we can create a gamer dev community, through regular events and reaching out to people within the Valley and high activity centres like Canberra, then we can attract the coders, artists, musicians and writers we need to create great games."
Individual tickets for the Gamer Dev Jam at the Bega Valley Learning Centre in Merimbula are priced between $25 and $50, find out more and book here.
"This will also be terrific for young coders who are inspired by games, and want to emulate some of the incredible techniques evolving in this sphere, particularly in the areas of 3D and Virtual Reality," Mr O'Duibhhir says.
"And a huge boost for young artists who will need to identify career paths that support expression of their creativity while affording them the wherewithal to support themselves financially."
*Author is a volunteer director of South East Arts