NSW TrainLink is trialling a new day return coach service between Goulburn and Canberra, providing a fully accessible service for customers travelling to Canberra's CBD, local hospitals and Queanbeyan.
The trial started on Monday (10 September) and will operate for up to six months with new times to complement the existing train service.
The trials will provide convenient day return options for people travelling to Sydney and Canberra using comfortable and fully accessible coaches.
Member for Goulburn Pru Goward is monitoring the use of the service and is eagerly awaiting community feedback on how the service can best be utilized.
"These trials are about providing more choice of public transport for the Goulburn community," Ms Goward said.
"I encourage the community to get on board to make sure the coaches become a permanent service in addition to the range of train services serving the area."
During the trial period, NSW TrainLink will review feedback from customers and demand for the services to see if there are opportunities to better meet the community's needs.
The coach trials will be operated by a modern 41-seat coach with a wheelchair lift and additional spaces for two wheelchair customers, plus an onboard toilet.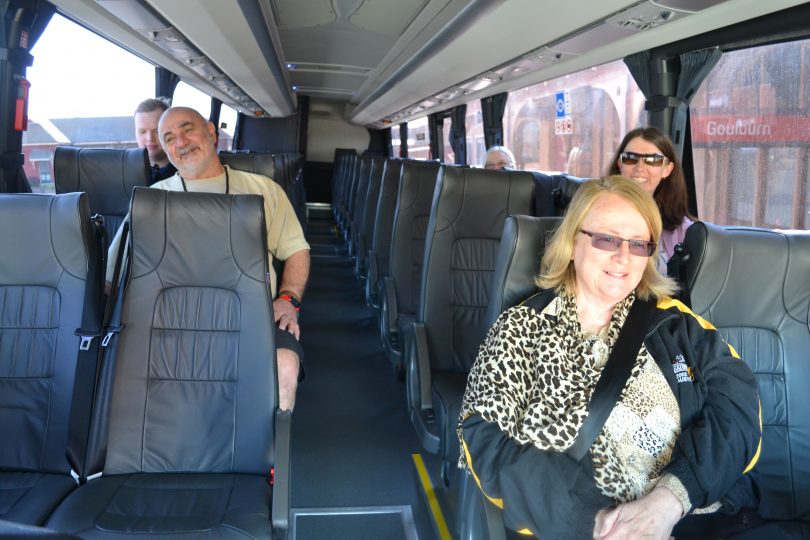 The opening trip from Goulburn to Canberra on Monday morning saw five locals use the new service. Michael, Rick, Helen, Pamela and Carolyn were using the service for various reasons including returning to their home in Canberra, commuting to work, or travelling to access services in the nation's capital.
Customers will travel by coach from Goulburn Station or the Big Merino to Canberra CBD (Civic), John James and Canberra Hospitals and Queanbeyan Bus Interchange.
The following trial services will operate on weekdays:
Goulburn to Central departing at 5:00 am arriving at 7:46 am (coach/train)
Goulburn to Central departing at 4:10 pm arriving at 6:45 pm (coach/train)
Central to Goulburn departing at 6:11 am arriving at 9:00 am (train/coach)
Central to Goulburn departing 5;18 pm and arriving in Goulburn at 8:00 pm (train/coach)
Goulburn to stops in Canberra departing 9:00 am and returning to Goulburn at 4:00 pm (coach).
Seats on the Canberra service can be booked online or by calling 13 22 32. Fares on the Canberra service start at $2.50 for pensioners and will be similar to the existing train fares to Canberra.