Summer in Bermagui is busy, a time when locals surrender their beaches and cafes to welcome tourists, but what only locals know is that autumn is the best time in Bermagui.
The water is warmer, the Gang Gang's move into the Spotted Gums, a fire at night becomes an option again, the daytime sun is a little weaker but still warm on your shoulders…and sculptures appear on the town's headland.
Sculpture Bermagui opened on Friday night and rolls through until Sunday, March 18.
Works sit within the naturally sculptural landscape Bermagui offers, starting with the cathedral of Spotted Gums as you enter town, moving out to Montague Island floating on the horizon, and wrapped in the looming presence of Gulaga.
Over the 10 days of the exhibition, humans try and match that beauty with their own creations.
Weekly Newsletter
We package up the most-read About Regional stories of the past week and send direct to your inbox every Thursday afternoon. Subscribing is the easiest way to keep up, in one hit.
Perhaps there is some magic that happens when natural and manmade sculptures come together and create a buzz – part of the events 12-year success.
110 sculptures this year, a record – your head will spin as you take in the works dotted around Dickinson Point Headland and the Bermagui Community Centre.
Make sure you vote in the People's Choice Award and the Children's Choice Award.
"Working with creative people is my ideal environment and the artists are very supportive and interesting, expressing their individual ideas and passion," says Paul Payten, Sculpture Bermagui President.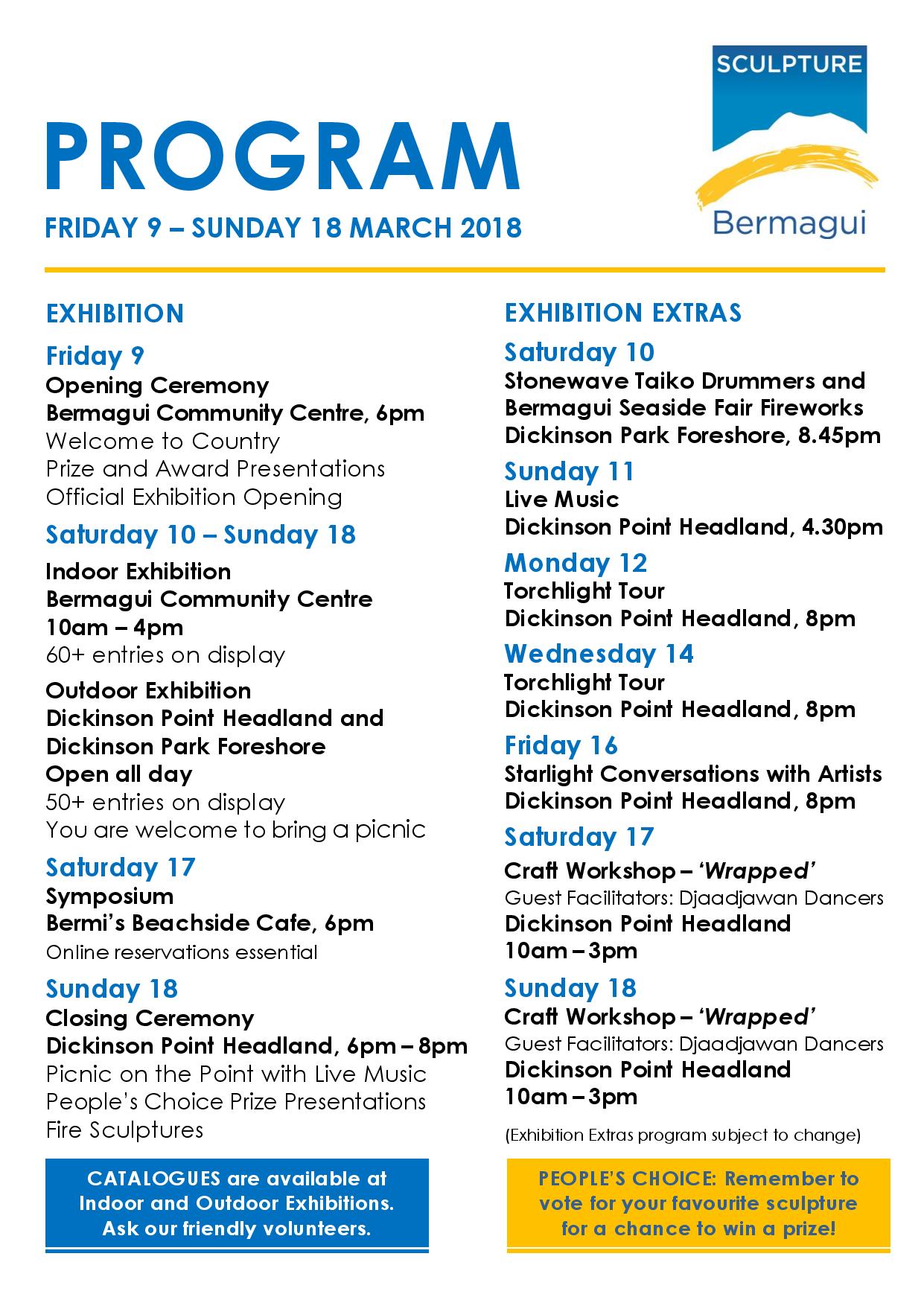 Entry to Sculpture Bermagui is free, but do the town a favour – buy a beer, bait, or coffee while you are there, better still have dinner and stay the night.
With her piece, Sally Simpson collected materials from beaches around Australia. You'll notice bits of fishing net, abalone shells, bottle tops, and more.
"I create contemporary ritual objects to embody the complexities and contradictions of our relationship with the ocean," Sally explains.
"Obsession" will catch your eye from the town's main street. Made of stainless steel, John Fitzmaurice says it's his twisted look at the female slavery to fashion and the high heel stiletto.
"A transition from two dimensional to three-dimensional space where a familiar object is placed in an unconventional way," Alexandra explains.
The patron of Sculpture Bermagui is a doyen of Australian architecture, Phillip Cox. Phillip snaffled Jen Mallinson's piece for his growing bush sculpture garden just south of Bermagui.
Not sure this photo does Jesse's work justice – standing 3 metres tall, this horse of copper, steel, and bronze is enjoying one of nature's other creations.
Wind Works and it's opposing wind wheels is well placed to catch the passing sea breeze and spins with mesmerizing precision. See it for yourself.
After studying Japanese screen art (Byobu) Stephen has transferred his skill to this garden screen.
After being swept along by the grandeur of the outdoor sculpture along the Bermagui foreshore and headland, it's easy to think you have seen it all, no – head towards the Bermagui Community Centre.
Matthew Perry's work has got to be a contender for the People's Choice Award. Adorned with shells, Mathew says his surfboard, guitar, and suitcase become vehicles for dreams and stories of past and future.
Paul's busker is already a crowd favourite, "A bit ragged around the edges, but still playing beautiful music," he says.
"My inspiration for Olly stemmed from a local octopus I witnessed gliding through the rock pool," Jordan says.
"I wanted to represent its erratic and fluid movement through my piece."
Sculpture Bermagui runs until Sunday, March 18. 110 sculptures on show, see them for yourself.
For the diary, Jindabyne's Lake Light Sculpture exhibition runs over Easter – March 30 to April 2, and in Batemans Bay this spring, Sculpture on Clyde – August 25 to September 2.
*This article first appeared on RiotACT