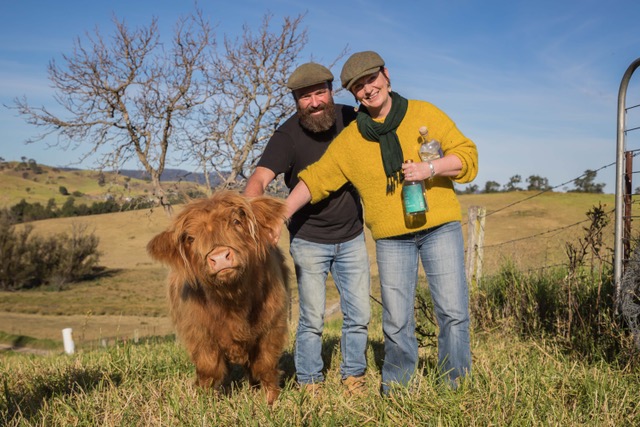 If there's one thing we can justifiably be proud of, it's our region's amazing produce. Fine wine, fine dining, home-grown goodness and fresh, fabulous seafood – the capital region is famous for it all.
We've put together a dozen of your favourite food and wine stories from 2020. It's not hard to guess what hot beverage came in as number one. Enjoy!
12. Have these Crookwell farmers unearthed the state's best spuds?
Crookwell farmers Garry Kadwell and Wentworth Hill have been on a three-year mission to grow the best-tasting spuds. They're well on the way, with their Andean Sunrise Potato taking out a gold medal in the 2020 delicious Harvey Norman Produce Awards.
It was the only single potato variety in NSW to win.
11. New Gourmet Coast food trail will offer an authentic taste of the south
Weekly Newsletter
We package up the most-read About Regional stories of the past week and send direct to your inbox every Thursday afternoon. Subscribing is the easiest way to keep up, in one hit.
Farmers, fishers, fruit and vegetable growers and winemakers across the Bega and Eurobodalla shires are joining forces to offer a one-stop gourmet tourism experience to fly the flag for the NSW South Coast's culinary credentials.
A new gourmet food trail will make it easier than ever to experience their local bounty.
10. If you bought the flour, making sourdough is the yeast you can do
Inspired by a chef who turned breadmaking into a therapeutic enterprise, Michael Weaver rolled up his sleeves to learn more about the magic of sourdough.
9. What has been is now Bean Central as cafe opens in Queanbeyan
The iconic Central Cafe served the people of Queanbeyan for almost 40 years and its generous meals – such as the massive mixed grill – were legendary. Now the spirit of the famous venue lives on with Bean Central on the Monaro Street site. Region Media dropped in to meet owner Matt Morrissey.
8. Clonakilla winery rates among the best
There was a silver lining to the smoke-tainted cloud that hung over the capital region's wineries this year, with Murrumbateman's Clonakilla earning a prestigious accolade. It was listed at number four in The Real Review's Top Wineries of Australia 2020.
7. International accolades for North of Eden's micro-distillery gin
It was a rollercoaster of a year for the team at North of Eden, but the small-batch distillery in the Bega Valley collected two international awards despite a horror summer. Gin makers Gavin Hughes and Karen Touchie, who won the medals for the spirits they make in a copper still nicknamed Jill, spoke to Region Media about the accolades.
6. Award-winning former Zanzibar team flex their mussels at Banksia Restaurant in Pambula
With international travel off the menu, many of us took to the road to explore our own backyard. And venues such as Banksia Restaurant in Pambula are proving you don't need to leave Australia to enjoy exceptional food and wine experiences.
5. Meet the Makers: black garlic producer John Pye
John Pye is a man who hates waste. So after 15 years as a garlic farmer, being faced with discarding the imperfect bulbs that would almost certainly be rejected by consumers, things were starting to grate.
What to do with all that wasted produce became a preoccupation for the Bredbo grower, who came up with a tried and tested formula for producing the perfect black garlic.
4. Everybody loves Raymond as iconic restaurant reopens
Iconic restaurateur Raymond Ng – Aged 75 and still going strong – is back in the kitchen, less than a year after his restaurant at Malua Bay Bowling Club was destroyed in the New Year's Eve firestorm.
Raymond's Chinese Restaurant has been an institution in Batemans Bay for more than 30 years, and its namesake was determined the firestorm that engulfed Malua Bay would not become his swansong.
3. Borrowed Ground for veggie growers' startup
For Alex Chiswell and Eliza Cannon, their dream of a NSW South Coast small-scale market garden has become a reality. Thanks to crowdfunding generosity, the pair has established Borrowed Ground Growers in Moruya and plans to serve the community with fresh, local produce.
2. Three produce awards for Far South Coast oysters
Three NSW Far South Coast oyster producers collected gongs at the 2020 delicious Harvey Norman Produce Awards. In a major boost for oyster farmers in the region, the awards delivered much-needed publicity during tough times for business.
1. Seven crazy good coffee stops from Mogo to Narooma
Lisa Herbert was on the road testing her mettle against the coffees of the region, and she was impressed with the standard of coastal cafes between Mogo and Narooma.