Over the last few days, Member for Monaro John Barilaro has announced government funding of $610,000 to refurbish and revamp tennis courts, a showground pavilion and a school playground.
Berridale Public School's tennis courts will be resurfaced, the Cooma showground pavilion is set to have a major makeover and students at Cooma North Public School will have their very own new playground to enjoy all thanks to a helping hand from the NSW Government.
Read below to see how your community will benefit from the funding.
Game, set and match for Berridale as courts set to be resurfaced
School students at Berridale Public School will enjoy an upgrade to their tennis courts thanks to the NSW Government, who will fund a $10,000 upgrade to prepare and lay the new synthetic court surface.
Mr Barilaro said tennis has been a great source of entertainment for rural communities for many years and Berridale was no exception.
"The Berridale Public School P & C have worked hard to raise funds needed to upgrade the court which is located on the school grounds; it gives me great pleasure to partner with them to secure additional funding to help them finish this much-needed project," Mr Barilaro said.
Berridale Public School P&C President Peter Lette welcomed the funding announcement.
"The tennis court was a very popular asset to our school facilities until the base became unsafe for students to use," Mr Lette said. "Securing this funding means the court can be used and enjoyed by many students now and in the future. The students are excited about playing on the new synthetic surface and we want to thank John Barilaro for securing this funding."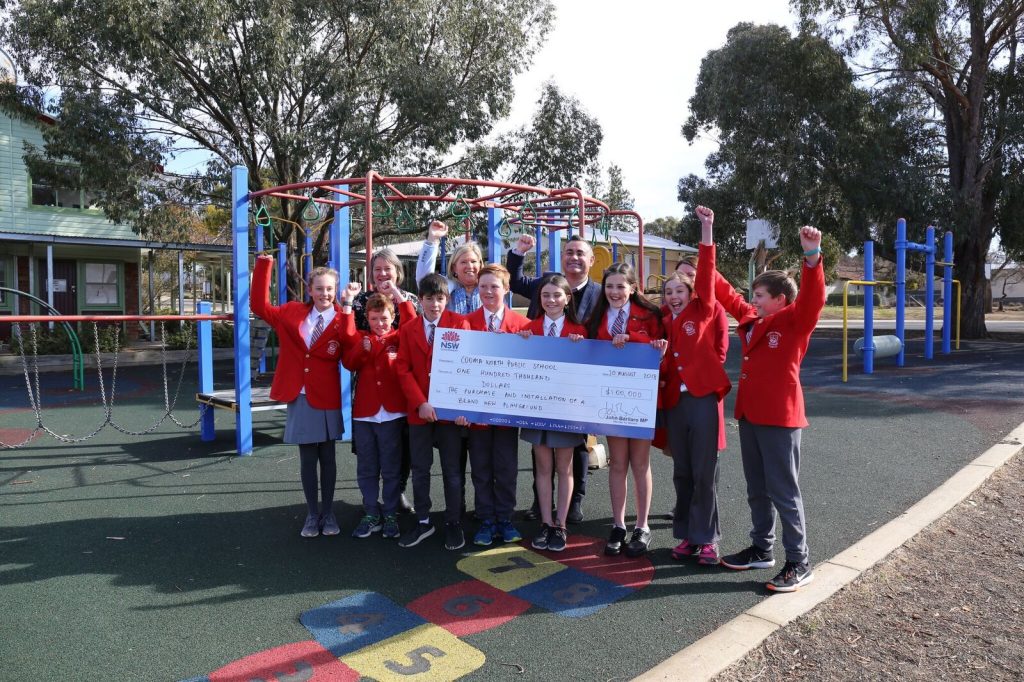 New playground for kids at Cooma North Public School
Students at Cooma North Public School will have their very own new playground to enjoy thanks to a helping hand from the NSW Government, who will provide $100,000 to build a brand new playground to replace old and out of date equipment.
Mr Barilaro said its important students have access to a safe and fun outdoor playground to enjoy.
"School playground equipment has certainly changed since I was a student. Once upon a time, if schools were lucky enough to have equipment, it was normally unimaginative," Mr Barilaro said.
"These days school playground equipment is an integral part of the school day with a great emphasis placed on equipment that is fun and fulfils educational needs. Cooma North Public School is a fantastic place of learning and I'm pleased we can support this amazing school."
Cooma North Public School principal Belinda Jamieson said the students and the school community are over the moon with news of the new playground.
"As a school, we have been fundraising and saving towards this project and with this contribution from John Barilaro and the NSW Government, our students will soon have a brand new, inclusive playground," Ms Jamieson said.
"The students love getting outside and playing on the equipment, and I know they will be thrilled with the new playground."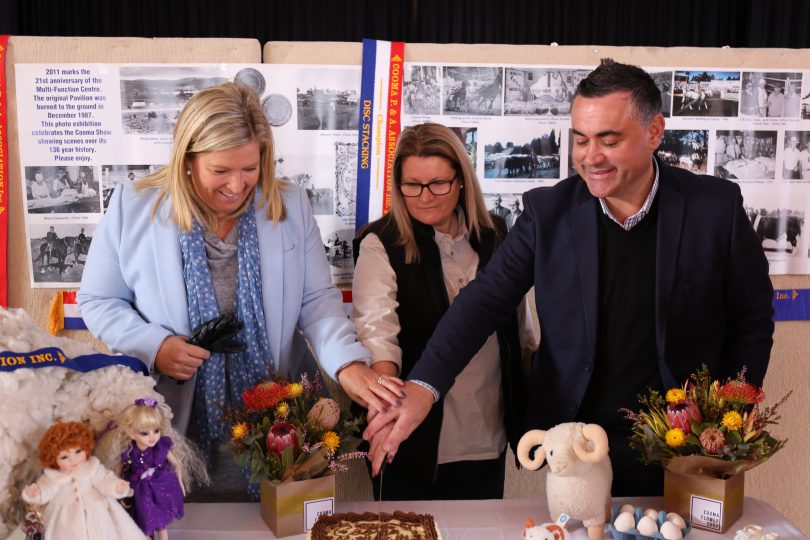 Cooma showground pavilion gets a major makeover
Staging events in Cooma is set to become a little easier with the NSW Government funding a major upgrade of one of Cooma's premier function spaces with the announcement of $500,000 to refurbish and revamp the Showground pavilion at the Cooma Showground.
Mr Barilaro said Cooma is a hub of activity and the funding will provide for upgrades to one of Cooma's most loved venues.

Weekly Newsletter
We package up the most-read About Regional stories of the past week and send direct to your inbox every Thursday afternoon. Subscribing is the easiest way to keep up, in one hit.
"Everybody in Cooma enjoys getting together for a 21st, a sporting presentation night, a fundraiser, or the annual Cooma Show," Mr Barilaro said.
"In addition to the major benefits for locals with community events, revamping the Showground pavilion will improve Cooma's ability to host major events. This project will help take events, functions and shows to the next level which in turn will attract new opportunity to town and boost the local economy."
Cooma Show Society President Cathy Wassink said the announcement means a lot to local community groups, like the Cooma Show Society, who use the pavilion.
"The pavilion is old, outdated, drab and damp and in desperate need of a makeover," Ms Wassink said.
"Next year the Cooma Show turns 144, it's one of the longest running country shows in NSW. Today's pavilion upgrade announcement acknowledges how important the show is to the region. I'd like to thank Mr Barilaro for making the upgrade happen."