Moruya's Red Door Theatre Company is set to go this weekend with their fourth production – The Magical Moments Radio Show.
This two-act play will tour Moruya, Tilba, Broulee, and Narooma over the next three weekends (March 30 to April 14) taking the audience inside the studios of a 1930's radio station.
The production is set in Sydney and centres around the work and relationships of the Macquarie Players, an acting troupe employed by radio station 2GB for their radio theatre and variety shows.
In Act 1, the advertisements, the banter, and the interview with Margaret Mitchell are all performed from transcripts of the period when Jack Davey was a star and an increasing number of Australians were gathering each evening around the radio in their homes.
Act 2 features a one-act farce by M. Robert Grunwald called 'Cancelled' which is set in the same period and adds to the story of the evening as the Macquarie Players find themselves in a predicament with a Sydney sly-grog seller named Tilly Patterson.
The Red Door Theatre Company first took to the stage two and a half years ago. A small ad in the local paper invited interested actors, singers, sewers, and directors, to come along and see if there was any interest in starting a theatre company in Moruya. On that cold night, Red Door was born with about 16 people showing interest.
The feedback and support so far has pushed the company beyond its home base in Moruya, with audiences in Broulee, Moruya, Narooma and Tilba looking forward to The Magical Moments Radio Play.
Aside from a cast of 14 locals, this latest production is emceed by Jeremy Kemp, the show's Jack Davey figure, and features live music led by Stafford Ray.
"There is so much talent on the South Coast. When I first asked Stafford who he had played with over the years, he had me with his first response – The Seekers", says Red Door Director Linda Heald.
"This play just might be our best yet."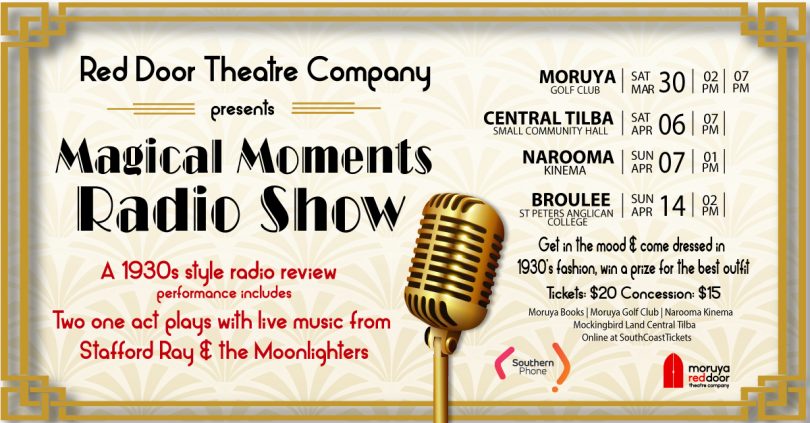 One of the stars of the show, Anthony Mayne says, "Its a lot of fun and great music that brings to life radio plays from such a stylish era."
"You can buy tickets online or at the door, but a couple of the plays are selling very quickly, including Tilba which only has 99 seats."
Get your tickets now via South Coast Tickets.