Forty-eight buskers, 50 volunteers, hundreds of spectators, and dazzling blue skies all combined to create the most perfect day for Narooma's Busking Championships on Saturday.
Vintage jazz and retro pop duo 'Stitch' – AKA Bev Long and Zoey Pepper took out the top prize, claiming the $1,000 as the Club Narooma Open Busker Champion. Their Andrew Sisters twist on range of pop songs, along with cheeky banter, and obvious spark for music, performance and each other was a standout.
Stitch will now advance to the National Grand Final.
The Australian National Busking Championships started in Cooma and has grown to be a truly national event with regional finals also being held in Stanthorpe Qld, Kilmore Vic, Casino NSW, Noosa Heads Qld, Peak Hill NSW, Gundagai NSW, and Ballarat Vic.
Winners from each regional event are invited to compete in the National Grand Final in Cooma on November 16.
Weekly Newsletter
We package up the most-read About Regional stories of the past week and send direct to your inbox every Tuesday afternoon. Subscribing is the easiest way to keep up, in one hit.
Founder of the Australian National Busking Championships and Cooma based music teacher Alan Spencer says the Narooma event was a great success.
"Narooma's regional championships are first class, one of the best in Australia," he says
"Each year it's becoming more professional both in the way it's run and in the standard of performers.
"A lot of these buskers even the high schoolers are now getting gigs and that's showing in their growing professionalism."
This the third time Narooma has been part of this Australia-wide competition. Hosted by Narooma Rotary Club and one of the highlights of the Eurobodalla's River of Art Festival, the event culminated with a celebratory busker concert and awards presentation at Narooma Golf Club.
The five judges included longtime busker Shelby Holland, Alan Spencer, Eurobodalla Shire Councillor and Narooma local Lindsay Brown, Fiona Brown of Slightly Twisted Productions, and me!
It was a tough but enjoyable job catching up with all 48 acts during the day, and a hard job handing out the 27 awards.
Open Champion: Stitch (Bev Long and Zoey Pepper) – $1,000 – Club Narooma
Open Second: Salty Bones of Bungendore – $300 – Whale Coast Realty
Open Third: Lisa Maps of Canberra – $200 – Betta Home Living
Secondary School Champion: Todd Haywood of Newcastle – Narooma High $500
Secondary School Second: Felicity Dowd of Bega – IGA Narooma $300
Secondary School Third: Brooke Burns of Jindabyne – Narooma Hotel $100
Primary School Champion: The Lofties of Narooma – Narooma Primary $300
Primary School Second Place: Finn Efraesom of Narooma – Woolworths (voucher) $200
Primary School Third Place: Will & Annie of Canberra – Narooma Mechanical & Automotive $100
Best Band: Fretz & Reedz – Narooma Holidays $500
Best School Group: Narooma Primary School – Big 4 Easts – $500
Second School Group: Rhythm Hunters – Amooran Motel – $200
Rising Star Band: Potent Soap of Batemans Bay – Montague Vets $500
Best Local Performer: Dalmeny Wahinis – Narooma Plaza – $300
Blues Music: Ross Knight – Quarterdeck $200
Classical Over 18: Yasmine Russell (harpist) – Horizon Apartments $200
Classical Under 18: Brodie Blackman – Chris Young's Joinery $100
Instrumental: Djembe Forte – Horizon Apartments $200
Best Family Act: Will & Annie of Canberra – Grandpa's Garden $100
Abilities in Music Award: Eddie Tierney of Narooma – Georgie's Fine Jewellery $300
Traveller Award (the person who travelled furthest): Tennyson Neville of Young – Mitre 10 $100
Best Performance: Queanbeyan Pipes & Drums – Narooma School of Arts $300
Country Music: Felicity Dowd – Narooma Visitors' Centre (MACS) $100
Iron Man (person who carried the most gear around town): Tennyson Neville – AMH Moruya (voucher) $200
Special Judges Award (under 18): Abbie May of Tilba– Farmer Armour $100
Special Judges Award (under 18): Maddie & Myah Batemans Bay – Joe Dirt Excavations $100
Special Judges Award (over 18): Alex Eldred – Wrapoholics $100
People's Choice Awards, buskers who received the most Busker Votes:
Open –
First: Potent Soap (Jordan Young, Jack Gallen, Caeden Devane and Brendon Barnes) of Batemans Bay – Narooma Golf Club $1,000
Second: Yasmine Russell (harpist) – Narooma Plaza Pharmacy $300
Third: Djembe Forte – Narooma Seafood $200
Junior –
First: The Lofties – Narooma Pharmacy $200
Second: Will & Annie from Canberra – Gary Bennett Smash Repairs $100
Third: Brooke Burns – Narooma Meat Centre $50
School Groups –
First: Narooma Public School – Ben Bate Real Estate $500
Second: Rhythm Hunters – Narooma Fishing & Diving $200
Tilba Valley Winery & Ale House gave gig awards to Salty Bones and Wolf Stone.
Ian Campbell was a judge at the 2019 Narooma Busking Championships.
Check out our photo gallery from the day…
Loading Gallery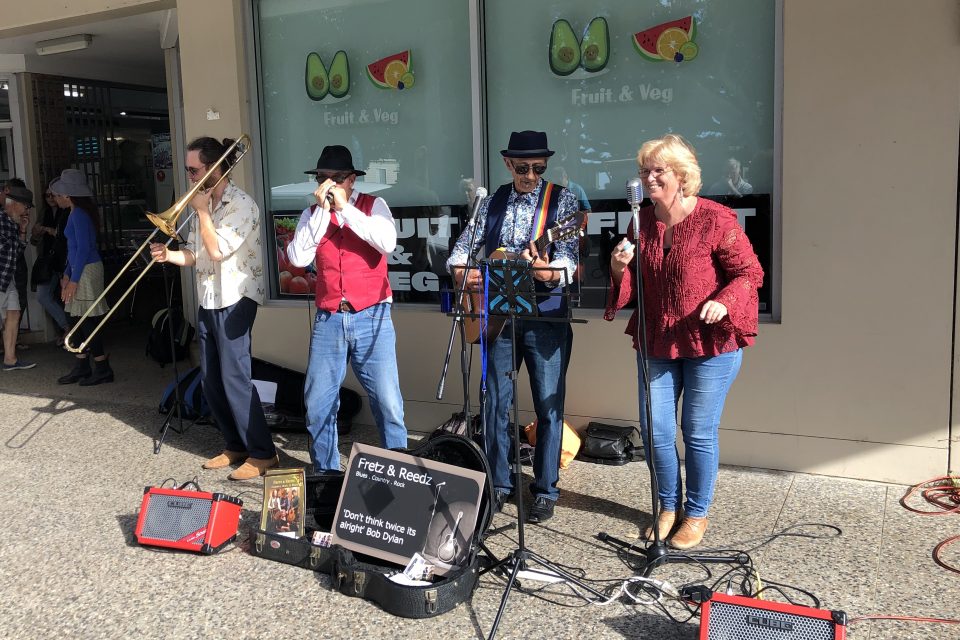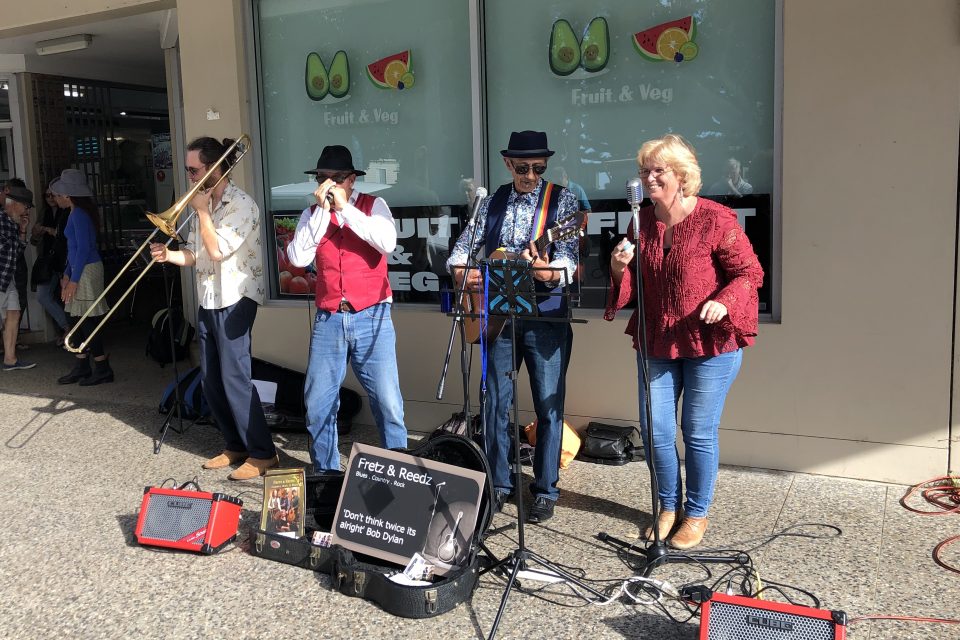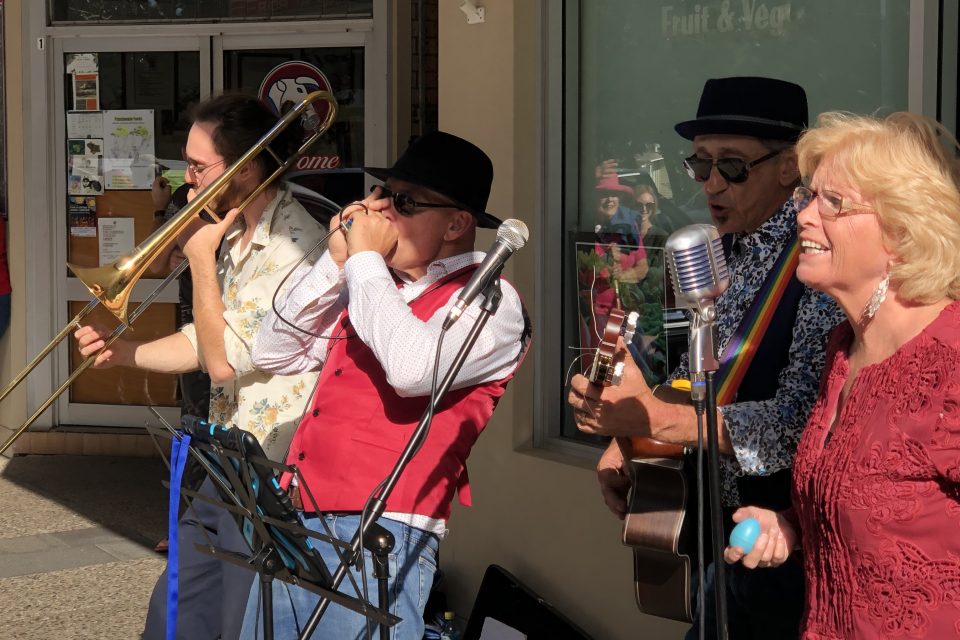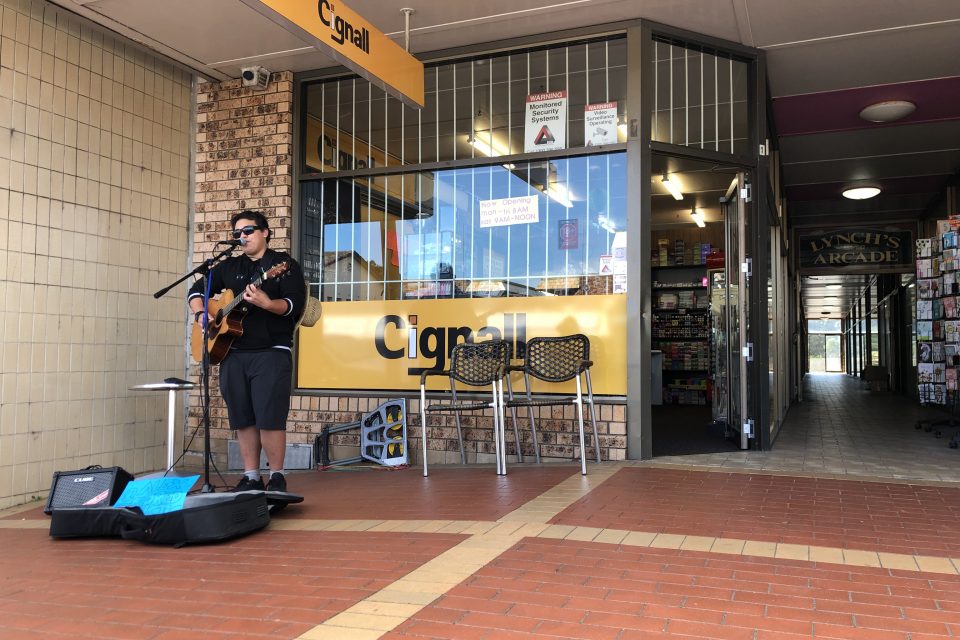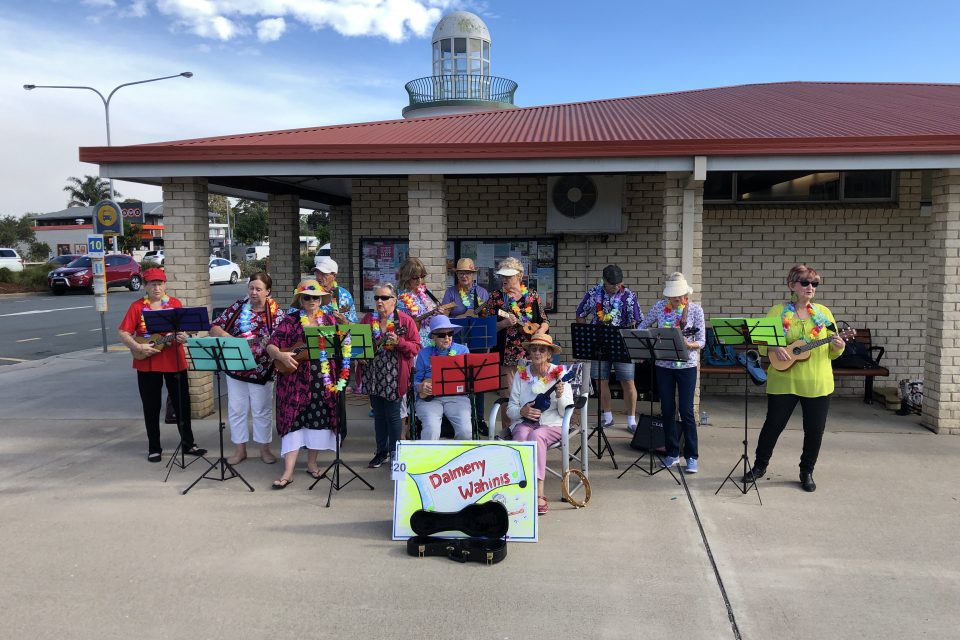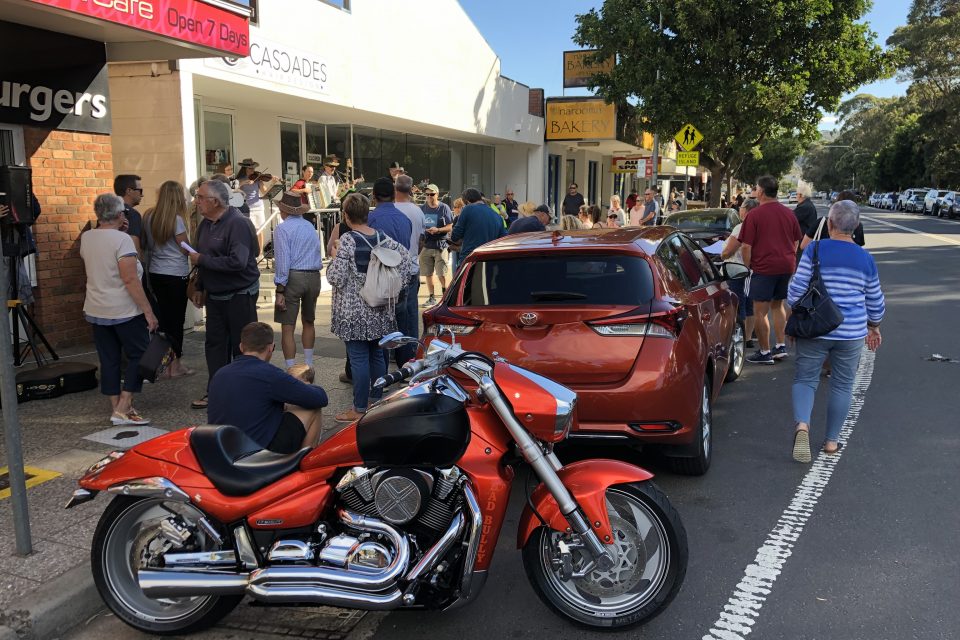 1/45