A Eurobodalla chapter is about to be added to a story that has enthralled the world for decades.
Peter Pan is the creation of Scottish writer James Matthew Barrie and first appeared in Barrie's 1902 novel The Little White Bird. Narooma writer and director Linda Heald has put a local twist on the story, her chapter opens at St Mary's Performing Arts Centre in Moruya on Friday night (December 8).
Walt Disney's 1953 animated film is perhaps the first image that comes to your mind. Peter Pan, the boy who can fly and who never grows up, leader of The Lost Boys, a lifelong childhood in Neverland mixing with pixies, mermaids, and pirates.
Linda remembers it fondly, "As a young child I would sit beside my cousin at the piano and she would sing the songs," she says.
With Moruya's Red Door Theatre Company only new to the stage, Linda was looking for the amateur company's next challenge and one that allowed people with a range of experiences to have a go.
Weekly Newsletter
We package up the most-read About Regional stories of the past week and send direct to your inbox every Tuesday afternoon. Subscribing is the easiest way to keep up, in one hit.
"I couldn't find anything that was perfect, so I thought let's write it," Linda says.
"I started thinking – pirates in Moruya, and if you are thinking pirates then you've got to have Peter Pan, and you've got to have Hook, and then you need to have Tinkerbell.
"But we've taken a slightly different approach to those characters and given them a twist.
"There are a lot of accountant jokes – there's mess and there's music – it's a fast-moving panto," she explains.
With that Linda lets slip that Tinkerbell is "Stinkerbell" in her production – "And there are lots of jokes."
The Peter Pan story now belongs to The Great Ormond Street Hospital in London, J.M.Barrie gifted the rights in 1929, which have been a significant source of funds for the Hospital's Children's Charity.
Barrie asked that the hospital never reveal the actual income received, which the hospital has always respected.
Knowing this Linda checked with Great Ormond Street before proceeding with her one of a kind local chapter, and got the all clear.
This will be Red Door's second production, the pantomime "Babes in the Woods" earlier this year got things started with seven people on stage, the cast swells to 17 this weekend for Peter Pan – with a four-piece band!
"We've got a whole load of new people and some amazing talent," Linda says.
"We are there to entertain and to bring the community together."
Audiences on Friday and Saturday can expect lots of local references and some well-placed topical gags but above all, as with any amateur theatre production its the strength and spirit of the community that created it that shines through.
"I love seeing it when people [cast and crew] arrive on day one and they're hesitant and unsure of themselves, and then you look at them on stage in the production and they have just blossomed – that's the best thing," Linda says.
"And it's just a fun night out!"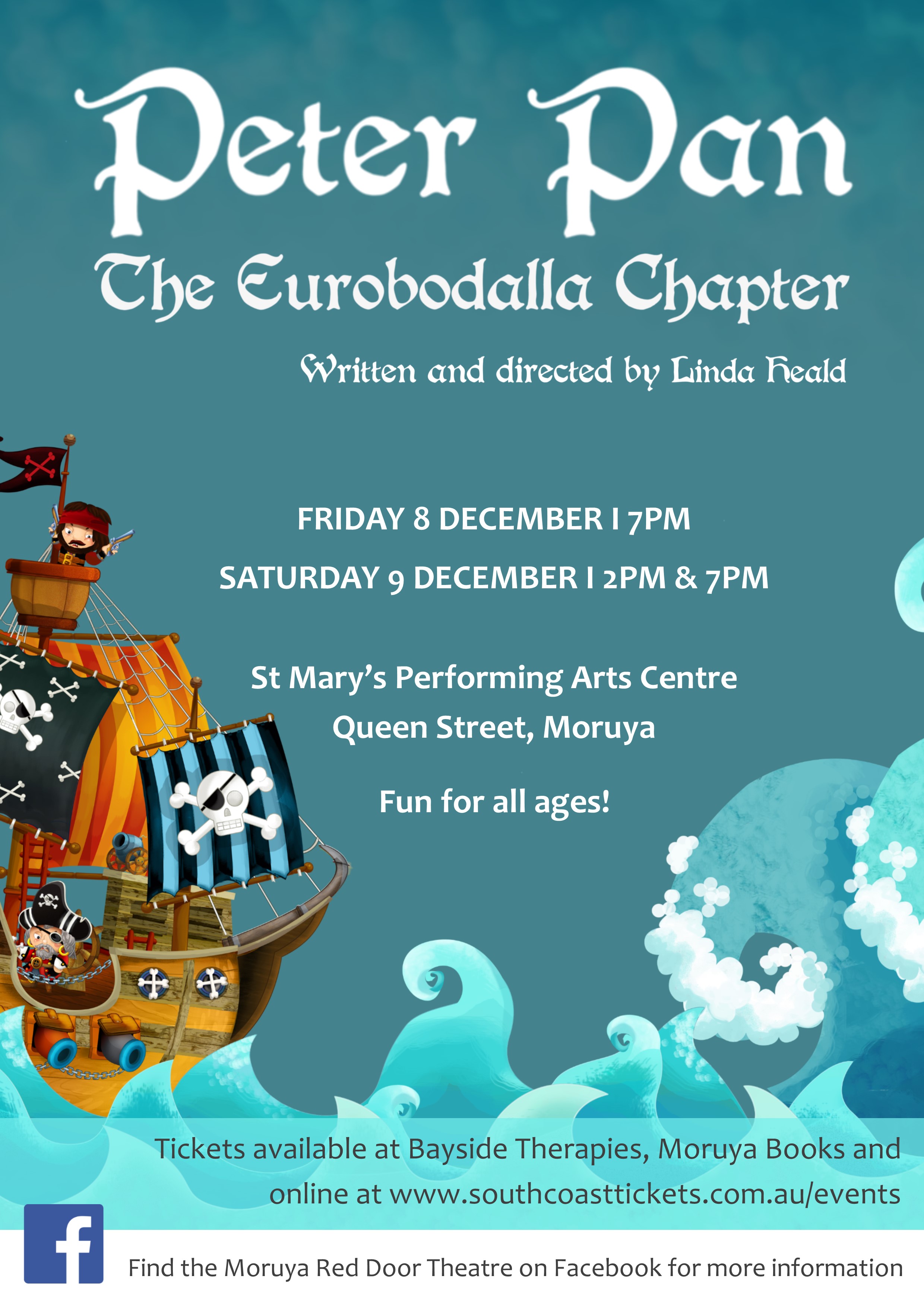 *About Regional content happens because of the support of members, thank you to Sprout Eden – Cafe and Local Produce,  Bronnie, Taylor, Tabitha Bilaniwskyj-Zarins, Nastasia Campanella and Thomas Oriti, Jeanette Westmore, Oh'Allmhurain Films, Claire Blewett and Neroli Dickson, Kate Liston-Mills, Fay Deveril, Shane O'Leary, Fiona Cullen, Nancy Blindell and Jo Riley-Fitzer.