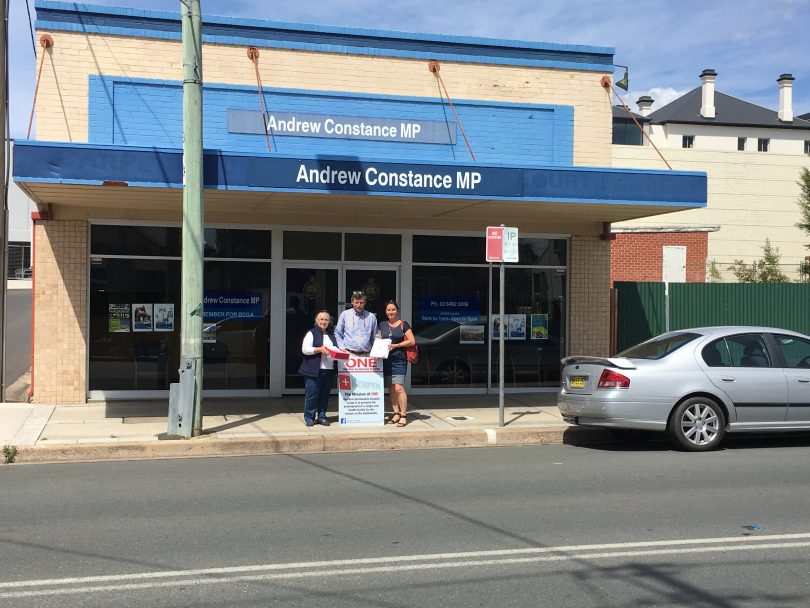 The Eurobodalla community is charging ahead with its own vision for the future of local health services with over 3000 people signing a petition calling for better care now and one new combined hospital in the future.
It's a message local politicians say is compelling and will be heard at the highest levels of government and opposition.
Lead by Mourya based doctor Michael Holland under the banner of "One Eurobodalla Hospital," the group which boasts 2700 members on Facebook delivered its petition to the Member for Bega, Andrew Constance on Friday (October 26).
The 3000 plus signatures were collected over a three week period, the petition states:
We the undersigned bring to the attention of the House that;

Constrained to limited services by their division of resources, Eurobodalla Health Services are disadvantaged relative to our nearest regional and base hospitals.

The combined number of services at Batemans Bay and Moruya District Hospitals are equal to or outnumber those of established regional or base hospitals within the Southern NSW Local Health District, such as South East Regional Hospital [Bega] and Goulburn Base Hospitals, which currently provide Intensive Care, Critical Care, and Mental Health services.

Within the distance of three hundred kilometres, there is no regional hospital between the Shoalhaven District Memorial Hospital and the South East Regional Hospital, thus restricting equitable health care to the residents of the Eurobodalla Shire.

There is an urgent and dire need to immediately improve Accident & Emergency, Critical Care and Perioperative Services in the Eurobodalla Shire.

The undersigned petitioners therefore respectfully ask the Legislative Assembly to direct the Minister for Health to;

Provide immediate improvement to the Accident & Emergency, Critical Care and Perioperative Services of the Eurobodalla Shire by funding and upgrading the existing infrastructure and workforce.

Commit to the funding, planning, and building of one new regional hospital for the Eurobodalla Shire, located at a site providing equitable access for the people of the Eurobodalla, which will provide medical services equal to those of the regional and base hospitals within the Southern NSW Local Health District.
"We look forward to the response of the Health Minister, Brad Hazzard, within the thirty-five statutory days," Dr Holland says.
"This issue has been driven by local medical professionals with the aim of achieving better patient care.
"People who have been here a long time have become frustrated by the lack of action on this divisive system, it is really inefficient, and expensive and can't be sustained in the long term." Dr Holland says.
If successful the campaign would see the current Mourya and Batemans Bay hospitals closed, with services and infrastructure combined and expanded on one central greenfield site.
"When locums come into work in our local health system they shake their heads and say – why have you got two hospitals 20 minutes apart?" Dr Holland says.
"Doctors, nurses, and allied health professionals cannot be in two places at the one time.
"How can you offer health services equally at two sites – you just can't do it.
"Ambulances and Patient Transport are running backward and forwards between these two hospitals either transferring pathology, equipment, or patients – the running around is incredible.
"That's not to mention the 100 patients per month transferred outside of the area by ambulance or aeromedical services for emergency treatment or services unavailable locally."
Closing hospitals that have been part of the community for generations can be a challenging argument to win. A similar idea in the mid-1990's didn't progress because debate got bogged in arguments about the location of a new facility.
"We have made a point in the petition that we want one hospital but be want it to have equitable access for all residents," Dr Holland says.
"It's 111km from South Durras to Wallaga Lake – that's our community, we've got to cover all of that.
"Everyone will have to travel some extra distance, it will be more for some than others, but we are hoping this new facility will stop people having to travel two to three hours to one of the major centres."
Labor's candidate for the approaching NSW election, Leanne Atkinson supports the idea.
"I met with the NSW Shadow Health Minister, Walt Secord, this week to brief him on the petition and the issues being raised. We will have more to say about this in the coming months," Ms Atkinson says.
"I applaud the community for making their concerns known about this important issue."
When it comes to improving health services in the meantime, Ms Atkinson says, "Labor has already announced our commitment to mandated nurse-patient ratios which should improve health outcomes for the community, as well as our over-worked nurses."
The Member for Bega, Andrew Constance says he commends the community for the leadership and initiative it has shown.
"We are some way down the road already, we have done a Clinical Services Plan for a new regional hospital for the Eurobodalla," Mr Constance says.
"To have this level of community support at this stage in the process is wonderful news, it's very timely.
"It is a vision of mine to see one big regional facility that caters for everybody in the shire and gives our health staff the best workplace.
"We want to stop people having to travel hundreds of kilometres for health services they should be able to get locally," he says.
Mr Constance says he is striving to secure a major capital investment to build one Eurobodalla hospital.
"I'll present this petition to the Premier and the Health Minister, what this petition says very clearly is that everybody wants a new hospital and that's what we are working towards."
While he says he understands the connection many people have to the existing 55-bed Moruya Hospital and the 31-bed facility at Batemans Bay, Mr Constance hopes the 3000 signature petition suggests any parochial arguments have evaporated.
"We need to learn from the mistakes of the past, we will work with the community on that and act on the interests of every person in the shire," he says.
"And let me say this, a large, new facility in the Eurobodalla would work hand in glove with the South East Regional Hospital in Bega because specialists would be able to service both facilities.
"We can stop sending people in ambulances over the hill to Canberra and costing us an arm and a leg, and stop putting so much pressure on families."
Not resting on the success of the petition delivered to Mr Constance's office on Friday, Dr Holland has spent the weekend writing directly to state and national leaders.
The One Eurobodalla Hospital group will hold their next community meeting on November 17 from 2 pm at Narooma Golf Club, it's understood the Federal Member for Eden-Monaro, Dr Mike Kelly will address the meeting.