Bega Valley singer-songwriter Damon Davies is the original 'man of oomph'.
This much loved local musco and the words of his 2002 song inspire this Saturday's Festival of Open Minds.
"People with oomph – they're not lyin down. People with oomph – spread the good life. People with oomph – keep their own style. People with oomph – walk mile after mile," Damon sings.
Damon and his bride Julie arrived in the region from Sydney in 1995, their first child Ella followed in 96.
"We wanted to have a family and we didn't want to do that in Sydney," Damon remembers.
Weekly Newsletter
We package up the most-read About Regional stories of the past week and send direct to your inbox every Tuesday afternoon. Subscribing is the easiest way to keep up, in one hit.
"I'd met a few people from down here through music and everyone I met was great."
Son Rhys followed and the Davies cemented themselves as part of the community, Damon through music and Julie through mathematics.
The song Open Minds 2019 takes its inspiration from is the title track of Damon's 2002 album.
"I had a lot of energy at that time and I was curious about it," Damon says.
"The song was an exploration of that energy, it got me thinking about the good and the bad nature of people.
"The ying and yang of heart and mind and trying to balance that. If people are overtaken by their brain they can be susceptible to making poor choices – with no heart. And then there are people who are all heart.
"The song is a look at energy and what people do with it."
As a human and as someone who is aware of his mind and heart, Damon says music is "my psychologist."
"I've broken a lot of strings," Damon laughs.
Damon will perform 'People with Oomph' as part of Saturday's Open Minds program.
"I've maybe played it once a year for the last 10 years," he laughs
"It's really wrapping me up at the moment," but Damon says it's been nice to blow the dust off the song and rediscover it in the context of the festival.
"It's been great fun to play it again," acknowledging his nerves and with an understanding of his own oomph control Damon says, "I am just trying to relax into it."
In terms of other festival performers and speakers, Damon is looking forward to the experiences around Aboriginal culture and stories.
"As white fellas we've gotta learn Aboriginal ways," he says.
Monday to Friday Damon works in the disability sector through Tulgeen and The Disability Trust.
"I get to punch out a lot of songs and get some fun happening," he says.
Through The Disability Trust, Damon has launched the 'We Can Be Heroes' program.
"It's about helping people explore their potential – creative potential," he explains.
"People with disabilities see the world so differently and this is about empowering them and elevating their status in the community.
"I try and bring my oomph to that and push a few buttons."
Catch Damon Davies and 'People with Oomph' this Saturday, Damon will take to the stage after the morning tea break at 11:15 am.
The 2019 Festival of Open Minds on Saturday, September 14 includes:
Tim Costello, Chief Advocate, World Vision;
Nas Campanella, blind Triple J newsreader;
Pastor Christie Buckingham, spiritual counselor to executed Bali 9 drug smuggler Myuran Sukumaran;
Aly Khalifa, entrepreneur focused on harvesting plastic waste from our oceans;
Emma Booth, para-equestrian competitor, represented Australia at the 2016 Rio Paralympics;
Alasdair Tremblay-Birchall, comedian, joke writer, grew up in Tathra;
Sassi Nuyum, AKA Meaghan Holt, rising Aboriginal writer, performer;
Corrine Gibbons, songstress and choir director;
Jonathan Kenna, Australia's Ambassador to Sweden;
Captain Phil Holliday, Sydney, Port Kembla and Eden Harbour Master;
Damon Davis, long time singer-songwriter and the original man of oopmh;
A local panel of leaders including Erica Dibden – Tilba Milk, Louise Brand – road safety campaigner, Kate Toyer – Eurobodalla vet and transgender advocate, Warren Foster Jr – Aboriginal artist and leader, Darren Jones – Band Together, and Hannah Doole – climate change activist.
Tonight, (September 13) before this day of discussion, we launch the festival with a FREE community celebration – Parklight in the heart of Bega. Littleton Gardens will light up with magical occurrences and happenings, a celebration of our community with a focus on the contribution and talent of youth and Indigenous culture.
Adult tickets for Saturday's program are on sale now, including lunch option, people 12 to 19 years get in FREE, but you do need to reserve your place. Students there on the day will also be in the running to win $500 to put towards a science education experience of their choice thanks to The Sapphire Coast Regional Science Hub and Inspiring Australia.
Online tickets are selling fast, what's left will be available at the door on the day.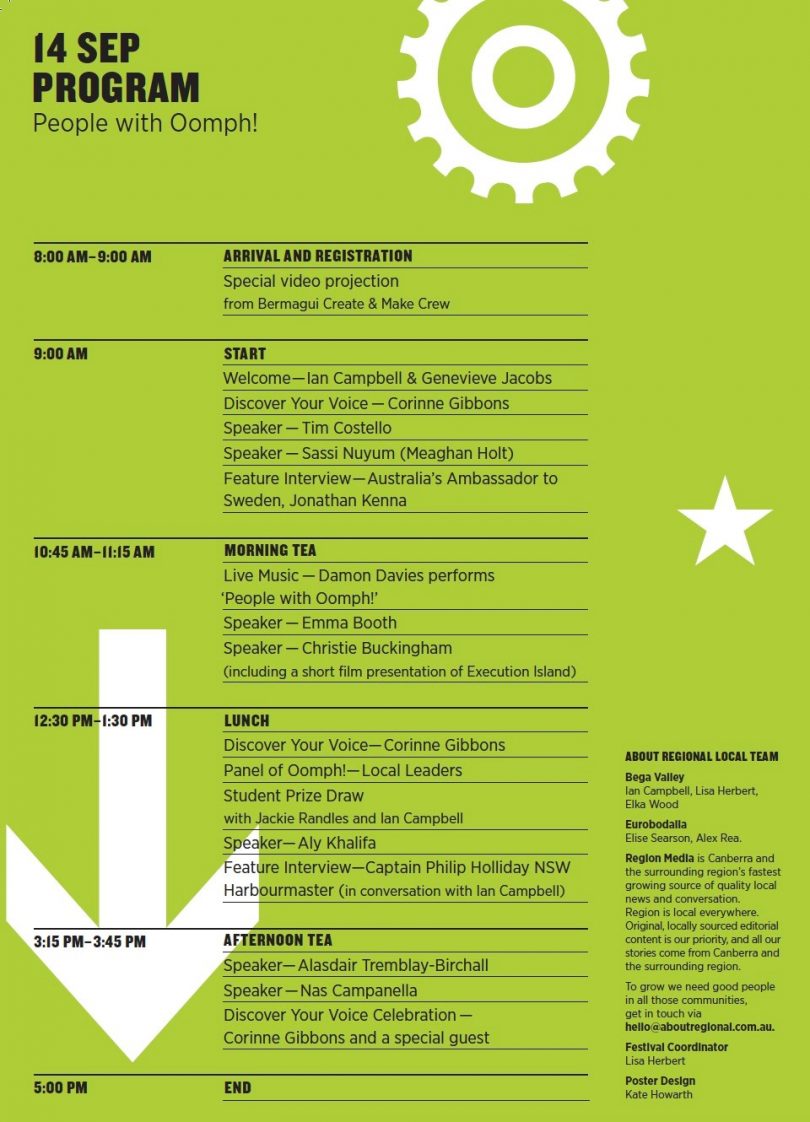 Thank you to our Festival partners –