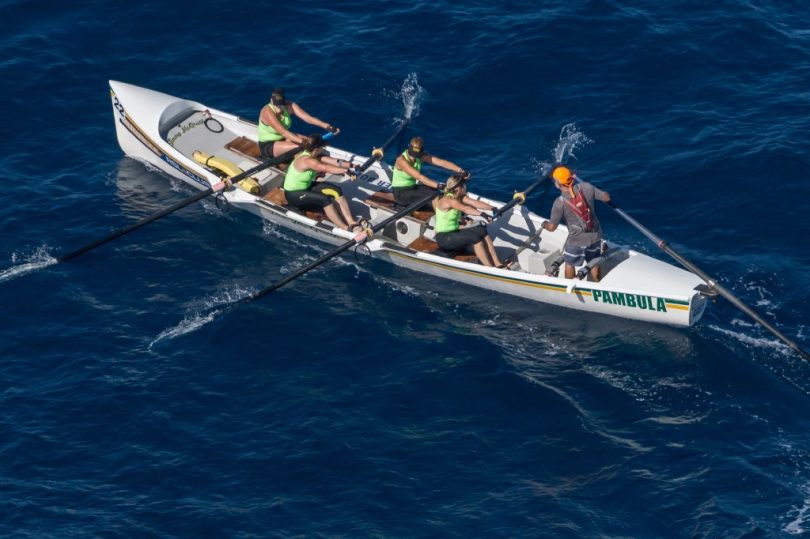 The ocean is a natural focus for summer on the Far South Coast, but every two years that interest and view to the east gets an added hit of colour, movement and power with the George Bass Surf Boat Marathon.
Thirty-six surf boats and 25 ski paddlers will take to the water at Batemans Bay on Sunday, December 29. Over the seven days that follow 190 km's of the best coastline in Australia will be conqured. It's a tradition that dates back to 1975 and one that no one argues is the longest, toughest surfboat race in the world.
This truly unique event inspires friendships that are made for life and is a spectacle unique to the Eurobodalla and Bega Valley:
Day 1 Sunday, December 29 – 31 km Batemans Bay to Moruya

Day 2 Monday, December 30 – 19 km Moruya to Tuross Head

Day 3Tuesday, December 31 – 22 km Coila Beach to Narooma

Day 4 Wednesday, January 1 – 24 km Narooma to Bermagui

Day 5 Thursday, January 2 – 36 km Bermagui to Tathra

Day 6 Friday, January 3 – 27 km Tathra to Pambula Beach

Day 7 Saturday, January 4 – 29 km Merimbula to Eden
Andrew Holt is competing in his twelfth George Bass, he is part of the organising committee and this year will sweep for the Pambula men's crew.
"I just love it, I got addicted to it when I was a kid," he says.
Weekly Newsletter
We package up the most-read About Regional stories of the past week and send direct to your inbox every Thursday afternoon. Subscribing is the easiest way to keep up, in one hit.
"We used to sit on the beach and watch them come in. I did one and loved it and have just kept doing it."
Andrew is expecting the men's and women's crews from Sydney's beachside suburbs to be strong again, "North Cronulla and Wanda are always in there, and defiantly Bulli from Wollongong."
Crews are coming from across Australia – Queensland, Darwin, Western Australia, South Australia, Canberra and even New Zealand.
The size of the ski paddle race in 2019/2020 comes on the back of interest from Far North Queensland.
"The boys from Yeppoon rowed last year and they are all on skis this year. Unfortunately one of their guys passed away during the year, they are going to bring his ashes down," Andrew says.
The George Bass is named in honour of the famous explorer who mapped the coast from Sydney to Cape Howe and beyond between 1795 and 1797 in a whaleboat, similar to the surf boats that compete today. Crews will head out for the 44th time this year, an adventure conceived by former Bega newspaper editor Curley Annabel, whose family remains closely tied to the race.
In terms of coping with the 190 km ordeal, Andrew Holt says nutrition is key.
"Just make sure you feed your body and remember hydration – we've had days where some rowers have needed IV fluids from doctors on the beach because they haven't had enough water and good food on their support boats," he says.
"And then there are the blisters – manage your blisters, especially on your backside, I've seen some horrible sights.
"Paw paw cream has been really good over the years just don't ask me to apply it!"
While some crews will go hard to take line honours in the open, men's, women's, and masters categories each day, other rivalries are playing out in the pack that are of equal note.
"You are racing every day and if you aren't first that doesn't mean you aren't looking over your shoulder," Andrew says.
"There is always some friendly rivalry, you end up with these little sub-races going on, seventh, eighth and ninth might end up racing one another every day.
"I've lost quite a few boxes of beer over the years on little side bets."
For news from the race check the George Bass website, follow the George Bass Facebook page and to follow the fleet down the coast check the live tracker HERE.