We all love the smell of fresh flowers in spring – whether or not we need to take an antihistamine every time we step outside.
One woman from Lower Boro, Fiona Jeffery, can probably lay claim to a bigger garden than most.
Her business on her 100-acre farm, Fiokhea Flowers, was the result of making the move to the countryside.
"I got really sick about 10 years ago and I had chronic vestibular migraines," she said.
"I spent a lot of time not being able to work, because screens and lights and things trigger the vertigo for me, so we moved out here in the hopes that being away from the triggers and things in suburbia might help my health improve.
"I was looking for a farming option that I could do – and I examined everything from growing mushrooms to maize plants to cattle, and I ended up with flowers."
Ms Jeffery began to commercially farm flowers in January 2023, after two years of planning and preparation.
"I'm using probably about one acre at the moment for the flowers, but we also sell duck eggs."
When planting new seeds, Ms Jeffery starts by layering straw mulch from their duck coops, wood chip mulch, fertiliser, lime and other materials into the raised flowerbeds.
Once they bloom, she spends several hours of the day picking flowers by hand.
"I do everything by hand, because it's just me," she said.
"I'm not using machinery.
"It's hard work, but it's nice and encourages me to slow my life down a little bit."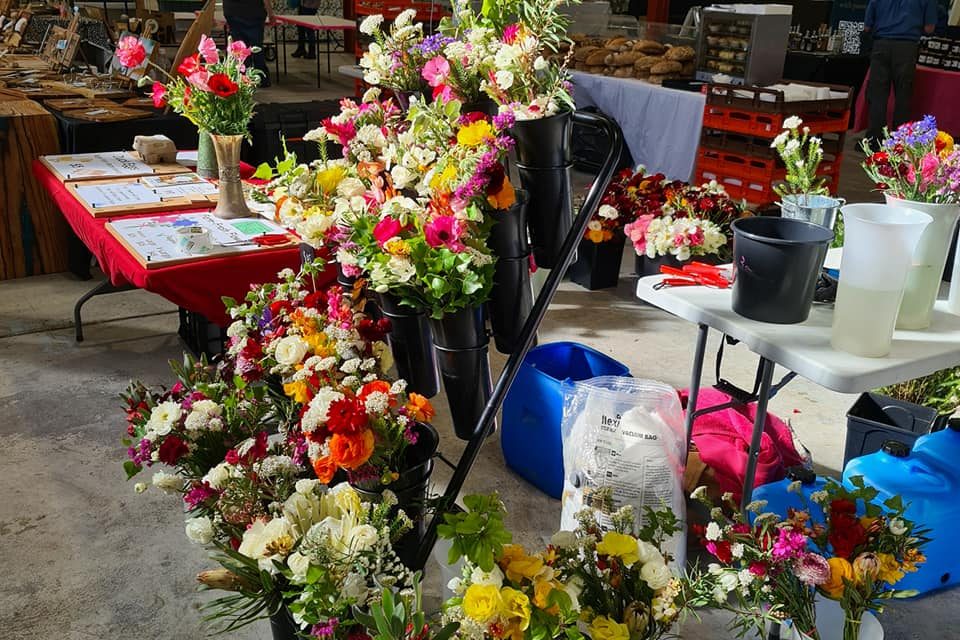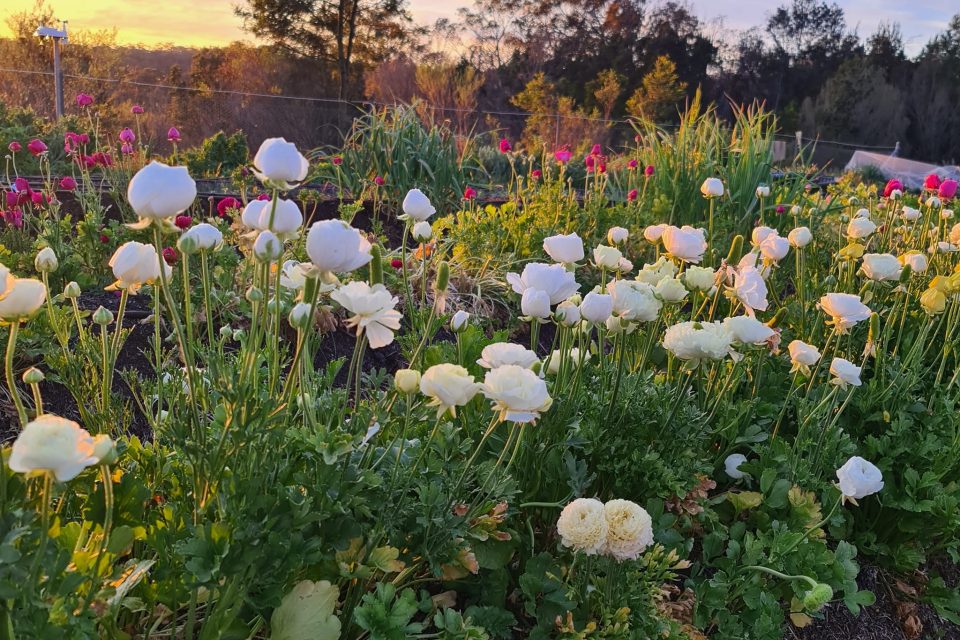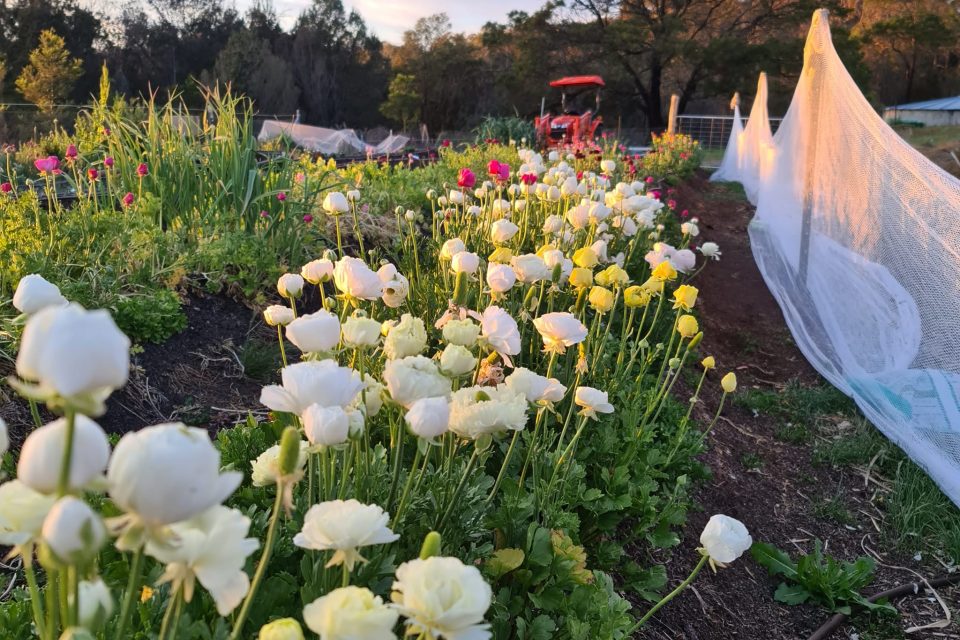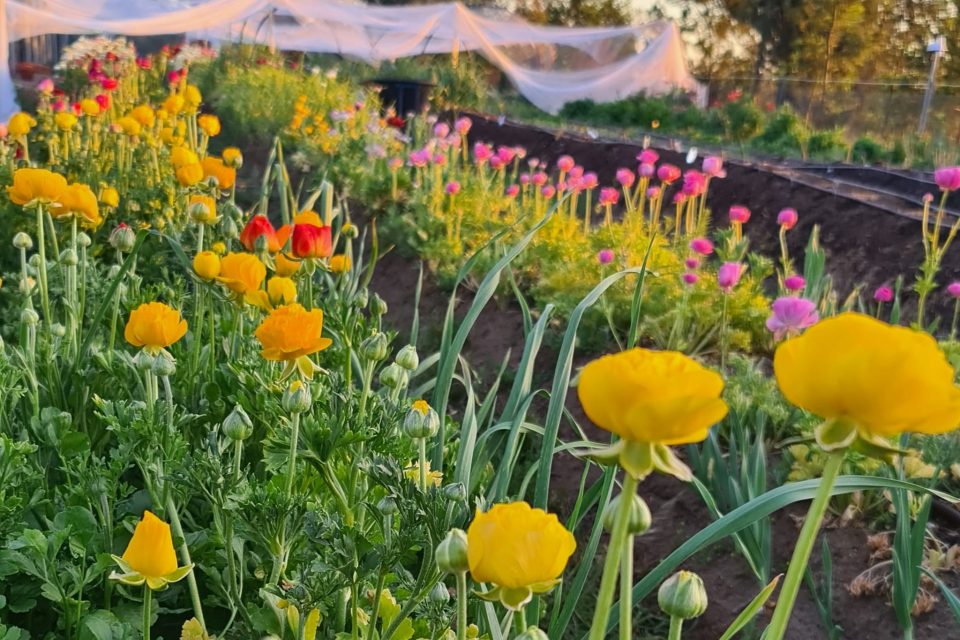 Like any gardener, she knows that results can take weeks, or even months.
"My first market was right at the end of August," she said.
"There's a lot to lead up with, because you plant the bulbs earlier in April and May, and then you're only selling in August and September.
"I also had to do the prep work of building the beds and everything like that."
Ms Jeffery is now seeing the results, as Dutch iris, sweet williams, allium, ixia and black pearl lillies are among those currently flowering.
"Because it's my first year, I trialled small amounts of a whole range of different things, because that gives me some flexibility," she said.
"They take a while to establish, so over the next few years I'll just gradually plant and work in some native wildflowers as well."
Since opening, Ms Jeffery said she had seen a keen response from the community.
"I've been trying to attend a couple of markets each weekend in different areas," she said.
"That's so I can learn what people like and what sells, but also to get the word so people know we're selling flowers.
"I've sold to a couple of local florists, who have been very supportive, and slowly been generating some other orders for local events, and I've had a few orders from people for personal things."
Ms Jeffery said flower farming gave the community a chance to support producers in their region.
"Flowers seemed like a good option, since there's a big market for flowers and there's not a lot of local flower farms in Australia," she said.
"I think it's really important nowadays that we stay as sustainable and try to buy as much local produce as we can and try to have a more environmentally friendly approach to life."
Fiokhea Flowers can be contacted by emailing [email protected].