When three young women burst through the door to attend Wyndham photographer Jodie Dickson's class in May 2017, Dickinson thought "aaahh, we've got some energy here. These girls are busy."
The class, organized by feminist collective mNemosyne [how to pronounce] was the beginning of mentoring by Dickinson to Bega High Students Jemma Mundy, Shakira Smith, and Makayla Deards, who have all proven to be excellent photography students.
The work of the three young women can be seen in the Spring/Summer edition of Muse, a quarterly feminist magazine which launched in Tura Beach on Saturday, December 15.
"I couldn't believe it when they first started playing with the camera," Dickinson reflects in an interview earlier this month "you can see how strong the images are, it's one of Jemma's pictures we've used on the front cover."
Muse managing editor Jodie Stewart said that the launch event was a great success, and celebrated all Muse contributors.
Weekly Newsletter
We package up the most-read About Regional stories of the past week and send direct to your inbox every Tuesday afternoon. Subscribing is the easiest way to keep up, in one hit.
"Twenty people braved Saturday's storms to celebrate the achievements of some very talented south coast women," Stewart says, "many of the Muse poets said that our initiative has provided a space for them to continue to create and to project that creativity to a wider audience. I'm so very proud of that."
Dickinson, who works full time as the director of the Rocky Hall preschool, says that for her, "a creative outlet is so important for a balanced life," and that although photography is a male dominated domain, the opportunity to play, be creative and be supported is the push women need to be successful.
As she encouraged Mundy, Smith and Deards to send her pictures throughout the last year so she could give feedback, Dickinson noticed that "the more I supported them, the more beautiful the images became."
Stewart notes that this relationship between Dickinson and the three young photographers is a strong example of why nMenosyne was established in 2017. "Providing spaces for women to amplify their voices, which are often silenced, has always been a key aim of our initiative," Stewart says. "Our events are also spaces for women to come to together and support other women. There is immense power in that."
Dickinson, whose work has been awarded in state-wide exhibits such as Ballarat's White Nights, says that confidence and courage is needed to become good at anything.
When she is taking pictures, Dickinson says, she tries to manipulate the camera or phone as much as she can, putting it on every setting to see what happens.
"I take pictures because I'm compelled to, I take pictures according to my own creative expressions," Dickinson says "and that's what I want for the girls – to take all that enthusiasm and noise, their confidence with technology and have them pour it in to their creative expression."
Smith, Mundy and Deards were all unable to attend the launch and their futures are unknown – but Dickinson says she would love to continue to collaborate with young people, and to continue giving Smith, Mundy and Deards photography feedback as long as they want it.
"We want to raise these girls up, let them take the lead", Dickinson says "but, you know, I'm not sure if I'm ready for it [the collaboration] to end …"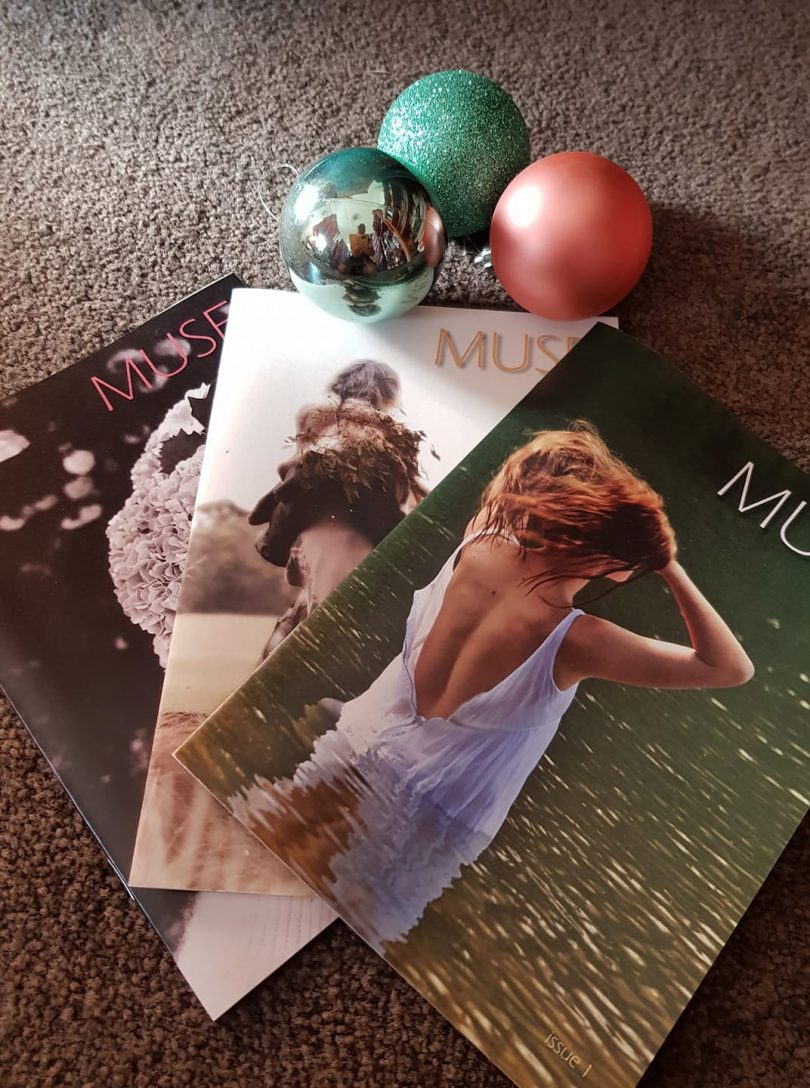 All three editions of Muse, including the Spring/Summer edition featuring Dickinson, Mundy, Smith and Deards' work can be purchased from Merimbula News and Gift Gallery, Market St Merimbula. Or email: [email protected] for more information.