Although people within a few hours of the far south coast have often travelled to attend the Tathra Wharf to Waves fundraiser since its inception 18 years ago, this year Tathra local Mary Burke [formerly Mary Davis] will fly in from her new home in New Zealand to participate in the annual ocean swim.
"I married Sir Kerry Burke on October 6, 2018, and we now live in Christchurch," says Burke, 76, " but I am coming back to Tathra especially to participate in the 2019 Wharf to Waves swim."
It seems that those who take part in Wharf to Waves once are compelled to return. Carly Rixon, 24, of Canberra has participated in Wharf to Waves swimming events four years in a row and says she can't put it into words how good the event is.
"I've done a fair few ocean swims now and Tathra is the only one I keep repeating," Rixon says "the others I just 'tick off' my list. I love how Wharf to Waves is so well run and it's comforting how many safety measures the organisers take – it's encouraging to all swimmers. "
The event, which has a fun run and cycling leg as well as the ocean swim, will be held on January 19 and 20 this year.
Board secretary Kylie Dummer expects it will attract about 400 participants and raise $30,000 for local organisations – Tathra Surf club, Tathra Preschool, Tathra Primary School and Tathra Rural Fires Service.
"That's a lot of money for a small town," Dummer says, adding that last year Tathra preschool was able to complete an extension and renovation of their kitchen using Wharf to Waves funding.
Tathra Wharf to Waves is run solely by volunteers – it takes over one hundred volunteers to make the event happen, says Dummer – people who do everything from setting up the courses for all events, cooking the barbeques and cleaning up after the event while Tathra Surf Lifesaving Club members provide safety and first aid for swimmers.
But it's participants like Rixon and Burke who keep the event humming. Burke began ocean swimming regularly at the age of 64, and has kept it up ever since, donning a wetsuit in the coldest currents, motivated in part by swimming with "a wonderful group of friends."
The Wharf to Waves event is "an annual highlight," Burke says.
While Burke says she has won her age category in past years [2014, 2015, 2016 and 2017] "because I had very limited competition," she expects that this year her friend Ann Herbert, who recently turned 70, will take first place.
Limited competition is an understatement. In 2017, Burke won first, second and third prize in the over seventy age category because she was the only participant and her friend Judy Rettke photoshopped a picture of her on the dais in every position.
The photo was so well done that Burke says "someone saw the photo and thought we must have been a team as we all had the same swimmers on; not realising they were all me."
This year marks Burke's tenth swim and she says she will be admitted as a member of the Squidgy Club.
Until January 19 rolls around, Burke is looking forward to running along Tathra beach after the swim to greet her two daughters and her grandchildren.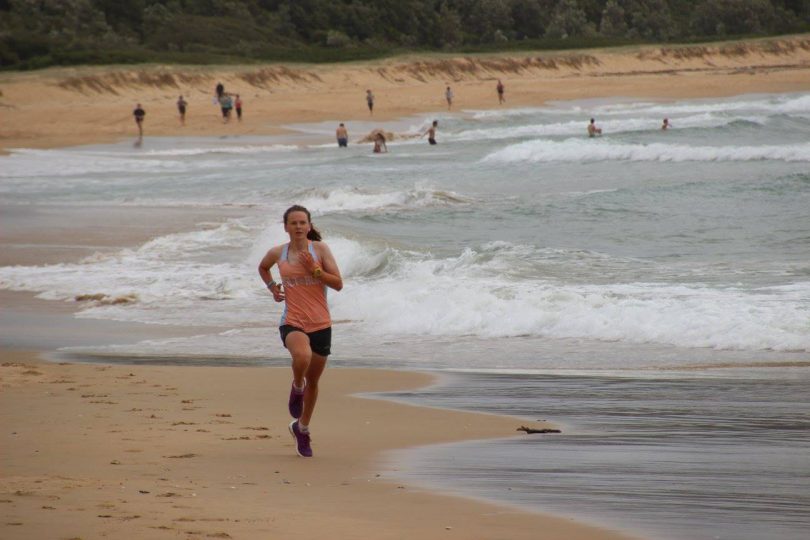 "Many children attend the funeral of their grandmother but mine have just been to my wedding and now they will cheer me on in the swim. They think that is pretty cool!" says Burke.
But something will be different this year – since her 2018 marriage, Burke has a new title.
"I can't wait to hear Tony Rettke announce the arrival at the finish of 'Lady Mary Burke,'" she says cheekily.