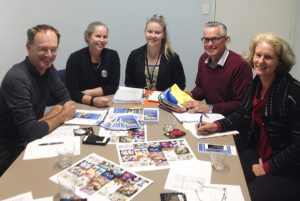 Finalists in eight categories have been announced for the inaugural Eurobodalla Business Awards.
Thirty six businesses and business people from across the Eurobodalla will compete for the top honours at a gala dinner in Moruya on Friday 12 August.
Over 70 entries were received, with the Excellence in Small or Home Based Business the most hotly contested category.
The Eurobodalla's five Chambers of Commerce and Council's business development team have worked together to get the shire-wide awards up and running for the first time in 2016.
Council's Business Assistance Manager Sarah Cooper is a member of the Awards working group, and says she hopes the awards will become an annual event.
"We've been thrilled with the response from the business community and it's exciting that we'll be recognising outstanding business achievement together in 2016.
"We hope to see lots of businesses represented at the dinner next month," she says.
"It promises to be a lovely night."
The awards are endorsed by the NSW Business Chamber and the winners in most local categories will progress to the regional awards.
Finalists for Business Leader proudly supported by Village Centre & Bridge Plaza are: Debra Curtis – Curtis and Cloud Pty Ltd, Steve Picton – Illawarra Schools Workplace Learning Program Inc, Andrew Johns – Corrigans Cove Resort, Janice Sagar – Moruya Books, Jason Cooper – Harvey Norman Batemans Bay
Finalists for Young Entrepreneur proudly supported by Eurobodalla Shire Council: Isabel Darling – Torchlight Media, Emily Hackett – Raw State by Emily Belle, Lucas Hammond – Ambiguous Enterprise, Kendall Layt – Kokoh Bikini, Daisy Heathcote – Narooma Pilates
Finalists for Excellence in Export proudly supported by Bee Dee Bags are: Edgewater Gardens, Skydive Oz, Island Charters Narooma
Finalists for Excellence in Sustainability proudly supported by ActewAGL are: Hatsavvy, Middle of Mogo
Finalists for Excellence in Accessibility proudly supported by Jotun Australia are: Hidden Treasures Mogo, Eurobodalla Meals On Wheels, Yumaro Incorporated, Edgewater Gardens, Clarke Bay Cottages
Finalists for Excellence in Small or Home Based Business proudly supported by Southern Phone are: Badgelink, Southlands Fruit and Vegetables, Escape Travel, Narooma Pilates, Tilba Real Dairy, Tilba Sweet Spot, Montague Vets, Oakleigh Farm Cottages
Finalists for Excellence in Business proudly supported by Mcdonald Insurance Solutions Pty Ltd are: Georgies Fine Jewellery, Corrigans Cove Resort, Moruya Golf Club, Yumaro Incorporated, South Coast Colleges
Finalists for Local Chamber of the Year Award proudly supported by Club Narooma: Tilba District Chamber of Commerce, Moruya Business Chamber, Mogo Village Business Chamber
The winners will be announced a gala dinner held on Friday 12 from 6.00pm at Moruya Golf Club. For information and to buy tickets please visit www.eurobodallabusinessawards.com.au.
Photo:
The 2016 Eurobodalla Business Awards working group (l-r) Kim Leighton, Batemans Bay Chamber of Commerce, Sarah Fisse, Narooma Chamber, Anna Waters, Eurobodalla Council, Peter Lonergan, Tilba Chamber, and Jude Manahan, Moruya Chamber. Other members of the working group are Richard Adams representing Mogo Chamber and Council's Sarah Cooper.
*Text and photo supplied by Eurobodalla Shire Council. Ian Campbell from About Regional will be MC at the awards ceremony.