We are about to experience something special and unique together – as a regional community.
The Festival of Open Minds is just days away and proves that you don't need to travel to one of the big cities to see the likes of Tim Costello, Christie Buckingham, Emma Booth or Nas Campenella.
In fact, I think our regional backdrop adds depth and spunk that goes beyond what you'd experience in Sydney or Melbourne – not only for you in the audience but the big minds and hearts who will share themselves with us this Saturday from the stage.
While I welcome the greater access to news, information, and entertainment that life in 2019 offers, I do need help making sense of it. I am guilty of perhaps not giving myself the time to fully digest and consider what I see, hear and read – it's overwhelming!
The Festival of Open Minds looks to create that space and time, but more so does it as part of a community; voices and ideas that add to, shape and challenge your own.
Saturday is an opportunity to escape the echo chamber and prescribed news feeds of our time.
The program for Saturday…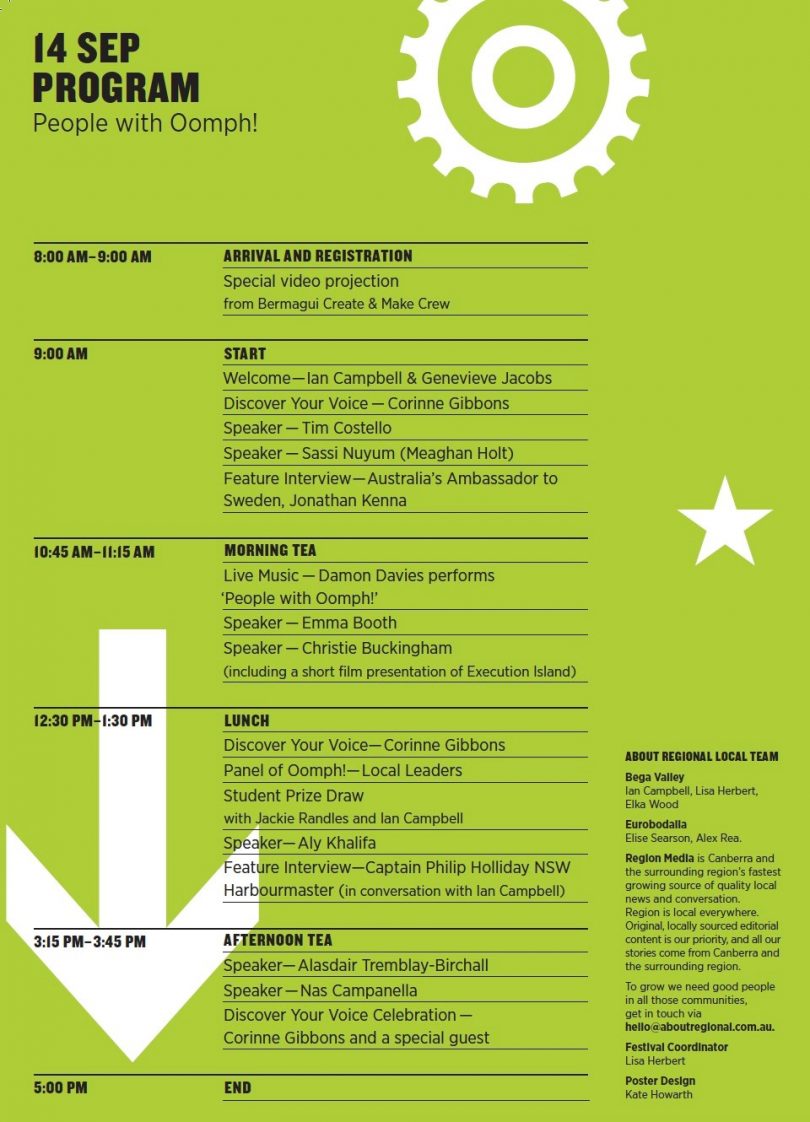 Printed programs will be available on the day.
The theme for Open Minds in 2019 is 'People With Oomph' inspired by Bega Valley song man Damon Davis and his song of the same name.
"People with oomph – they're not lyin down. People with oomph – spread the good life. People with oomph – keep their own style. People with oomph – walk mile after mile," Damon sings.
The 2019 Festival of Open Minds line up includes:
Tim Costello, Chief Advocate, World Vision;
Nas Campanella, blind Triple J newsreader;
Pastor Christie Buckingham, spiritual counselor to executed Bali 9 drug smuggler Myuran Sukumaran;
Aly Khalifa, entrepreneur focused on harvesting plastic waste from our oceans;
Emma Booth, para-equestrian competitor, represented Australia at the 2016 Rio Paralympics;
Alasdair Tremblay-Birchall, comedian, joke writer, grew up in Tathra;
Sassi Nuyum, AKA Meaghan Holt, rising Aboriginal writer, performer;
Corrine Gibbons, songstress and choir director;
Jonathan Kenna, Australia's Ambassador to Sweden;
Captain Phil Holliday, Sydney, Port Kembla and Eden Harbour Master;
Damon Davis, long time singer-songwriter and the original man of oopmh;
A local panel of leaders including Erica Dibden – Tilba Milk, Louise Brand – road safety campaigner, Kate Toyer – Eurobodalla vet and transgender advocate, Warren Foster Jr – Aboriginal artist and leader, Darren Jones – Band Together, and Hannah Doole – climate change activist.
The night before this day of discussion, we launch the festival with a FREE community celebration – Parklight in the heart of Bega. Littleton Gardens will light up with magical occurrences and happenings, a celebration of our community with a focus on the contribution and talent of youth and Indigenous culture.
Adult tickets for Saturday's program are on sale now, including lunch option, people 12 to 19 years get in FREE, but you do need to reserve your place. Students there on the day will also be in the running to win $500 to put towards a science education experience of their choice thanks to The Sapphire Coast Regional Science Hub and Inspiring Australia.
Rush to Eventbrite now to claim your place at the Festival of Open Minds.
Thank you to our Festival partners –