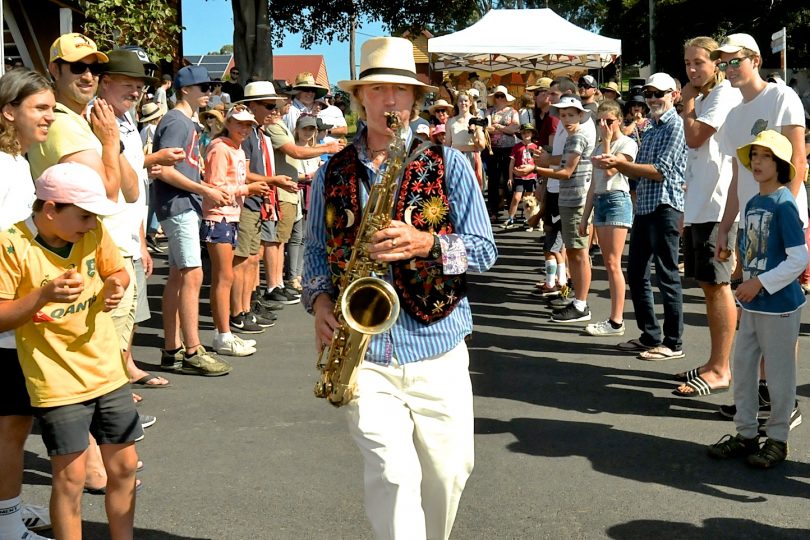 The Far South Coast will be a hive of activity this Easter with plenty of events and activities for both visitors and locals.
There's two-days of entertainment at the Eden Easter FunDayz, the always-popular Tilba Festival, the opening of a Sculpture Garden Exhibition at Navigate Arts near Tathra and a little further ahead there will be the opening of a concrete art exhibition in Bega.
Eden Easter FunDayz
The first-ever Eden Easter FunDayz features a packed weekend of music, entertainment, competitions and food.
Run by Imagine Eden, the group's chairperson Joanne Korner said the festival was designed to give the community's children something to look forward to after the turbulence of 2020 which involved fires and the COVID-19 pandemic.
"It's created so much interest in the town – you can see people are just excited to have something going on," she said.
"It's just very uplifting and that's what we needed."
Weekly Newsletter
We package up the most-read About Regional stories of the past week and send direct to your inbox every Thursday afternoon. Subscribing is the easiest way to keep up, in one hit.
---
READ ALSO: It's a block-buster! LEGO store coming to Canberra
---
FunDayz will be held between 10 am to 8 pm on 3 April and 10 am to 5 pm on 4 April at the football field on Barclay Street, Eden.
A 13-piece Navy band will perform at the opening and there will be music all day.
Tug boats will perform a "dance" in the bay with water cannons at 11 am on the Saturday and First Nations dancers will also perform a welcome to country that morning.
Vintage cars will be on display as well as food, drinks and market stalls, while an art and photography exhibition will be staged at the town's RSL hall.
The kids will be catered for as well with free activities like an egg and spoon race, the chance to decorate hats and a tug-o-war.
Entry is $5 and you should bring a chair or rug. For more information visit Imagine Eden's Facebook page.
Tilba Festival
The Tilba Festival returns this Easter with a day of entertainment for the whole family.
The festival was cancelled in 2020 following the devastating Black Summer bushfires and the COVID-19 pandemic but now the countdown is on until it runs again on Saturday, 3 April.
The weather is predicted to be warm and sunny for a big day of family entertainment, from music, food and entertainment to games – including an egg toss – and more than 40 stalls to peruse, in addition to the town's shops.
Tilba District Chamber of Commerce president and co-owner of the Dromedary Hotel Susan Gray says the festival is an important event on the region's calendar.
"It's one day where everybody sees everybody," she said. "It's a small community, but everybody is busy with their own lives. The festival is a family focused day – it brings elements of the community together."
Bringing people together is all the more important in the aftermath of the 2019-2020 bushfires.
"We were very, very fortunate we weren't directly impacted by the fire," Susan said.
"While we were very lucky, I think a lot of people have found the past 12 months very traumatic and they do carry that around with them."
The Tilba Festival is on Easter Saturday 3 April from 9 am to 4 pm and features live music, market stalls, food, traditional street games and entertainment for the children.
Bands playing on the day include ChangoTree – who merge blues with funky-folk, surf-Rasta and soaring vocals – as well as Soul Stories, Spindrift Saga and Scaramouch.
When it comes to fun and games there will be a boot toss and cheese roll and egg toss competitions, while the KidsZone will have putt-putt golf, giant family games and the popular donut eating competition.
This year, tickets must be pre-purchased. Tickets for adults are $15, concession is $5 and under-16s are free. To book, click here.
Sculpture Garden
Enjoy art and music at the opening of Navigate Arts' Sculpture Garden Exhibition on 3 April from 3 to 5 pm.
The exhibition is curated by Ross Cameron and features works by artists Paul Dimmer, Joy Georgeson, Shannon Stone, David Stocker and Rose Marin.
---
READ ALSO: From Captains Flat to the world, mum-of-nine Claire speaks out
---
Live music will be performed in the sculpture garden by Dean Gray and Anna Martin-Scrase.
The sculpture walk is open to the public from 10 am to 4 pm every day between 2 and 18 April. For more information click here.
CONCRETE exhibition
Also, a little further ahead, the Bega Valley Regional Gallery's next public exhibition CONCRETE: Art Design Architecture officially opens on 9 April at 6 pm.
"This exhibition explores innovative ways that concrete is being used by 21 artists, designers and architects across Australia," gallery director Iain Dawson said.
Bega Valley Shire Council said with a history spanning more than 3000 years, concrete was first used by Egyptians in the building of the pyramids before the Romans produced what today we call hydraulic cement-based concrete, used most dramatically in the Pantheon (completed 128AD).
---
READ ALSO: Cakes, cows and competitions for CWA conference in Bega
---
The secrets of concrete were lost with the fall of the Roman Empire and it was not until the early 19th century that, through the development of Portland Cement, modern concrete was born.
"The range of work in this exhibition is extensive – exhibitors have used concrete to create beautiful places of worship, designed striking concrete outdoor furniture, produced thought-provoking sculptural works and intricately detailed jewellery," Mr Dawson said.
Admission to the exhibition is free and can be viewed at the Bega Valley Regional Gallery from 9 April until 18 June.