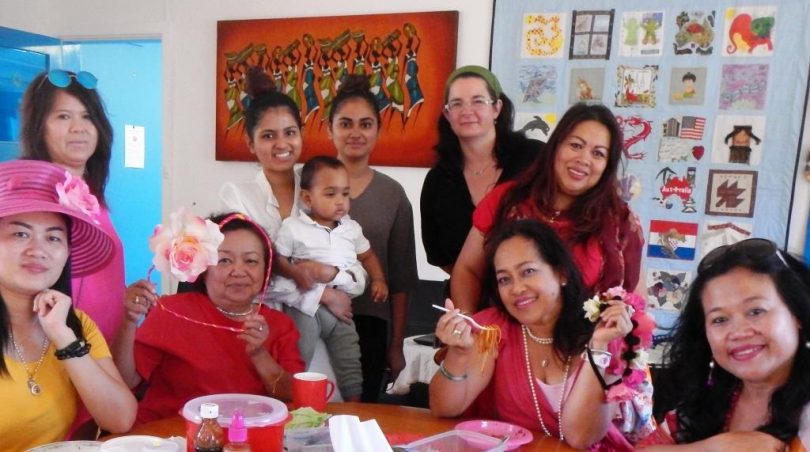 Yvi Henderson has made her home in Australia. She left Switzerland in 1990 but she still remembers arriving in Cooma with her husband, a Yaouk local, as the young mother of a one-year-old daughter.
"I was … pretty devastated," she laughs "it was the simple things that threw me, like not knowing the difference between playgroup and preschool or when to send the kids where," she remembers.
Reflecting on her own experience and the kind of help she needed to transcend cultural and language difficulties has led Yvi to her role as a settlement worker, which she has done for the last thirteen years, travelling to Jindabyne and Bega as well as offering services in her hometown of Cooma.
"I'm a migrant myself and I know how difficult it sometimes is to fit in or have your professional qualification recognised or learn the language to be able to work in Australia."
In 2006, she established the Multicultural Activity Group In Communities (MAGIC) which provides a program of social activities for the Cooma region that facilitate friendships and settlement.
Weekly Newsletter
We package up the most-read About Regional stories of the past week and send direct to your inbox every Tuesday afternoon. Subscribing is the easiest way to keep up, in one hit.
"Cooma has seen an influx of refugees and asylum seekers moving to our regions and despite their strengths and talents, these new arrivals face considerable barriers to obtaining employment, education and training and as a result, may face social isolation."
But now Yvi and MAGIC are going bigger and better, recently signing the lease on a building on Massie Street which is the new Cooma Multicultural Centre.
Yvi has a good attitude about working from her car for the last nine months while the Multicultural Center lease was being finalised, "it's very flexible," she says but her team are "thrilled" to have a space to work again.
But their plans don't stop there.
"We want to set up a small kitchen at the Cooma Multicultural Centre where some of our clients can show off their considerable cooking skills, gain practical hospitality skills, improve their conversational English skills and even make their own marketable food or craft product to sell in Australia."
As Yvi and I chat she is preparing to welcome the first guests to the "MAGIC DiversiTEA" social Cafe
"We have about 100 clients who have been in Australia for five years or less, made up of about 50 ethnic backgrounds. This area is unique in that it doesn't have one big group of migrants from any one place but a mix."
Cooma is often called the first multicultural town in Australia due to its influx of people from all over the world to work on the Snowy Mountains Scheme, which last week marked its 70th anniversary. Recent arrivals come from Africa, the Middle East, South America and Eastern Europe.
"To be able to be sustainable, we need to think more creatively about how migrants and refugees can earn an income, while simultaneously learning English and making a contribution to their new community," explains Yvi.
The MAGIC DiversiTEA may sound complicated but it's basically creating a community centre for everyone, with an emphasis on those who have recently moved to the country, a place for people to expand their ideas, take part in classes and workshops and of course share a cup of tea!
"I'm passionate about making sure that everyone can get a sense of belonging in our communities," Yvi says.
But they need your help to make it happen. A fundraising goal of $20,000 has been set which covers the cost of putting in a kitchen and all the associated council permits, plumbing and electrics.
"The fundraising model is 'all-or-nothing' which means donor pledges will not be processed unless we hit our fundraising target of $20,000," Yvi explains.
For more information and to donate, visit Start Some Good.