The inspiring true story of David Nyuol Vincent, a Sudanese refugee who survived famine, wars and 17 years in refugee camps to build a new life in Australia – is coming to Bega this Friday night, September 6.
David was a little boy when he fled southern Sudan with his father, as war raged in their country. He left behind his distraught mother and sisters, his village and his childhood.
For months David and his father walked across southern Sudan, barefoot, desperately searching for safety, food and water. They survived the perilous Sahara Desert crossing into Ethiopia only to be separated. David was taken in and trained as a child soldier, surviving the next 17 years of his life alone in refugee camps.
Life was a relentless struggle against starvation, air bombings and people determined to kill him and his people.
In 2004 David was offered a humanitarian visa as one of the Lost Boys of Sudan and was resettled to Australia.
Weekly Newsletter
We package up the most-read About Regional stories of the past week and send direct to your inbox every Tuesday afternoon. Subscribing is the easiest way to keep up, in one hit.
Traumatised by what he had seen and endured, he went about the slow and painful process of making a new life for himself-a life away from hunger, away from guns, away from death. A life where David is determined to improve the plight of his people both here in Australia and back in South Sudan.
Working with journalist Carol Nader, David told his story in the 2013 book 'The Boy Who Wouldn't Die.'
Told with frankness and humour, this memoir is the powerful account of a young man's resilience, themes, feelings and ideas that will shine bright when David addresses the Bega community as a guest of the Bega Quakers and the Social Justice Advocates of the Sapphire Coast.
David is a true humanitarian and is committed to achieving peace for his people near and far, and ist been work supported by Bega Valley locals.
"The Quakers have a long history of peace work," says Peter Hillery of Bega Quakers.
"The Quakers grew out of Christian faiths, but we recognise we live in a changing society so nothing is hard and fast.
"But we are essentially a pacifist movement, groups like Amnesty International and Oxfam have their roots in the Quakers."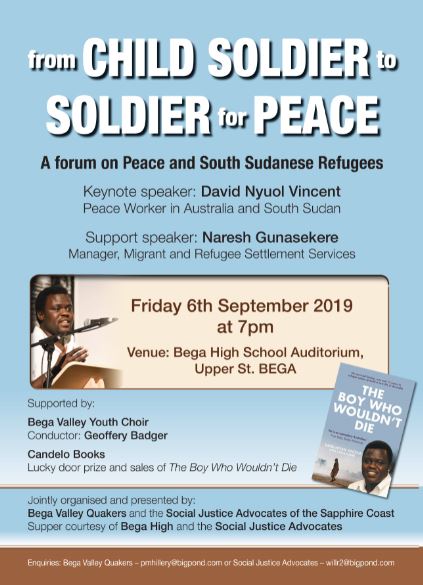 Quakers locally and around Australia have supported David's peace work, helping him attend training and education in Switzerland as his advocacy and community work grows.
Any money raised from Friday night's lecture will go towards his peace work, while he is in the region David will also speak at Lumen Christi Catholic College and Bega High School.
Friday night's forum will also feature Naresh Gunasekere, a lawyer from Sri Lanka and now Manager of Migrant and Refugee Settlement Services in Canberra. Who will discuss the possibilities and opportunities around refugee settlement in South East NSW.
The Bega Valley Youth Choir led by Geoffrey Badger will also entertain with a number of African songs.
Candelo Books will also be there selling copies of David's book.
Hear the story of David Nyuol Vincent – 'The Boy Who Wouldn't Die' on Friday, September 6 from 7 pm in the Bega High School Auditorium. Entry is FREE but donation tins will be available. Supper to follow.
#Region Media's Ian Campbell will MC the night with a podcast to follow.