After a heaping of community spirit, a dash of council support and a sprinkling of luck along the way, Moruya now has its own scaled-down Honour Stone just in time for Anzac Day commemorations.
The local community has a deep connection to World War II, given that eight Air Force members and three Navy Merchant sailors lost their lives in or near the town.
In Moruya, people come together at dusk to remember and reflect on all the lives lost during World War II.
Local war history enthusiast Gary Traynor, a member of the Moruya Remembers Committee, says he thinks this might be one of the only Anzac Day dusk services in NSW, and possibly Australia.
According to Gary, the town is proud of its history and connections to World War II and takes seriously the notion of "at the going down of the sun and in the morning, we will remember them".
Weekly Newsletter
We package up the most-read About Regional stories of the past week and send direct to your inbox every Thursday afternoon. Subscribing is the easiest way to keep up, in one hit.
Moruya will hold this year's Anzac Day commemorations in bushland, at the site of what was a World War II air strip from 1942 to 1944. According to Gary, it is "breathing life into a long-forgotten location that was once part of Australia's defence network".
During the past year, the Moruya Remembers Committee has turned its attention to a new project: recreating the Martin Place Cenotaph, which is itself crafted from Moruya granite.
Loading Gallery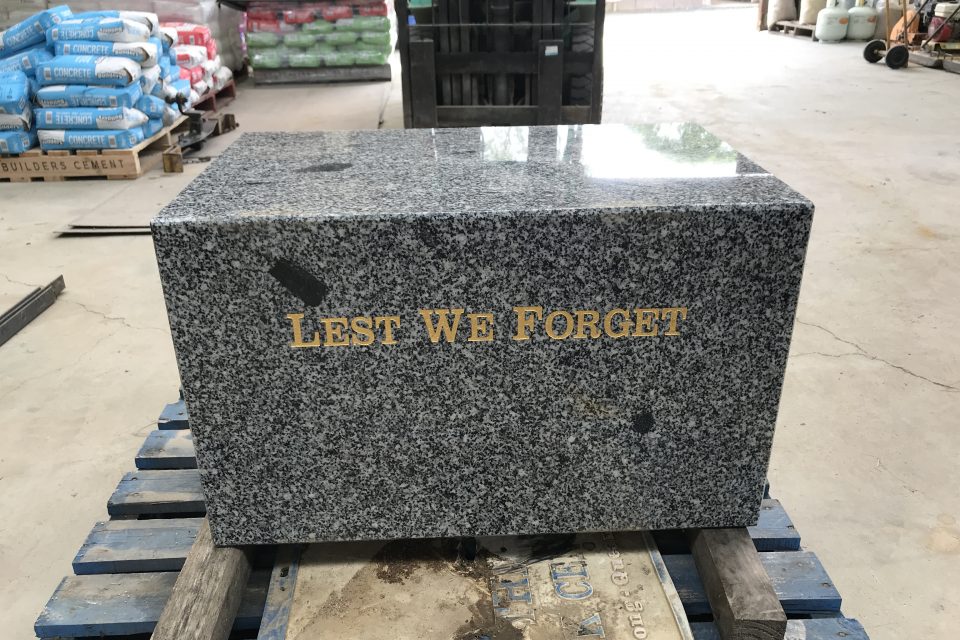 1/2
The town's Honour Stone will be a scaled-down but otherwise exact replica of the larger cenotaph's base. It has the same inscriptions as the larger stone, with 'Lest We Forget' on one side and 'To Our Glorious Dead' on the other.
One of this group of 'concerned citizens', as Gary describes them, is 93-year old Norman Moore.
Gary says Norman has been involved in gold mining and granite "forever", and he is a community-minded man who sees the cenotaph as his swan song. It was on Norman's initiative that the granite boulder was acquired from Moruya quarry and then taken to Tumut to be cut, dressed and polished by artisans.
Thanks to a community effort, the logistics of transporting a large granite boulder were all sorted, and the Honour Stone is now back in Moruya.
The Moruya Honour Stone will be a lasting memorial to the brave men who lost their lives during World War II.
Gary is passionate about educating members of the public about Moruya's war history.
He says the town was the last place from where eight airmen flew to their deaths during World War II in two separate fatal air crashes, as well as three merchant sailors who were killed by a Japanese submarine.
In fact, 3 November, 2020, was the 75th anniversary of a fatal air crash that killed six of the airmen.
"It is quite horrifying to imagine six mothers who got a knock on their door to be told their son was dead, even though the war had already ended," says Gary.
The flight was supposed to have been routine but sadly ended in tragedy. Two of these airmen are buried in Canberra's Woden Cemetery.
---
READ ALSO: 'History is never finished': First major project in 80 years to detail Bega's past
---
The Royal Australian Air Force is also sending down a small contingent to Moruya, and, according to Gary, this is the first time they have committed to a presence at the dusk event.
From a young age, Gary has been involved with commemorating the Anzacs, and it continues to hit a highly personal note.
He says his mother found every Anzac Day hard, having lost her eldest brother and a cousin fighting the Japanese in the Battle of Malaya in Singapore.
As a child, he was taken to every dawn service, and this sense of reverence and interest in war history has stayed with him for his entire life, even getting his dream job as a curator at the Australian War Memorial in Canberra.
'At the Going Down of the Sun – Anzac Day Dusk Service' will be held at the World War II RAAF Bunkers, Thelmore Pistol Club, in Moruya at 5:15 pm on Sunday, 25 April.
No bookings are required, although you will have to sign in. More information can be found on Facebook.