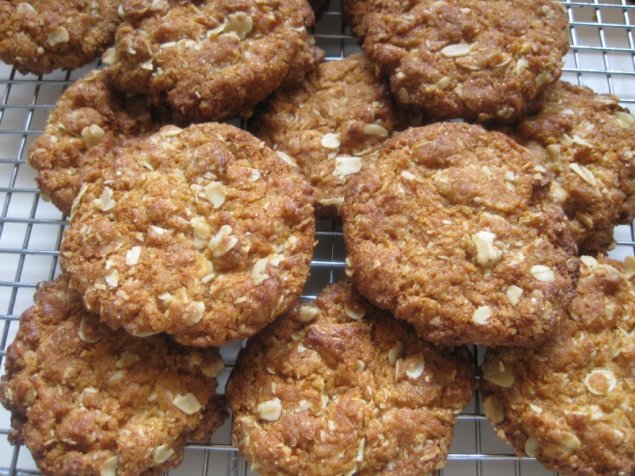 Both Australia and New Zealand share the tradition of Anzac biscuits.
During World War I the women left at home made biscuits to send to the soldiers overseas.
These were called soldiers' biscuits at first, but became known as Anzac biscuits after the Gallipoli landing in 1915.
Anzac biscuit recipes are similar to much older recipes for rolled oat biscuits. They are crisp, hard and nutritious and also keep well. Some recipes contain dried fruit or nuts.
The biscuits were packed in airtight tins to keep them crisp during the long sea voyage.
Weekly Newsletter
We package up the most-read About Regional stories of the past week and send direct to your inbox every Thursday afternoon. Subscribing is the easiest way to keep up, in one hit.
This Anzac biscuit recipe is from the Australian War Memorial and is an original recipe from Bob Lawson, an ANZAC who was present at the Gallipoli landing.
I like to make these popular biscuits every year on April 25 to commemorate ANZAC Day.
Ingredients:
1 cup rolled oats
1 cup plain flour
1 cup sugar
1 cup desiccated coconut
pinch of salt
125g butter
1 tbsp golden syrup or treacle
1 tsp bicarbonate of soda
2 tbsp boiling water
Method:
Preheat the oven to 180C regular or 160C fan. Lightly grease two large baking trays. Mix the dry ingredients together in a large bowl and make a well in the centre. Melt the butter and golden syrup together in a small saucepan over low heat. Mix the bicarbonate of soda with the boiling water and stir into the melted butter and syrup. Quickly pour the foaming wet ingredients into the dry and mix through. Drop heaped teaspoons of the mixture onto the trays leaving room for them to spread. Bake for about 15 minutes or until golden brown. Turn the trays midway, if necessary to brown evenly. Leave the baked Anzac biscuits to cool on the trays for a few minutes and then transfer to wire racks. When cool store in an airtight tin.
Be sure to use the Australian standard 20ml tablespoon. Cut the sugar back to three quarters of a cup if you wish. Makes about three dozen biscuits.
Original Article published by Diana Lampe on The RiotACT.