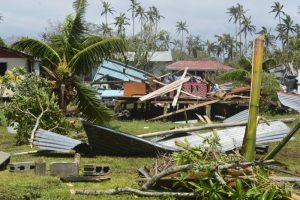 Communities in Fiji devastated by Cyclone Winston in February haven't been forgotten by communities with a similar love for the ocean.
Packing winds of up to 230km/hr and whipping up waves 12m high, Winston destroyed or damaged 55 000 homes and killed 44 people.
Various aid efforts have sprung up across the Bega Valley and Eurobodalla on the New South Wales far south coast, to help this much loved neighbour get back on its feet.
On Monday three pallets of donated goods will leave Pambula through DJ Cool Freight.
Todd Wiebe at Wild Rye's Bakery is the coordinator who got it all going – by accident really.
Weekly Newsletter
We package up the most-read About Regional stories of the past week and send direct to your inbox every Thursday afternoon. Subscribing is the easiest way to keep up, in one hit.
Todd was selling a generator online when he discovered the fella that was buying it was doing so to send it to Fiji.
Todd quickly handed the generator over as a donation but then went about filling in the left over space on the pallet that the generator was being transported on.
A second pallet was soon needed to cope with the donations that came in and now as the truck gets ready to leave on Monday it looks like a third pallet will go.
"Whenever there is a shout out for help, the far south coast is quick to respond," Todd says.
Most of the spruiking happened via Facebook and through the old fashioned word of mouth networks.
Given the number of homes damaged or destroyed, building materials have been the focus for this practical community in the southern Bega Valley.
Mitre 10 has donated rechargeable battery drills, Steeline have kicked in with roofing screws and nails while local tradies and backyard DIY'ers have raided their sheds and utes to help.
Tomorrow's Rotary markets at Ford Park in Merimbula are also chipping in. All the money collected from the club's familiar wishing wells will go into the bigger Rotary Australia effort for Fiji.
Further north in the Eurobodalla, the Quota Club of Batemans Bay is collecting old or used hearing aids that will be refurbished and sent on.
To add your weight to the cause donate through Red Cross and Care Australia.
Photo from ABC Online