Sport in 2020 was a bit of a hit-and-miss affair. Competitions started, stalled and then restarted as COVID-19 took its toll.
We saw professional matches without the crowds, grand finals moved interstate, teams in lockdown bubbles and events cancelled or postponed. What didn't change was the passion and commitment of those behind the scenes, and the stories of triumph and tragedy.
Read on for a look back at a sporting year like no other. Can you pick our top story?
12. Bega Bombers looking for a boost from new women's AFL competition
Ahead of the 2020 Australian rules football season, the Bega Bombers were expecting a 20 per cent growth in the club's player numbers as more young women and girls take up the sport.
They hoped that target would be boosted by players from the Greater Western Sydney Giants attending a 'come and try day' at Roy Howard Oval.
Weekly Newsletter
We package up the most-read About Regional stories of the past week and send direct to your inbox every Thursday afternoon. Subscribing is the easiest way to keep up, in one hit.
Two of the Giants players led an afternoon of drills and skills sessions designed to introduce new players to the game.
11. Tim Gavel picks the greatest Brumbies of all time
When the Brumbies ran a poll to determine its top team of the past 25 years, Tim Gavel shared his picks for the greatest Brumbies rugby players in the club's history.
He started by remembering the first Brumbies training camp at Jindabyne in the lead up to the inaugural Super 12 season in 1996.
10. As a community, we are poorer for legendary rugby coach Bob Hitchcock's passing
Bob Hitchcock was unassuming in many ways. His genial personality belied his strength of character, and he instilled a life-changing sense of values into many who had the benefit of being in his orbit as a coach and mentor.
Bob's ability to translate the technical aspects of rugby union into the explainable was legendary. He could cut through – a quality possessed by the great coaches.
Tim Gavel paid tribute to Bob, a humble leader with a love for family, rugby and his community, whose death at the age of 76 years was felt by many.
9. Monaro Panthers say axing from women's league is 'discouraging and short-sighted
The Monaro Panthers Football Club labelled a decision by Capital Football to axe all their women's and girls' teams from the 2021 National Premier League Women's (NPLW) competition "discouraging and extremely short-sighted".
The decision was made after all clubs in the league were invited to apply to field teams in all five divisions, from first grade to under-13s.
8. Vale Noel Bissett: rugby league loses one of its greatest servants
Noel Bissett loved telling the story about the day he refereed a game at Captains Flat. On that day an elderly lady brandishing an umbrella pursued him across the ground.
The elderly lady in question was apparently upset with a number of Noel's rulings that happened to go against the home team.
For Noel, it was part of the fabric of rugby league and he appeared to love every minute of his time in the game.
A passionate rugby league fan, Noel devoted more than 50 years to the sport as a player and referee.
7. Come on in, the water's icy – two break the ice on extreme swim record
The term 'breaking the ice' has new meaning for two Canberra swimmers, Joseph Pascall and Michael Pranckl, who became the first people in Australia to complete an extreme ice mile – swimming at least 1.6km in water that is literally frozen.
The specialist 'freeze-stylers' completed the feat at Thredbo's snow pond and it has now been officially recognised by the International Ice Swimming Association.
6. Jindabyne's golden girl reflects on making history at 2020 Winter Youth Olympics
It was just a split-second decision by Jindabyne teenager Josie Baff that delivered Australia its first gold medal at the Winter Youth Olympics in January 2020.
The 17-year-old's triumphant feat in the final of the women's snowboard cross at the 2020 event in Lausanne, Switzerland, on 20 January, left spectators awestruck as the four finalists zigzagged their way through the course, and the first three threw themselves at the finish line. Just 0.05 seconds separated the gold medal and silver medal, and 0.50 seconds between silver and bronze.
5. Moruya legend Ack Weyman to be honoured in bronze alongside his son, Mick
Ack Weyman only missed two games of his son, Michael's, rugby league career in Australia.
This was a fair effort considering Mick Weyman was a teenage prodigy who captained the Australian Schoolboys team before playing 141 NRL games for the Raiders and Dragons. He also played in four State of Origin games and one Test for Australia.
Ack was there for every step of his son's rugby league career so it's fitting he'll also be honoured with a statue alongside Michael in Moruya.
4. How basketballers ended the Paralympic career of a Canberra swimming legend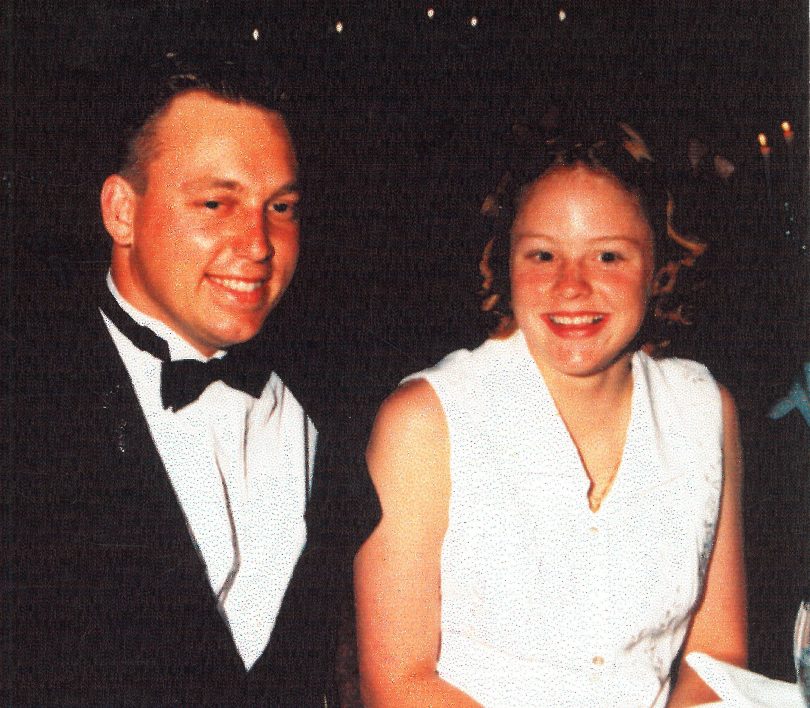 Siobhan and Glen Fowler at the 1997 Australian Paralympian Committee's Paralympian of the Year Awards, where Siobhan won the Developing Paralympian of the Year award. Photo: Supplied.Standing atop the podium at the 2000 Sydney Paralympics for the sixth time in the space of a week, 17-year-old Canberra student Siobhan Paton was beaming.
Siobhan was the queen of the Paralympic pool, winning a then-record six gold medals in events ranging from the 50m freestyle to the 200m individual medley, and breaking nine world records along the way.
Surely this was the start of an incredible ride.
Then it came to an end.
3. Jasper's Olympic race is taking flight on the snow
It's not just watching Jasper Cobcroft ski downhill that's breathtaking, it's the sound. The clattering of skis, rasping titanium whooshing against ice, peppered with airborne silence.
It repeatedly decrescendos 1km down an obstructive 250-metre vertical drop in 70 seconds; a mother's voice in the background says, "Slow down, mate."
Jasper isn't showing any signs of slowing down.
How does the son of an eighth-generation farmer from Young end up representing Australia in the high-octane discipline of ski cross at the Youth Winter Olympics in Lausanne? Edwina Mason found out.
2. Australia's greatest ever sportswoman is still going strong in Queanbeyan
Such is her long list of sporting accomplishments, Heather McKay concedes she had to go to a website the other day to remind herself of her achievements in tennis.
The website heralds her considerable feats in four sports: squash, tennis, racquetball and hockey. But tennis is her passion these days, playing socially four times a week with the social aspect just as appealing as the competition.
The Queanbeyan resident could easily lay claim to being Australia's greatest ever sportswoman – and she's still going strong at the age of 79.
1. Vale David 'Chook' Howell: the Cherrypicker who stole Newcastle's heart
If there was a man to be feared on the football field back in the 1970s, it was David 'Chook' Howell.
He was tough in a time when the fight for premierships was a hand-on-heart backyard turf war, where players worked by day, lived by one set of colours and played the full 80 minutes in a game governed by tackles, where scrums proliferated and mid-game melees were like froth to a beer.
Young and Newcastle rugby league legend David Howell has now moved on to the great football field in the sky after a long fight with Parkinson's disease. He was 68.