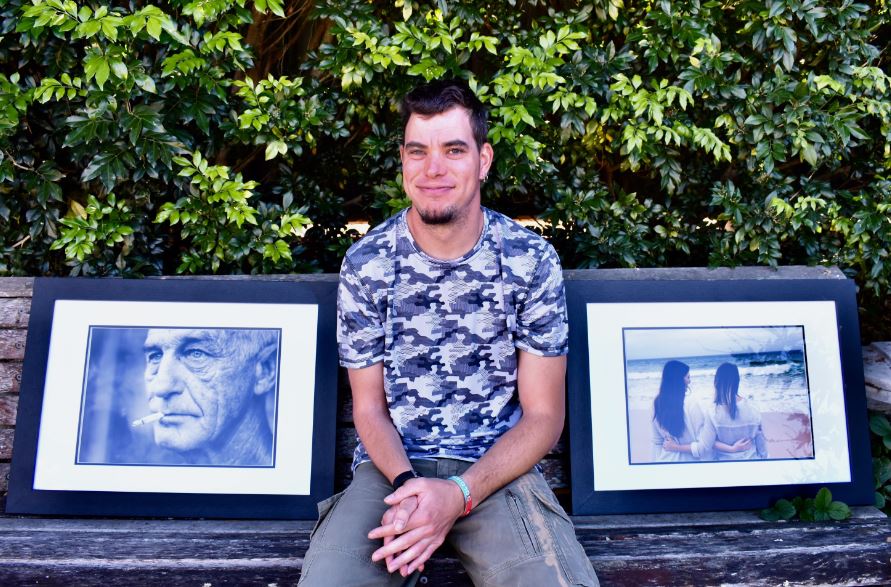 What do a blacksmith, a Hollywood stuntman, a gypsy skiffle-blues style band and the power of art have in common? The diverse subjects all featured in About Regional's 2018 arts and culture coverage.
The most popular articles reflected the broad interests of our readers, and this year, the list had an overwhelmingly positive vibe.
Stories highlighted the achievements of people in the region, from the first celebration of traditional and contemporary Aboriginal culture to be held on Yuin land to an enduring program changing the lives of people with disabilities.
So here they are – from all corners of South East NSW and packed with all the colour, talent and flair of people in the region – some of your favourite arts and culture stories from the year that was.
10. Peter's talent one of many to flow through Eurobodalla River of Art
Ian Campbell profiled talented Moruya photographer Peter Vassallo ahead of the Eurobodalla River of Art event in May.
Mr Vassallo is a member of Eurobodalla Shire Council's School of Possibilities Art Group, a vocational employment training project that assists people with disabilities to develop their individual talents and potentially earn an income.
Peter's stunning portraits of 20 local personalities proved popular with About Regional readers. They showcased familiar local faces including community radio presenter and musician Texas Dave, stroke survivor and singer-songwriter Damien Coen, Narooma stalwart Tim Burke, artist Indira Carmichael, and Narooma musician Ed Tierney.
9. Firebirds add colour to Tathra's new palette this weekend
Tathra's March bushfires had a devastating effect on many, but a new circle of friends emerged from the bleak day. The Tathra Firebirds bonded through shared experiences and have gone on to become a force of creativity.
It began when two locals invited people to bring their craft and art projects to the Tathra Hotel. People who lost their home, people who lost their neighbours, firefighters, and people shaken by the experience all gathered. The arty activity inspired conversation, a mix of busy hands opening minds and putting people at ease, as they expressed feelings of grief, loss, fear and hope through art and colour.
In November, we were pleased to report that the Tathra Firebirds were about to hold their first public show – The Fiesty Firebirds and Fire Artefacts Exhibition.
8. From the garage to the capital, Bega Valley artists challenge the idea of 'ability'
The Bega Valley's long-running Art in the Garage program gave Canberrans a taste of its colour, pride, and free spirit in August, we reported.
The ability of artists like Joye Umback and Miriam Kydd shone brightly through the works which were on display at the Tuggeranong Arts Centre. It was exactly the type of talent and skill Tulgeen Disability Services has fostered in its Bega suburban garage for 17 years.
7. From Braidwood to Hollywood for stuntman Harley Durst
Alex Rea's story about Braidwood's own Harley Durst had readers clicking this year. Alex wrote that Harley has been a part of many of the stand-out action-packed international movie scenes for ten years and even more Australian dramas, but his name won't register with many moviegoers.
Harley is a stuntman – and one of the best. His credits include Star Wars film Solo: A Star Wars Story, where he was cast as the creature Moloch, Thor: Ragnarok, Pirates of the Caribbean, Wolverine and Wonder Woman.
6. Hermits band together to be crowned national busking champions in Cooma
With an eclectic mix of instruments and sounds, the Haystack Mountain Hermits returned home to Queensland as this year's Australian National Busking champions, wrote Nathan Thompson in November.
The family band from Tamborine Mountain on the Gold Coast wowed audiences with their gypsy skiffle-blues style of music as hundreds of spectators gathered in Cooma's Centennial Park for the national finals concert.
5. Remote Snowy Mountains garden featured in new book 'Gardens on the Edge'
A property in southern Monaro on the edge of the Snowy Mountains Scheme has been featured in a new book of Australian gardens defined by extraordinary horizons, wrote Glynis Quinlan in October.
The 290-hectare Craigie Station, owned by Normie and Jule Craig, is included in gardening writer Christine Reid's Gardens on the Edge. She unveils the story of the property and describes its restoration as revealing "love and care in a subtle and refined way."
The remote property was selected because it is on the edge of a natural frontier and helps to reveal the diversity and character of the Australian continent.
4. Cobargo blacksmith takes time to forge a bond with the public
Elka Wood brought you the story of Cobargo's Philippe Ravenel, a blacksmith skilled in creating intricate and beautiful decorative pieces, back in November.
She shared details of how Philippe honed his craft. And for those keen to learn more about the traditional trade of blacksmithing, Philippe holds regular open forge events at Galba Forge in Cobargo.
3. From Australian rituals to Australian birds, Matt Chun invites you to take a second look
It was two in a row for Elka Wood, with her article about Bermagui-based artist Matt Chun ranking as the third most-read arts and culture story on About Regional in 2018.
She wrote that Chun is drawing on bookshop windows in Bega, Sydney, and Melbourne to celebrate the release of his first picture book, Australian Birds. If you missed it the first time, click on the link above to take a look at the impressive window art.
2. Giiyong builds a future beyond its fun, colour, and flavours
The power and importance of storytelling shone brightly at the Giiyong Festival at Jigamy in September. As Ian Campbell wrote, the varied storytelling formats and styles were part of the magic but the real spark came from the people telling the stories.
For the first time in South East NSW, the culture of the region's traditional owners was the central focus at the festival. Giiyong, meaning 'come to welcome', was the first celebration of traditional and contemporary Aboriginal culture to be held on Yuin Land.
Ian concluded that the festival was: "fun, colourful, and tasty, but more so it built pride, community, and connection. When's the next one!?"
1. "Stop importing rubbish chipboard furniture" – Ulladulla's Denise Joy
The arts and culture story that most resonated with readers this year was about a shop in Ulladulla with shabby chic sea change style and a distinctly Australian vintage feel – Dee's Funk 'n' Junk.
As Jesse Rowan reported, vintage, retro and 'grungescent' décor is arranged in vignettes that use every last centimetre of the shed that contains the shop's treasures. Music from a vintage collection of LPs for sale is always playing, setting the atmosphere for stepping back into the past, when life was harder, things took longer to make, lasted longer – and greater care was taken to make things look beautiful.
Owner Denise Joy has an artist's eye for seeing beauty in things many might overlook, and a knack for displaying a story through her vignettes of found treasures.The only thing left for you to do now is to explore Dee's Funk 'n' Junk for yourself. Drop by South Street, Ulladulla, Monday to Saturday, 10 am to 4 pm.
What were the highlights of 2018 for you when it comes to art and culture in the region?