The Bega Valley's growing scientific community is stepping up and stepping out to celebrate National Science Week.
The Sapphire Coast Regional Science Hub will oversee an extraordinary program of experiments, displays and mind tingling fun at the Bega Valley Commemorative Civic Centre.
One of the national themes this year is 'Game Changers and Change Makers' referring to individuals, teams, technologies, or ideas that are shaping our modern world.
Scott Baker from Bega Valley Shire Library, a member of the Regional Science Hub says local scientific heroes will be out to share what they know with the community.
"We have some great people and organisations within the Bega Valley really making ground not just on what we understand about the natural world but also the ever-changing world of technology, Mr Baker says.
The local Science Week program includes The Atlas of Life in the Coastal Wilderness, Eden Game Development Centre, Bournda Environmental Education Centre, and Sapphire Coast Marine Discovery Centre.
Weekly Newsletter
We package up the most-read About Regional stories of the past week and send direct to your inbox every Thursday afternoon. Subscribing is the easiest way to keep up, in one hit.
"Visitors will also walk away with a deeper knowledge of this beautiful environment we call home," Mr Baker says.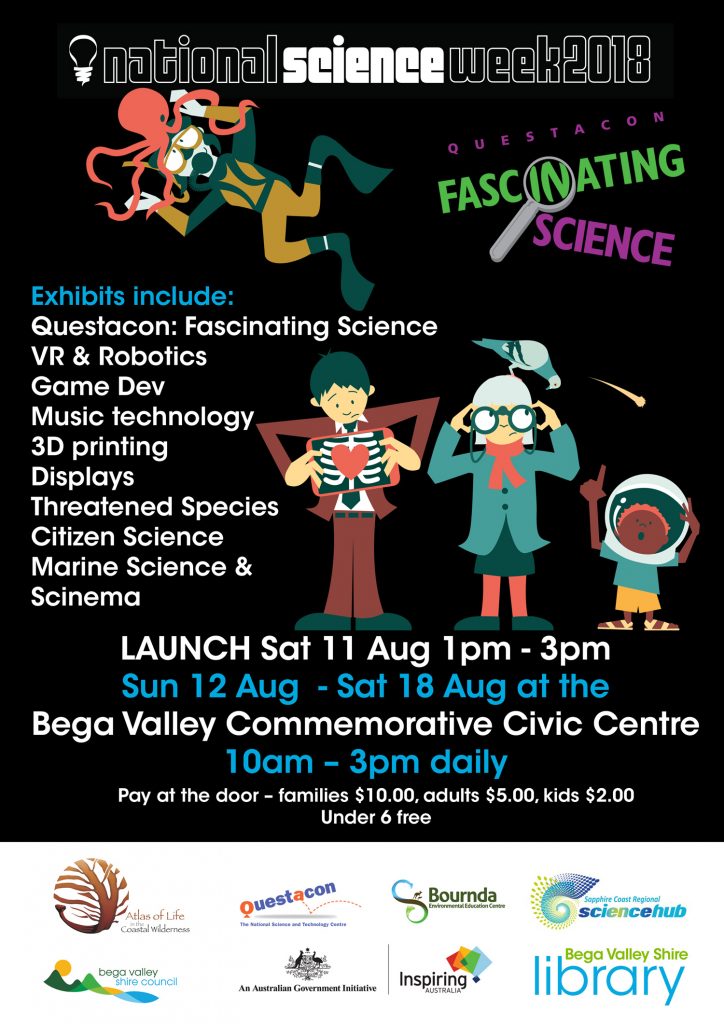 One of the tech highlights will be the 'Exploring Sound with Arduino workshop' at Bega Library 10 am to 2 pm, Saturday, August 18, costs $20.
"Plus people young and old will be able to come and see 3D printing in action as well as interact with the latest in virtual reality, robotics, music and gamer technologies," Mr Baker says.
"Much of this technology is available for people every week, not just science week at Bega Valley Shire libraries.
"And adding to the local brains trust will be a great interactive display from Questacon in Canberra," he says.
National Science Week launches locally on Saturday, August 11 at 1 pm at the Bega Valley Commemorative Civic Centre, in Bega, and continues daily until Saturday, August 18.
Family tickets are just $10 at the door, adults $5, kids $2, under 6 are free.
"Local schools will be making the most of the opportunity, 1124 students from 13 schools are booked in for a tour, we can't wait to feed their interest in science," Mr Baker says.
"But the whole community is invited to come in and explore the full scope of scientific work in our region."
#Sponsored content