Cheetahs may be the fastest land animal on earth, but COVID-19 border restrictions can stop them in their tracks.
Two females were due to make the long journey from Monarto Safari Park in South Australia to the NSW South Coast earlier this year but, like so many things in 2020, that didn't quite go to plan.
With COVID-19 restrictions on travel, the big cats' move to Mogo Wildlife Park was delayed until two weeks ago.
Now Ayana and Imani are safely ensconced in their new enclosure, south of Batemans Bay, and getting to know their new mate, Sefu.
"The purpose of getting the girls here is to breed from them," says Mogo Wildlife Park director and zookeeper Chad Staples.
---
READ ALSO: Tiger of Mogo roars into Archibald Prize contention
---
As a species, cheetahs are listed as vulnerable with loss of habitat, lack of prey to feed on, and their vulnerability to humans, hunters and poachers increasing their risk of becoming extinct.
Unfortunately, breeding them is a little more difficult than just bringing males and females together.
"We can't just chuck them together and hope for good things to happen," says Chad.
"We expect early next year the girls will start looking at outside cues from nature and go into oestrous [their reproductive cycle]. We have them side by side in enclosures and we will be looking for signs every day."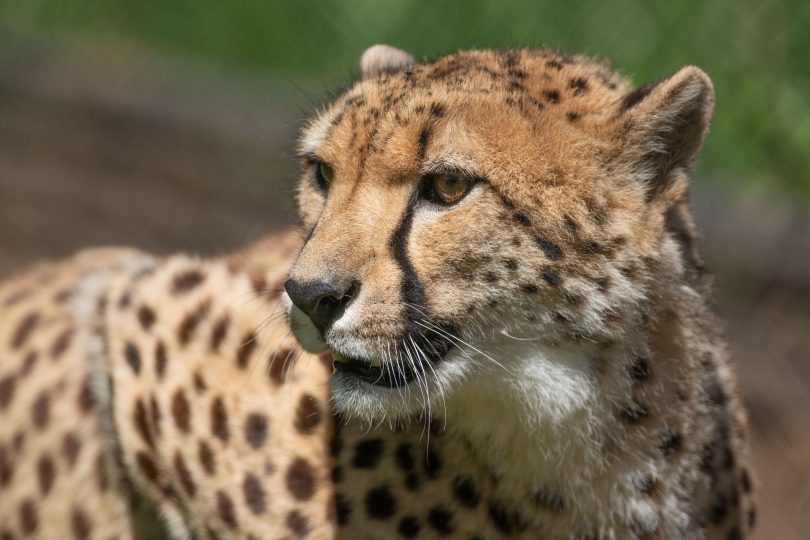 Mogo Wildlife Park has had great success in breeding endangered animals, and part of its mission statement is to establish and maintain genetically viable and controlled regional and global breeding programs.
Three months ago, Binti the giraffe delivered her first calf, Twiga, which means giraffe in Swahili. He is ninth in the park's collection of endangered Rothschild's giraffes.
It was an emotional and uplifting moment for the zoo's staff, who have faced more challenges than most during the past 12 months.
Just weeks after Featherdale Wildlife Park took over management of the then Mogo Zoo from Sally Padey, Chad and his staff were literally fighting for their lives and the lives of their animals as bushfires swept through to the coast.
---
READ ALSO: Mogo Zoo's wildlife hospital to rise from the summer's bushfires
---
After months of clean-up, the park reopened in February – only to close again because of COVID-19.
Now lingering wet weather is having an impact on visitor numbers, but Chad is looking forward to a strong summer.
"There is a really nice feeling from the extended community down here," he says. "People are getting out and supporting local businesses.
"Talking to accommodation providers, it seems everyone is almost booked up until the end of the holidays."